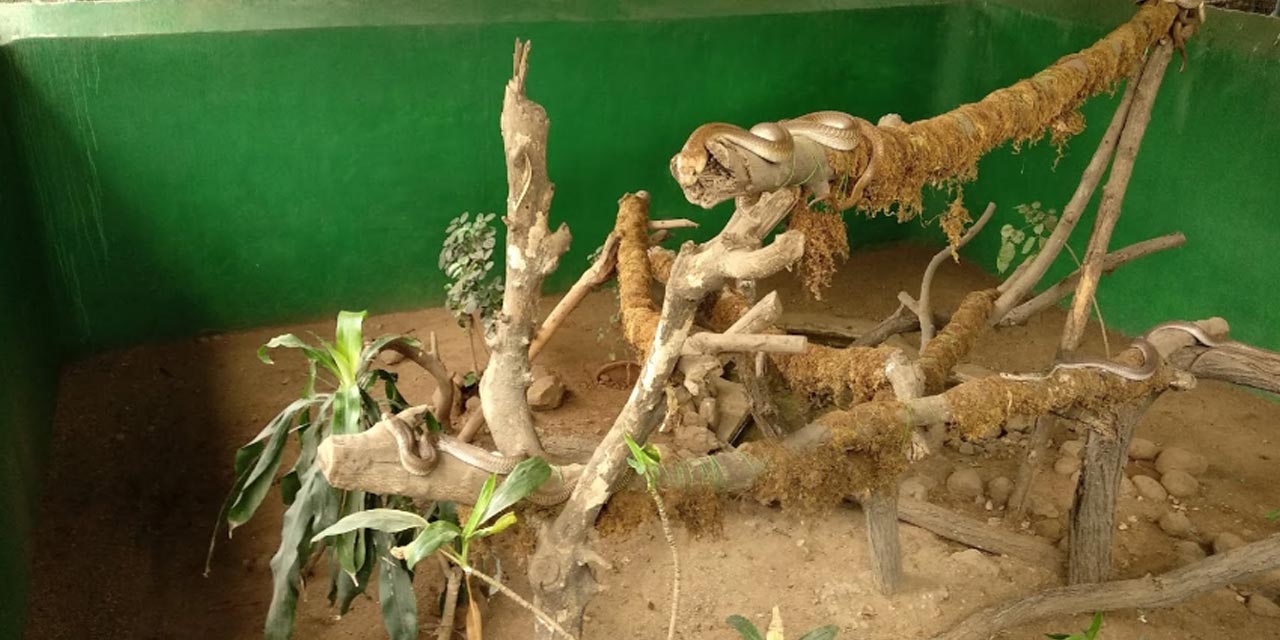 Katraj Snake Park Pune Entry Fee
40 per person for Indian Adults
10 per person for Indian Children
100 per person for Foreigners
Katraj Snake Park Pune Phone
N/A
---
Rating:

| 3/5 stars
Based on total 58 reviews
Katraj Snake Park Pune Address: Katraj, Pune, Maharashtra, 411046, India
Pune Tour Packages
Katraj Snake Park Pune Timings
| Day | Timing |
| --- | --- |
| Monday | 10:30 am – 6:00 pm |
| Tuesday | 10:30 am – 6:00 pm |
| Wedesday | Closed / Holidays |
| Thursday | 10:30 am – 6:00 pm |
| Friday | 10:30 am – 6:00 pm |
| Saturday | 10:30 am – 6:00 pm |
| Sunday | 10:30 am – 6:00 pm |
Links:
Website
|
Map
---
Katraj Snake Park is a preferred tourist destination among those who love nature and wildlife. It has a variety of snakes, reptiles and turtles.
A 13 feet long King Cobra is the prime attraction of this park. But here, you can also have an educational experience. The snake park has a library, and the management also hosts events to address myths and doubts related to snakes.
Katraj Snake Park is a part of the Rajiv Gandhi Zoo, on the Pune-Satara Highway. And they have an extensive collection of wildlife creatures attracting thousands of visitors.
So, take a guide to make sure you don't miss the fun and enjoyment offered by Katraj Snake Park Pune.
History of Katraj Snake Park Pune
Katraj Snake Park in Pune was established in 1986. Neelam Kumar Khaire, with the help of the Pune Municipal Corporation, took the initiative to build it.
Later, in 1997, Pune Municipal Corporation decided to develop the place further and keep all the animals from the nearby Peshwe Park. By 1999, Katraj Snake Park was expanded to form Rajiv Gandhi Zoological Park. And the result of the effort put in it is what we see today.
Things to do at Katraj Snake Park
1. Watching snakes in their habitat – This snake park has over 20 species of snakes. The marvellous collection includes the Indian Rock Python, viper snakes and King Cobra among others. You'll also find Indian crocodiles, turtles and a variety of birds in Katraj Snake Park.
2. Visiting the zoo – The adjacent Rajiv Gandhi Zoo has several other animals and birds. White Tiger, Sloth Bear and Barking Deer are among the many animal species you'll find here. It is also a preferred picnic spot.
3. Boating in the lake – Katraj Snake Park and Zoo is built around a large lake. You can go boating in the lake or just sit by the side amongst the greenery.
4. Checking out the library – The library in the vicinity provides plenty of information about snakes. You'll find books and brochures on different kinds of snakes in the park and around the world. The information is available in Braille too.
5. Attending events and programs – Katraj Snake Park organises snake awareness programs throughout the year. It also hosts special events during the snake festival Nag Panchami to discourage the ill-treatment of snakes and encourage people to save them.
Image Gallery of Katraj Snake Park Pune
Katraj Snake Park Timings and Entry Fee
Katraj Snake Park is open on all days of the week except the Wednesdays. So, you can plan a trip with your friends and family during weekends and spend a day out with snakes. It opens at 10.30 AM and closes by 6 PM.
It would be best to visit it during winter or monsoon (from August to February) when the weather is pleasant.
This snake park is within the premises of Rajiv Gandhi Zoological Park, the tickets for which cost ₹40 for adults and ₹10 for kids. For foreigners, the entry fee is ₹100. For professional photography and videography, additional charges are levied.
How to reach Katraj Snake Park in Pune
Katraj Snake Park is on the outskirts of Pune, 7 km away from the city center. It is 10 km away from Pune railway station and only 5 km away from Pune bus stand in Swargate. From the airport, Katraj Snake Park is 18 km away.
It is easily accessible from all parts of the city. And here are the different ways to reach Katraj Snake Park of Pune –
By bus – Buses are available from Swargate bus stop to the snake park. The bus stop of Katraj is only about a kilometre away. And from there, you can walk the distance or get an auto-rickshaw to this place.
By cab – You can hire a private taxi from top car rental companies in Pune to reach Katraj Snake Park. And it is the best mode of transport for a comfortable visit.
---
To make your Pune tour a memorable experience, we at Pune Tourism, a division of Holidays DNA offer Pune Tour packages at best rates. With your own private cab, you can visit all the popular sightseeing places of Pune comfortably and have a great time with your family. To know more about our packages, please fill the Contact Us form.
Location Map for Katraj Snake Park Pune