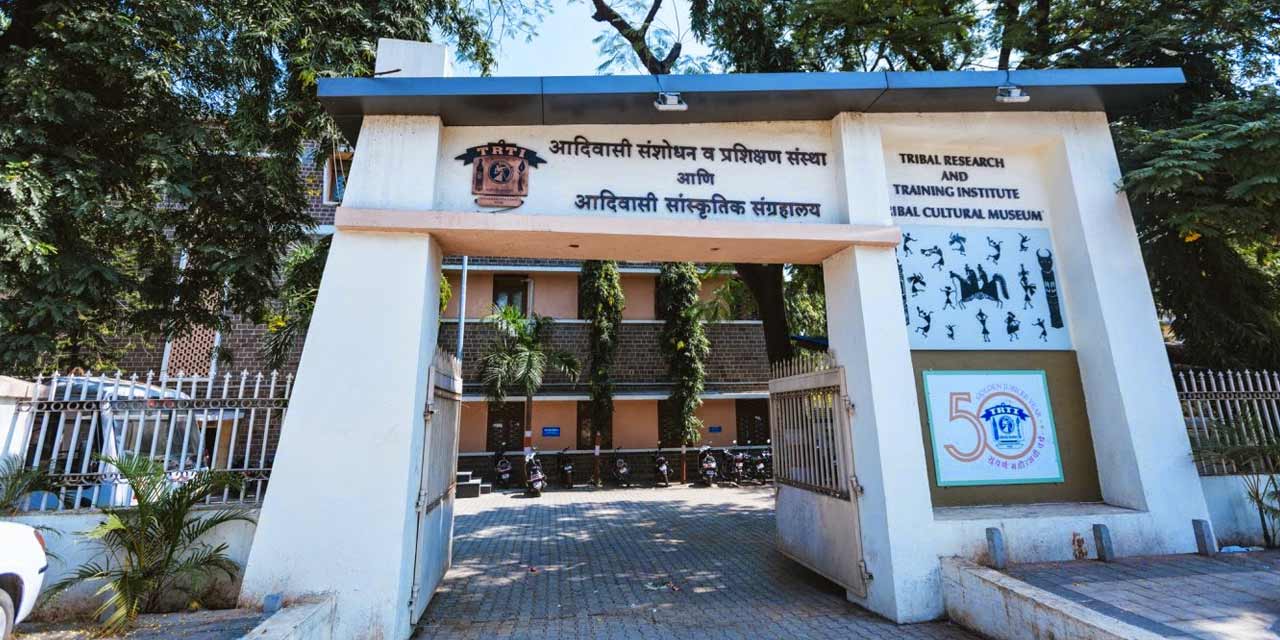 Tribal Research & Training Institute Pune Entry Fee
Tribal Museum Entry fee

5 per person for Indian Children
10 per person for Indian Adults
50 per person for Foreign Students
100 per person for Foreign Children
200 per person for Foreign Adults
Tribal Research & Training Institute Pune Phone
---
Rating:

| 4/5 stars
Based on total 53 reviews
Tribal Research & Training Institute Pune Address: 28, Queen's Garden, Near Old Circuit House, Band Garden Road, Pune, Maharashtra, 411001, India
Pune Tour Packages
Tribal Research & Training Institute Pune Timings
| Day | Timing |
| --- | --- |
| Monday | 10:30 am – 5:30 pm |
| Tuesday | 10:30 am – 5:30 pm |
| Wedesday | 10:30 am – 5:30 pm |
| Thursday | 10:30 am – 5:30 pm |
| Friday | 10:30 am – 5:30 pm |
| Saturday | 10:30 am – 5:30 pm |
| Sunday | Closed / Holiday |
Note: Tribal Research & Training Institute Pune is closed on Saturady(2nd and 4th), Sunday ≈ govt holidays
Links:
Website
|
Map
---
Tribal Research and Training Institute Pune is a government organization established in 1962. The institute is dedicated to the welfare of the tribes in the state. It runs training programs and various schemes for the upliftment of tribes.
It also conducts research and studies the success of various tribal schemes. Pune Tribal Institute also runs coaching sessions to help tribal youths get into different government jobs.
The Tribal Research Institute has a cultural museum too. It was set up to preserve and create awareness about the culture, heritage and art of the tribes. It showcases a variety of artefacts depicting their lifestyle. And you can get a glimpse into their lives.
The museum displays items related to Maharashtrian tribes and other tribes of western India. It also provides information about many other tribal communities around the country.
Tribal Research Institute Pune is a must-visit if you are interested in cultural studies, sociology and tribal lives.
Things to see in Tribal Research & Training Institute Pune
Tribal Research Institute Museum Pune displays tribal artefacts from Sahyadri, Danteshwari, Gondwana and other regions of the state. It houses articles of over 45 tribes, all kept for the public to view.
These art pieces include tools, handicrafts and various daily-use household articles. Jewellery, costumes and a variety of masks too are there in the collection. And you'll also find musical instruments, paintings and historical photographs showing the lives of different tribes.
The gallery spans across two rooms.
Pune Tribal Research and Development Institute also has an outdoor space. Huts of some tribal communities have been recreated in that space.
You'll find a small library too. It is stocked with books having information about many tribal communities around the country. The library also has a wide variety of other helpful resources.
Tribal Research Institute Timings and Entry Fee
Tribal Research Institute Pune is open from 10:30 AM to 5.30 PM. It is open all through the week, except the Sundays and the second and fourth Saturdays of the month. It is closed on the government holidays.
The entry fee for Tribal Museum Pune is ₹5 for Indian Children and ₹ 10 for Indian Adults. The ticket fee is ₹100 for Foreign Children and ₹200 for Foreign Adults. The entry fee is ₹50 for Foreign students.
Visit this place during winter, so that you can explore it fully. Winter starts around November and remains until February. The temperature remains pleasant throughout the day during those months.
You'll need around an hour to visit Tribal Research Institute Pune.
Image Gallery of Tribal Research & Training Institute Pune
How to reach Tribal Research Institute and Museum in Pune?
Tribal Research Centre Pune is in Queen's Garden, near Old Circuit House. It is in the city centre, and it is easily accessible from all over the city. Pune Swargate bus stand and Pune airport are about 7 km away from this Tribal Research Institute. The railway station is only 2 km away.
And here's how to reach Tribal Research & Training Institute –
By bus – Pune Tribal Research & Training Institute is situated off the Bund Garden Road. And you can take public buses to come here easily. From the bus stop, you can walk the distance, if you prefer. Then, you can also get an auto/taxi to reach the park.
By cab – Hiring a cab/taxi would be a better and more comfortable way to visit Tribal Research Institute. You can get a cab from top car rental companies in Pune and reach this research institute comfortably.
---
Book a Pune tour package from Pune Tourism, a division of Holidays DNA and enjoy a fun filled holiday with your family and friends. With our packages, you can explore all the popular places to visit in Pune with enough time left for shopping and other activities. Please fill the Contact Us form to know more about our packages and deals.
Location Map for Tribal Research & Training Institute Pune