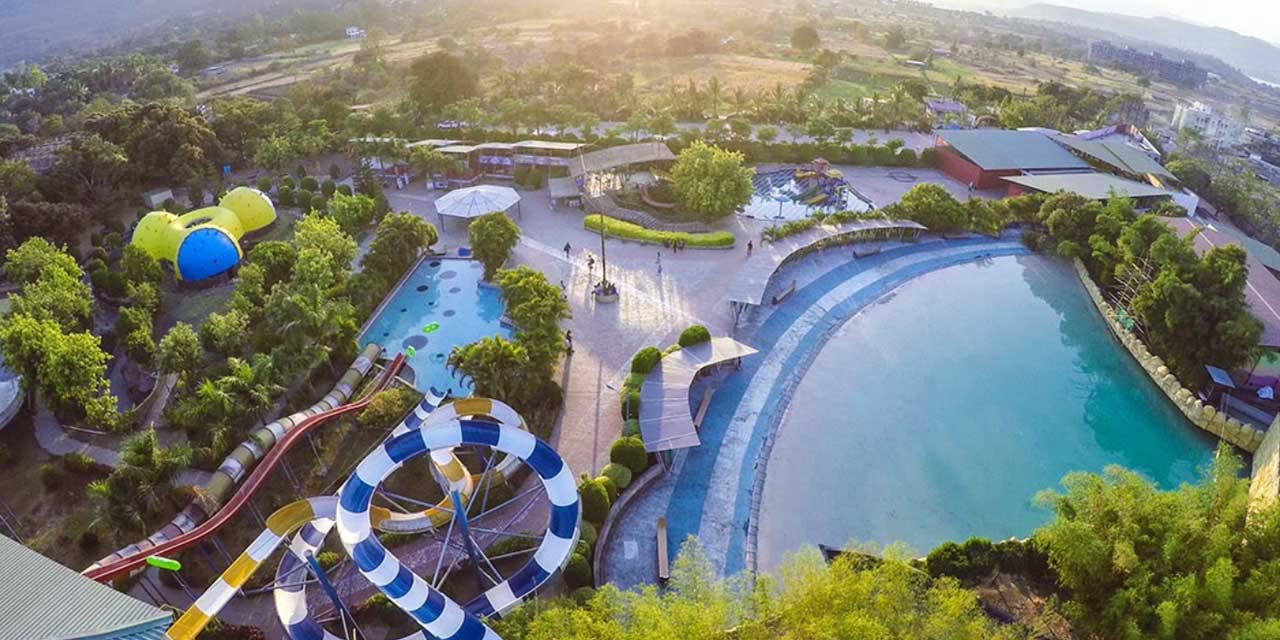 Krushnai Water Park & Resort Pune Entry Fee
700 per person for Adults (Mon - Fri)
500 per person for Children (Mon - Fri)
800 per person for Adults (Sat & Sun)
600 per person for Children (Sat & Sun)
Krushnai Water Park & Resort Pune Phone
---
Rating:

| 3/5 stars
Based on total 57 reviews
Krushnai Water Park & Resort Pune Address: Krushnai Water Park, Gat No. 186, Donje Gaon, Sinhagad Base, Pune, Maharashtra, 411025, India
Pune Tour Packages
Krushnai Water Park & Resort Pune Timings
| Day | Timing |
| --- | --- |
| Monday | 10:00 am – 6:00 pm |
| Tuesday | 10:00 am – 6:00 pm |
| Wedesday | 10:00 am – 6:00 pm |
| Thursday | 10:00 am – 6:00 pm |
| Friday | 10:00 am – 6:00 pm |
| Saturday | 10:00 am – 6:00 pm |
| Sunday | 10:00 am – 6:00 pm |
Links:
Website
|
Map
---
Known for its rich history, the cultural capital of Maharashtra, Pune, offers a wide variety of tourist attractions to people who come here. With a large number of people visiting Pune every year, this city has become one of the favourite tourist destinations in India. Pune is famous for its educational institutes, historical monuments and temples. Pune also offers adventurous activities and fun places like various amusement and theme parks. One such place for adventure lovers is the Krushnai Water Park & Resort.
When you're planning a trip to Pune and looking to escape the boring daily life, the Krushnai Water Park is an ideal treat for your loved ones. Situated amid the historic Sinhagad Fort and the Khadakwasla Dam, Krushnai Water Park & Resort is a great spot to have fun-filled, adventurous, and adrenaline-rushed family activities.
Located on the Donje Gaon-Sinhagad Road, Pune, the water park is spread over an area of 15 acres. The park is surrounded by lush greenery and picturesque hills. So, you can relax around the park and appreciate the beauty of nature.
The Krushnai Water Park is the most visited picnic spot in Pune. A perfect combination of fun and relaxation, there are so many things to do at the water park. The main attractions at Krushnai Water Park are Pirate Island, Black Hole, Twister, Wave Pool, Crazy Cruise, Aqua Dance, and many more. There is also a Game Zone inside the park, where you can play video games, ride the bull ride, and play with dashing cars.
A grand resort is located right beside the water park. If you plan to stay near the Sinhagad Fort and explore the nearby places, stay at this beautiful resort. The Krushnai Resort offers some great facilities and services to make your trip comfy and pleasurable.
Things to do at Krushnai Water Park & Resort
There are so many activities to do at Krushnai Water Park and Resort that you may not have time to do everything in one day! It's best to plan ahead so that you can enjoy every minute of your visit. Here are some fun things to do at Krushnai Water Park:
1. Enjoy Thrilling Rides- Krushnai Water Park has various fun-filled rides and activities for all ages. If you're here with your friends or family, experience the thrilling sensation of water slides like Magic Sway. Another popular attraction of the water park is the Black Hole. The ride is created like a dark tunnel that takes you towards the bottom of the tunnel at high speed. Inside the dark tunnel, you'll only be able to hear your friends or partner scream with excitement!
If you're visiting Krushnai Water Park with your little ones, what can be more exciting than spending your day at the Pirate Island? The Island is a play area designed for children with different tunnels and short and long slides. On Pirate Island, there is a bucket at the top of a castle that gets filled with water and dumps hundreds of gallons over your head every few minutes.
You can also spend some fun time with your family at the Wave Pool. This attraction is filled with large waves that crash into the pool every few seconds, making it feel like you're actually swimming in an ocean or lake.
After enjoying the Wave Pool, you can swirl around with your friends and family at the exhilarating water ride called Twister. Like Twister, River Cruise is another twisty water slide that will leave you screaming with excitement.
Apart from this, you can also enjoy amazing rides like Turnpikes, Aqua Trail, Mushroom, Bull ride, and Crazy Cruise.
2. Host Parties & Events- If you're planning to host a birthday party, bachelorette bash, school trip, or even a corporate event, there's no place better than the Krushnai Water park in Pune. If you organise a one-day picnic, outing, or party, the park has a lot to offer. From playing on the slides to relaxing in the swimming pool, you'll definitely have a party worth remembering.
The Rain Dance at the waterpark can be another great addition to your party. Here you can ask the DJ to play your favourite party songs to bust a few dance moves with your friends under the stimulated rain.
3. Stay at Resort- After a day full of fun rides and adventure, if you wish to visit more sightseeing places near Krushnai Water park, stay in the magnificent Krushnai resort. From here, you can explore nearby places like Sinhagad Fort, Peacock bay, Panshet Dam, Khadakwasla Dam, etc. The resort comes with rooms and suite facilities for overnight stay.
The Krushnai resort also has an amazing cottage stay option, where you can experience living in a rural environment with modern facilities. The cottages are surrounded by coconut and mango trees, which will give you a rest from the monotony of city life. And the cottages will give you an old-school vibe with their thatch, "charpais", and airy windows. Inside the cottages, you will get luxurious facilities like solar water heaters, TVs, WiFis, and washrooms.
And not just the old school cottage rooms, you can also book luxury comfy rooms at Krushnai Resort. The warm hospitality and grand service of the Krushnai Resort make it a perfect place to organise conferences, weddings, corporate events, and birthday parties.
4. Relish Local Cuisines- If you are looking to spend some relaxing time with your friends and family, visit the cafe and restaurants inside the water park. The cafe and restaurant serve mouth-watering Indian cuisines and refreshing beverages. If you want to host a corporate event in the Krushnai Water Park & Resort, corporate lunch orders are also available at the venue.
Image Gallery of Krushnai Water Park & Resort Pune
Entry Fee and timings of Krushnai Water Park & Resort
The entry fee for kids under the height of 4ft is INR 500, and for adults, INR 700. On Saturday, Sunday, and Govt. Holiday, the entry fee for kids under 4 feet is INR 600; for adults INR 800.
The Krushnai Water Park & Resort is open from 10:00 am to 6:00 pm throughout the week.
How to reach Krushnai Water Park & Resort
Located between the beautiful Khadakwasla dam and Sinhagad fort, Krushnai Water Park & Resort is well connected to the roads. The place is close to the highway, so you can easily get cabs, taxis, and rickshaws to reach the place.
Here are the three best ways you can reach Krushnai Water Park & Resort:
Airport- The nearest airport for the Krushnai Water Park is the Pune International Airport. The airport is 30.1 km away. You will get plenty of cabs, taxis, and car rentals from the airport to reach the park.
Railway Station- From the Shivajinagar railway station, the water park is 21.3 km away, and from Pune Junction, 23.8 km away. You can book local cabs or hop on a bus from the station area to reach Krushnai Water Park at ease.
Roadway- The water park is connected with the Sinhagad road. It's a popular tourist spot, so you can easily get buses, taxis, and auto-rickshaws from almost anywhere. The Shivajinagar bus stand is almost 21.4 km away from the Krushnai Water Park & Resort. You can even book a private cab from top car rental companies in Pune to reach the water park.
Things to Keep in Mind While Visiting Krushnai Water Park & Resort
Locker rentals are available (Rent: INR 100, Deposit INR 100) inside the park, so you can keep your belongings safe.
You can carry your own costumes inside the park. However, it is advisable to wear costumes made from nylon or lycra.
You can also rent swimming costumes at a minimal rate of INR 50. Also, you will get a refundable deposit for costumes at the same price.
The park authority will provide you with access bands for entering the park; make sure to keep them intact.
It is advisable to wear comfortable clothing and footwear for the summer season. Also, be sure to bring sunscreen, a hat, and comfortable footwear.
Before hopping on a ride, check all the specific safety rules. In case of emergencies, lifeguards and medical staff are available to save the day.
The water of the park is chlorinated to prevent germs or allergies. So, you must carry your own soaps and shampoos for after-bath uses.
---
If you need any assistance with your Pune tour, please fill out the Contact Us form and our travel experts will get in touch with you shortly. At Pune Tourism, a division of Holidays DNA, we cater to everyone's needs and design all-inclusive Pune tour packages as per your budget. You can also choose from our wide range of travel deals and offers that provide huge discounts on your holiday package. So, what are you waiting for? Book your Pune local sightseeing tour package with us today and visit the top sightseeing places of Pune comfortably.
Location Map for Krushnai Water Park & Resort Pune