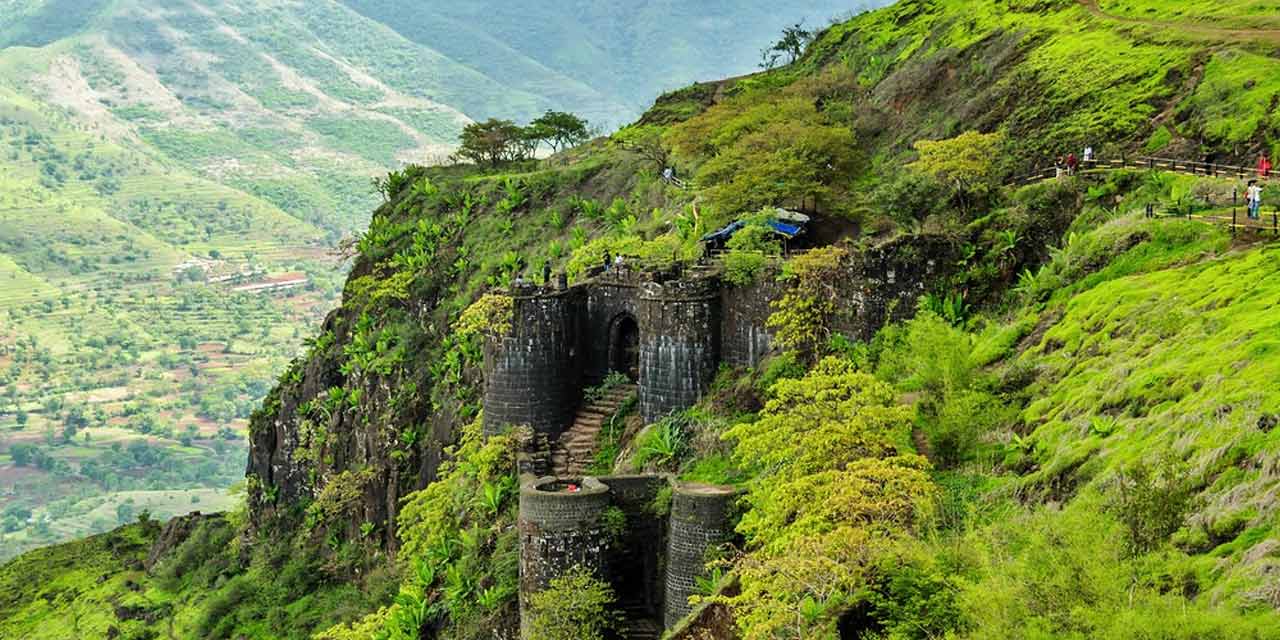 Sinhagad Fort Pune Entry Fee
Sinhagad Fort Pune Phone
N/A
---
Rating:

| 4/5 stars
Based on total 65 reviews
Sinhagad Fort Pune Address: Sinhagad Ghat Rd, Thoptewadi, Pune, Maharashtra, 411025, India
Pune Tour Packages
Sinhagad Fort Pune Timings
| Day | Timing |
| --- | --- |
| Monday | 6:00 am – 6:00 pm |
| Tuesday | 6:00 am – 6:00 pm |
| Wedesday | 6:00 am – 6:00 pm |
| Thursday | 6:00 am – 6:00 pm |
| Friday | 6:00 am – 6:00 pm |
| Saturday | 6:00 am – 6:00 pm |
| Sunday | 6:00 am – 6:00 pm |
Links:
Website
|
Map
---
Sinhagad Fort in Pune is an ancient fortress popular among trekkers, photography enthusiasts, and history lovers.
Sinhagad means Lion's Fort, and it is on a hill among the Sahyadri Mountains. Parts of this magnificent fort are in ruins, but the fort still attracts many adventure enthusiasts. It's known for its historical importance and architectural brilliance as well.
It Is also known as Kondhana Fort, and it has witnessed several battles, including the 1670 Battle of Sinhagad. Therefore, Sinhagad Fort Pune is a must-visit tourist destination.
The fort is shrouded in greenery, and its surroundings provide a good environment for a quick getaway. People come here mostly for trekking, but it has more things to do and see. It also houses a memorial of Tanaji (Shivaji's commander) and the tomb of Rajaram (Shivaji's son). Both died here during the battle.
You can also see military stables, a temple of Goddess Kali, and a statue of Lord Hanuman here. And you can savour delicious traditional food inside the fort too.
Where is Sinhagad Fort located?
Sinhagad Fort is in Thoptewadi, about 35 km away from Pune city. At the base of the fort is Donaje Village, from where the trek starts. You can also get a local guide here, to help you know Sinhagad Fort story as you explore the area.
History of Sinhagad Fort
As per the carvings on the Kaundinyeshwar Temple, Sinhagad Fort is believed to be a 2000-year-old fort. It is also known as Kondhana Killa, as sage Kaundinya lived here and meditated.
Till the early 14th century, Nag Naik, a Koli king, ruled the fort. But, in 1328, a Turkish invader Muhammad bin Tughlaq captured it.
Later, as the region was handed over to Shahaji, a Maratha commander for Ibrahim Adil Shah I, managed the fort. In 1647, Shahaji's son Shivaji convinced Siddi Amber (Adil Shah's Sardar) that he would manage the fort. Shivaji, instead, took over the fort. Adil Shah then imprisoned Siddi Amber and Shahaji. And Shivaji had to return the hold of the fort for his father's release. But he captured Sinhagad Fort again in 1656.
Then the Mughals attacked the fort around 1662. And in 1665, the fort was handed over to Jai Singh. But Shivaji conquered it again and managed to rule over it till 1689. This Sinhagad Fort battle, in 1670, was led by his commander, Tanaji Mulasare.
Several more battles were fought between the Marathas and the Mughals until the fort was taken over by the British in 1818.
Image Gallery of Sinhagad Fort Pune
Architecture of Sinhagad Fort
The fort is on a plateau, with steep slopes, on top of the Sahyadri mountains. These slopes provide a natural defence against intruders. Sinhagad Fort elevation is over 1300 metres above sea level. And it is around 750 metres above the base of the mountain.
Today, you can only see the main ramparts of the fort and the ancient stone stairways, which lead to the two enormous entrance gates. The Sinhagad Fort gates are named Pune Darwaza (in the northeast) and Kalyan Darwaza (in the southeast).
The fort complex also has a few temples (including the Kaundinyeshwar Temple), the tomb of Chhatrapati Rajaram, and the memorial of Tanaji Malusare. You'll also find many rock caves and other historic structures here.
Sinhagad Fort Trekking Details
Trekking is the most popular adventurous activity undertaken at Sinhagad Fort. The trekking route starts from old Katraj's Tunnel Top. And the route has got plenty of eye-pleasing sights of hills, forests and mountain ranges. It is best done in the early morning hours.
You'll also find numerous bikers and backpackers on your trek to the fort.
Sinhagad Fort trek distance: 16 km
Sinhagad Fort trek time: 4-5 hours
Sinhagad Fort trek difficulty level: Beginner to intermediate
Many tourists also opt to go to Sinhagad Fort base village, Donaje, by car. And then start their trek to the top of the fort. This segment is only about 2 km long, but on steep and rocky terrain. And it usually takes around an hour to reach the top.
How to climb Sinhagad Fort?
Sinhagad Fort has two gates: Pune Darwaza and Kalyan Darwaza. Stone stairways lead you to the top of the fort. And whichever route you take, it should take you 1-2 hours to climb the fort.
There, you can spend 2-3 hours exploring the fort complex and enjoying the panoramic views of the surrounding hills and valleys.
Things to see at Sinhagad Fort
1. Grand entrance gates – Sinhagad Fort Pune has two entrance gates. The one, with a road coming from Pune, is called Pune Darwaza; the other, opening towards Kalyan, is called Kalyan Darwaza. They're made with large stone blocks, stacked together with lead and limestone. You can climb on them and watch over the area.
2. Tanaji Kada – Tanaji Kada is the steepest cliff-side of Sinhagad Fort. This is the side from which Shivaji's commander Tanaji Mulasare climbed the fort with a small army at night. As per the legends, they took the support and help of a tamed monitor lizard.
3. Khandkada Machi – It is the eastern tip of Fort Sinhagad. It is near the parking area of Sinhagad Fort, close to Pune Darwaza. From here, you can view the entire eastern region around the fort. Khandkada Machi was used to keep an eye over the Purandar Fort, and the rivers Mula and Mutha.
4. Kalavanteen Buruj – Kalavanteen Buruj is one of the turrets in Sinhagad Fort which is still intact, and in a good condition. From here, you can get a clear view of the surrounding hills and valleys, and Tanaji Kada.
5. Zunjar Buruj – It is a tall turret on the southwestern tip of the fort. From Zunjar Buruj, you get an unobstructed view of the surrounding landscape. Photographers and rock climbing enthusiasts will love this point in Sinhagad Fort.
6. Daru Kothar – Daru Kothar is a small, hut-like structure near Pune Darwaza. It was used as a granary during the old times. From this point, you can look all around the surrounding valley.
7. Kade Lot – Kade Lot is believed to be the place where prisoners were punished; thrown down from the edge of the cliff. It is on the western-most side of the fort, and it's an attractive viewpoint. It is also called Sunset Point. And from here, you can see the tingling lights of Pune city, as the night takes over.
8. Wind Point – The wind point of Sinhagad Fort is where you can feel the strong force of wind blowing past. It can be challenging to walk/stand in this area. But people come here to witness the reverse falls phenomenon. Here, water falling off the cliff is carried back to the top, because of the wind.
9. Tanaji Malusare's Memorial – The memorial of Maratha commander Tanaji Malusare is built over his resting place. He died fighting with the fort keeper Udaybhan Rathod. Tanaji's bust is placed here.
10. Udaybhan Rathod's Memorial – The memorial of Udaybhan Rathod is also here at Sinhagad Fort. He was a Rajput warrior who suffered deep wounds after the fierce fight with Tanaji. Shelar Mama, a Maratha warrior, killed him.
11. Chhatrapati Rajaram's Tomb – Chhatrapati Rajaram was the caretaker of Sinhagad Fort. The tomb resembles Muslim architecture, and it has a small Tulsi Vrindavan too. And from here, you can get a good view of Khadakwasla Dam and the city of Pune.
12. Sinhagad Fort temples – In the fort, Kaundinyeshwar Temple is an old temple dedicated to God Shiva. It is at the highest point. It has carvings that date back to over 2000 years. Amruteshwar Temple is on the southern side of the fort. It has the idols of Bhairav and Bhairavi, who are worshipped by the local fishermen. A Hanuman Temple and a Kali Temple are also among the popular Sinhagad Fort points to see.
13. Dev Taake – Dev Taake means God's Cistern. It is a well, with crystal clear water. You'll find the water sweet and cold. And it is one of the sources of water for the locals who have their shops set in the fort complex. Dev Taake is a good place to pause and quench your thirst.
14. Horse stables – In Sinhagad Fort, you'll find caves that used to be horse stables. The condition of the caves has deteriorated, but you can still see hoops carved into the rocks, all around in the caves.
15. Top Khana – Top Khana (or the Cannon Storehouse) was used to store weapons and cannonballs. And this stone structure carries the marks of all the wars it has witnessed. This place also offers a gorgeous view of the valley surrounding the fort.
16. Lokmanya Tilak's bungalow – Lokmanya Tilak used to stay in Sinhagad Fort often. His bungalow in the fort acted as a summer house. Gandhiji and Balgangadhar Tilak also stayed with him several times to discuss the freedom struggle.
Other things to do at Sinhagad Fort Pune
1. Camping – Sinhagad Fort camping will provide the best views from the top of the fort. You can pitch your tent in the permissible areas. And you can spend your time stargazing and watching the city lights at a distance. Then, you'll also get to witness the morning sun as it comes up over the horizon. With prior permission from the authorities, you can stay overnight in the bungalow too.
2. Bird watching – Near the Sinhagad Fort trekking route, you can go for bird watching at the stream. Crested tree-swifts, Serpent Eagle, Sunbirds and several other species of birds come here to drink water usually in the morning or evening.
3. Tasting local food – The fort is the go-to place for many foodies. Local people sell freshly cut fruits in the complex and along the trekking route. You'll also find a variety of spicy local snacks being sold here. And while you're here, don't forget to try the Maharashtrian style food platter.
Food at Sinhagad Fort
While roaming around in the Fort complex, you'll find local people selling berries, raw mango slices and cucumber pieces spiced with the special masala. Some hawkers also sell steamed corns and groundnuts.
Tak (salty buttermilk), lassi (sweet buttermilk) and lemonades are also available in case you feel thirsty.
But the most popular among the Sinhagad Fort food varieties is the Maharashtrian lunch.
Local people have food stalls where they sell a variety of traditional dishes. You can taste crispy onion fritters, spinach fritters and vada-pav among other local snacks.
For the main course, you can order Bhakar/Bhakari (bread made of Jowar/Bajra) and Zunka or Pitala (spicy gram-flour curry). Chicken and mutton curries are also available. Thecha (chilli pickle) and vangyache bharit (mashed roasted brinjals) are the dishes that accompany your lunch for the day.
After you're done eating, you can try dahi (organic yoghurt). It is served with sugar or spices, as you need. And if you want to have something sweet, check the kulfi stalls. Kulfi is a frozen dessert, made with flavoured milk.
Sinhagad Fort Entry Fee and Timings
The entry fee of Sinhagad Fort varies from time to time. It is usually ₹5 or ₹10 per person, but during the peak hours or season, you can expect to pay ₹20. Then, you also need to pay for your vehicle, if you take it to the top of the fort. The charge is ₹20 per two-wheeler and ₹50 per four-wheeler.
Sinhagad Fort is open throughout the year. And you can visit it between 6 AM and 6 PM on any day you want.
Best Time to visit Sinhagad Fort
Although Sinhagad Fort Pune can be visited any time during the year, trek during the monsoon for the best views. Because of the heavy rains, the landscape surrounding the fort gets a green cover. And you can witness breathtaking panoramic views as you reach the top of Sinhagad Fort.
The drizzle and cold breeze will add to the pleasure. Start early in the morning or during the wee hours and you'll reach the fort as the sun rises.
The monsoon season is from June to October.
However, during monsoons, the roads get slippery and the trails become muddy. So, if you want to avoid those, visit Sinhagad Fort in winter, from November to February. Winter is also an ideal season to trek.
Time to explore Sinhagad Fort Pune
Sinhagad Fort is a one-day trip from Pune. It takes about an hour, by car, to reach the fort. And you need 4-5 hours to explore Sinhagad Fort completely.
In the fort, you can soak in the majestic views, dig into the history of the Marathas and check out lip-smacking dishes from the Maharashtrian cuisine. You can even spend a night in the bungalow of Lokmanya Tilak, in the fort complex.
Things to keep in mind while visiting Sinhagad Fort
Carry medicines and a first aid kit.
Network connectivity is patchy at the top.
Wear warm clothes if you're visiting early in the morning.
Double pack your belongings when trekking in the rainy season.
Pack spare clothes, in case it rains.
Carry an umbrella.
Put on comfortable trekking/walking shoes.
Avoid carrying too much weight in your backpack.
Carry plenty of water for your trek.
Consumption of alcohol is prohibited.
Take sunscreen creams.
Take moisturisers and lip balms.
Carry a hat and sunglasses.
Carry plastic bags for gadgets.
Camera and binoculars are also a must.
Have extra batteries for your electronic items.
Pack a torch if you're going to stay overnight.
Take mosquito repelling creams and lotions.
How to reach Sinhagad Fort in Pune?
Sinhagad Fort is at Sinhagad Fort Ghat Road, in the Thoptewadi region of Maharashtra. From Pune Swargate bus stand, it is about 32 km away. From the railway station, it is 33 km away; and from the airport, 45 km.
And here's how you can reach Sinhagad Fort Pune –
By bus – Plenty of buses run to Sinhagad Fort from Pune. You can take a state-run or private Sinhagad Fort bus from the Swargate bus stand. They drop you at Donaje village, the base of the Sinhagad Fort. From there, you can trek your way up to the top of the fort.
By cab – Booking a full-day cab from top car rental companies in Pune is a more convenient way to visit and explore the fort. Taxis and cabs are available all over the city and it should take you only about an hour from Pune to the fort. Also, if you go to Sinhagad Fort by car, you can reach the top directly if you want.
---
Pune Tourism, a division of Holidays DNA has designed Pune Tour packages keeping the needs and budget of its customers in mind. Choose the package that suits you best and visit all the important sightseeing places of Pune in the comfort of a private cab. To know more about it, please fill the Contact Us form.
Location Map for Sinhagad Fort Pune