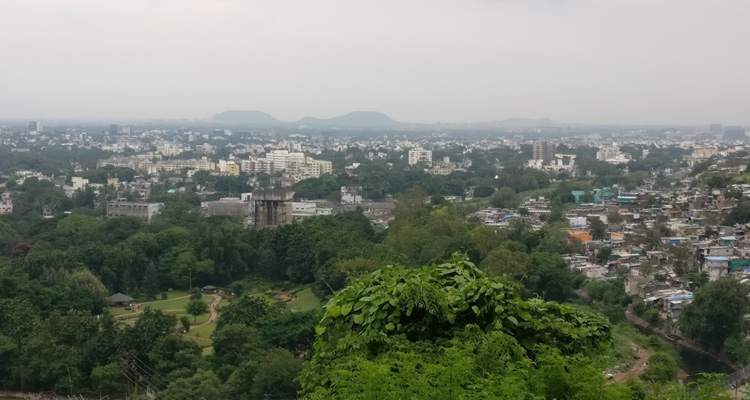 Taljai Hills Pune Entry Fee
Taljai Hills Pune Phone
N/A
---
Rating:

| 3/5 stars
Based on total 42 reviews
Taljai Hills Pune Address: Pachgaon Parvati Taljai Forest Area, Pune, Maharashtra, 411043, India
Pune Tour Packages
Taljai Hills Pune Timings
| Day | Timing |
| --- | --- |
| Monday | 6:00 am – 6:00 pm |
| Tuesday | 6:00 am – 6:00 pm |
| Wedesday | 6:00 am – 6:00 pm |
| Thursday | 6:00 am – 6:00 pm |
| Friday | 6:00 am – 6:00 pm |
| Saturday | 6:00 am – 6:00 pm |
| Sunday | 6:00 am – 6:00 pm |
Links:
Website
|
Map
---
Taljai Hills (or Taljai Tekdi) is a hillock developed as a park and wildlife reserve. It is rich in biodiversity and attracts many migratory birds. Taljai Hills Pune is also home to many ducks and peacocks. Therefore, it is popular among bird watchers and ornithologists.
The dense forest area of the hill has numerous trails which are used for jogging, running, and trekking. Local people come to Taljai Hills for morning and evening walks too.
Taljai Hills Pune also offers a spectacular view of Pune. Vehicles aren't allowed to enter the premises. But a picturesque mountain drive takes you to the entrance, making it a must-visit place for nature lovers.
At the entrance, you'll find a temple dedicated to Goddess Taljai, after whom the hill is named. Apart from that, this tourist place in Pune also has a pond and a meditation area.
Things to do at Taljai Hills
1. Visiting the Taljai temple – Located near the entrance of Taljai Hill area, the temple is one of the major attractions. It has the sanctum of the divine Goddess Taljai and a large hall where the devotees can pray. The area surrounding the temple has shady trees and sitting arrangements to relax.
2. Going for a trek – Taljai Hills Pune has many trekking trails and paved pathways for you to explore. While climbing up, you can see other attractions like the park, the pond and the meditation areas. It also has a large playground, Taljai Tekdi Cricket Ground, with a 'Haunted House' in one corner.
3. Exploring the wildlife – You won't find wild animals in the forest of Taljai Hill. But it has animals like rabbits and snakes. You can spot peacocks too. The place also has a small pond with ducks. Then, you can catch the sight of butterflies, bulbuls, water hens and other Taljai Hills birds.
4. Organising a picnic – Families come for a Taljai Hills trek and then enjoy a picnic in the playground. You can pack lunch or buy snacks from the small shops outside the entrance and have an enjoyable family get together.
5. Enjoying the views – Taljai Hills Pune provides a sweeping view of the Pune city. And if you come here in the early morning or the late evening, you can enjoy a glorious sunrise or sunset.
Image Gallery of Taljai Hills Pune
Taljai Hill Pune Timings and Entry Fee
Taljai Hills is open throughout the day, usually from 6 AM to 6 PM. But some places, like the Van Vihar Park inside, are open to tourists only during the morning (5 AM – 10 AM) and evening hours (4.30 PM – 7 PM).
The entry to Taljai Hills Pune is free.
Best Time to visit Taljai Hills
The place looks lively and ravishing during monsoon (July – September). Winter (November – February) also is a good season to visit Taljai Hills. Try to visit it during the early morning or late evening hours. It will ensure you won't miss any of the points of attraction.
Time to explore Taljai Hills
It normally takes about 2-3 hours to explore the entire area. For a relaxed visit, go there in the evening. But if you want some trekking on the hill, trek the way up to the summit in the early morning hours. You'll get a glimpse of a mesmerising sun rising over Pune.
Things to keep in mind when visiting Taljai Hills
Confirm trek timings beforehand.
Put on comfortable and sturdy shoes.
Take an umbrella.
Carry drinking water.
Pack some snacks.
How to reach Taljai Hills?
Taljai Hills distance from Pune railway station is about 9 km. From the airport, it is about 17 km away. It is on the southern side of Pune, close to Parvati Hill. From Pune Swargate bus stop, Taljai Hills is only 5 km away.
And following are the different ways to reach Taljai Hills location –
By bus – You can get a bus up to Datte bus stop. From there, Taljai forest area entrance is about a 1.5 km of uphill walk.
By auto-rickshaws – You can also take auto-rickshaws to Taljai Hills. Get off near Shree Suvarna Maruti Temple and walk the distance up to the hill.
By taxi/cab – Taxis and cabs are also available all over Pune. Book a private cab from top car rental companies in Pune and enjoy a pleasing ride to Taljai Hills, with the view of the hill. Taljai Hills is a no-vehicle zone, so you'll need to get off near the parking area and walk the rest of the distance.
---
Looking for a Pune tour package? Then book one now! We at Pune Tourism, a division of Holiday DNA, are here to provide you with the best travel experience ever. Our expert travel planners will help you plan your vacation in the best possible way by designing a customized tour package that suits your budget and holiday style. If you want to know more about us, please fill the Contact Us form.
Location Map for Taljai Hills Pune