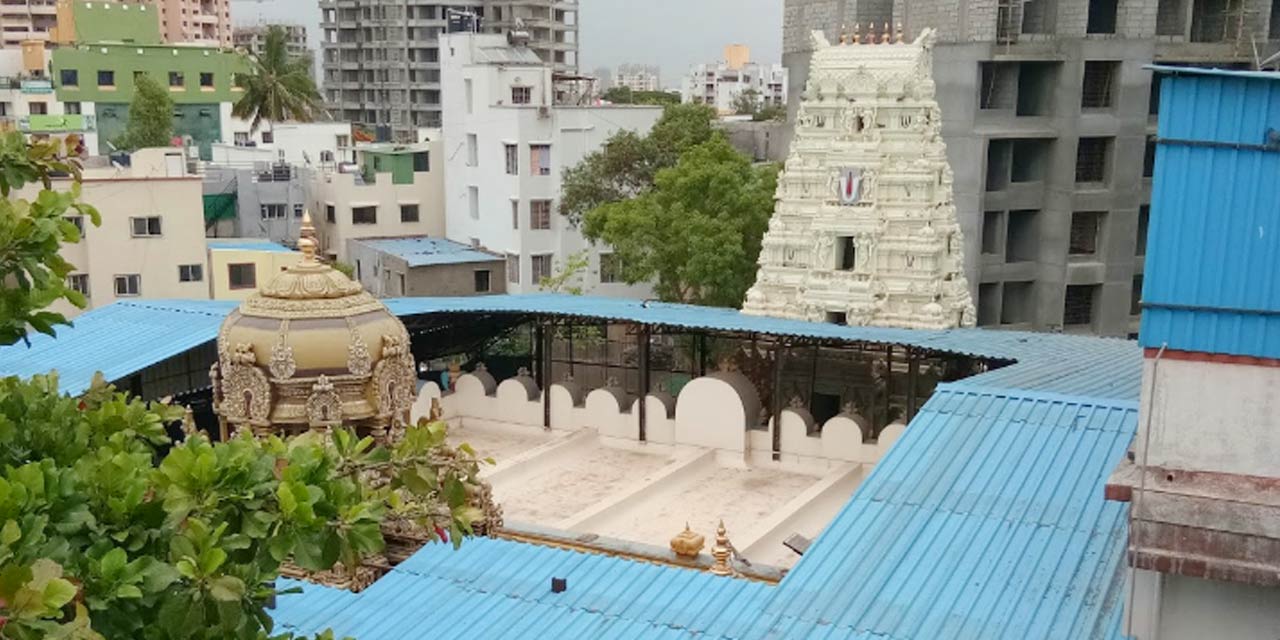 Sri Ahobila Mutt's Sri Balaji Mandir Pune Entry Fee
Sri Ahobila Mutt's Sri Balaji Mandir Pune Phone
---
Rating:

| 4/5 stars
Based on total 54 reviews
Sri Ahobila Mutt's Sri Balaji Mandir Pune Address: S.No: 116, 11, Balaji Mandir Ln, Jai Bhavani Nagar, Pashan, Pune, Maharashtra, 411021, India
Pune Tour Packages
Sri Ahobila Mutt's Sri Balaji Mandir Pune Timings
Day
Timing
Monday
7:00 am – 12:00 pm
4:00 pm – 8:00 pm
Tuesday
7:00 am – 12:00 pm
4:00 pm – 8:00 pm
Wedesday
7:00 am – 12:00 pm
4:00 pm – 8:00 pm
Thursday
7:00 am – 12:00 pm
4:00 pm – 8:00 pm
Friday
7:00 am – 12:00 pm
4:00 pm – 8:00 pm
Saturday
7:00 am – 12:00 pm
4:00 pm – 8:00 pm
Sunday
7:00 am – 12:00 pm
4:00 pm – 8:00 pm
Links:
Website
|
Map
---
Sri Ahobila Mutt Balaji Temple Pune is built in the green surroundings of the Pashan suburb. It is a part of a renowned religious institution Sri Ahobila Mutt. And it has a peaceful atmosphere to sit and be a part of the aartis and other rituals.
Lord Balaji (also called Lord Venkateshwara) is the supreme deity in this temple. And it is believed he can fulfil all the wishes of the devotees.
The temple architecture is similar to Tirumala Tirupati Balaji Temple. And here, you can also take blessings from Sri Ram, Goddess Sita, Garuda, Hanuman and other deities.
History of Ahobila Mutt Balaji Mandir
Sri Ahobila Mutt is a religious institution, established over 600 years ago. It came into existence in Ahobila Kshetram of Kurnool district in Andhra Pradesh.
And the Acharyas of Ahobila Mutt have since been setting up branches to spread awareness about the Vedic culture.
Sri Ahobila Mutt Sri Balaji Mandir Pune was set up in 1998. Sri Lakshmi Nrusimha Sabha (an institution of Srivaishnavites of Pune), has assisted the construction. The architecture of the temple as well as the idols kept in it are similar to the Balaji Temple in Tirumala Tirupati.
Things to do at Ahobila Mutt Balaji Mandir Pune
Lord Balaji is the presiding deity of this temple. But you can take the blessings of many other gods and goddesses, too. Among the most important idols in Ahobila Mutt Balaji Mandir are that of Padmavati, Lakshmi Nrusimha, Ram, Lakshman, Sita and Hanuman.
Sri Lakshmi Nrusimha is shown as seeing over the wedding of Sri Balaji and Sri Padmavati. Therefore, many devotees pray here to fulfil their marriage wishes.
The temple also has a big hall to celebrate various festivals and other religious events.
Ahobila Mutt Balaji Temple Pune celebrates festivals like Avatahara, Adyayanotsavam and Navratri. You can also take part in the annual Brahmotsavam and Padmavati Thayar Utsavam. Huge processions are carried out through the city during these two festivals.
Image Gallery of Sri Ahobila Mutt's Sri Balaji Mandir Pune
Sri Ahobila Mutt's Sri Balaji Mandir Timings and Entry Fee
The temple rituals are performed in two sessions throughout the day. The morning rituals begin with Viswaroopam at 7 AM as the temple gates open. Afterwards, other archanas and aradhanas are performed. The morning session ends at 12 PM.
Then, the evening session rituals are performed from 4 PM to 8 PM.
Sri Ahobila Mutt's Sri Balaji Mandir also hosts Thirumanjanam and Abhishekam rituals from time to time. And you can also perform special poojas and sevas upon your visit.
Monsoon and winter are the best seasons to visit the temple. During these months (from July to February), the weather remains comfortable. So, you can spend as much time in the temple as you want.
How to reach Ahobila Mutt Balaji Temple in Pune?
Ahobila Mutt Balaji Temple is in the Pashan suburb of Pune, only a few kilometres away from the city. It is well-connected by road. From the bus stop, the distance is about 12 km; and from the railway station, it is about 15 km away. From the airport, it is about 20 km away.
And here are the various ways to reach Sri Ahobila Mutt's Sri Balaji Mandir Pashan –
By bus – Plenty of state-run and private buses run to Balaji Temple from Pune. You can get them from the Swargate bus stop. Pashan bus stop is only 2 km away from the temple. And you can get autos/taxis from there.
By cab – Hiring a cab from top car rental companies in Pune would be a more convenient way to visit Ahobila Mutt Balaji Temple.
---
Make the most of your holiday by booking a Pune Tour package with us. We at Pune Tourism, a division of Holidays DNA ensure that you have a relaxing holiday trip without breaking the bank. Choose the package that suits your budget and visit all the important sightseeing places of Pune. Please fill the Contact Us form to know more about our services.
Location Map for Sri Ahobila Mutt's Sri Balaji Mandir Pune