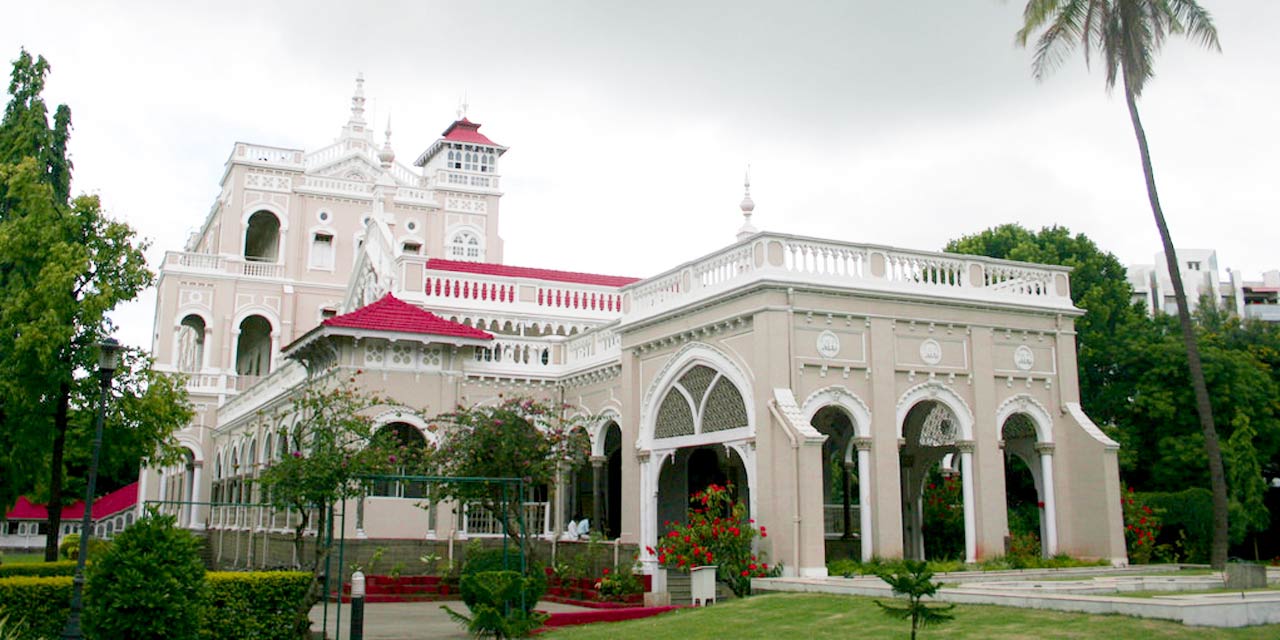 Aga Khan Palace Pune Entry Fee
5 per person for Indians
100 per person for Foreigners
2 per person for Children
Aga Khan Palace Pune Phone
---
Rating:

| 4/5 stars
Based on total 73 reviews
Aga Khan Palace Pune Address: Pune Nagar Road, Kalyani Nagar, Pune, Maharashtra, 411014, India
Pune Tour Packages
Aga Khan Palace Pune Timings
| Day | Timing |
| --- | --- |
| Monday | 9:00 am – 5:30 pm |
| Tuesday | 9:00 am – 5:30 pm |
| Wedesday | 9:00 am – 5:30 pm |
| Thursday | 9:00 am – 5:30 pm |
| Friday | 9:00 am – 5:30 pm |
| Saturday | 9:00 am – 5:30 pm |
| Sunday | 9:00 am – 5:30 pm |
Links:
Website
|
Map
---
Located on the Nagar Road, at a distance of 2 km from the Bund garden, Aga Khan Palace is a one of the popular tourist spots in Pune. This palace was built in 1892 by Sultan Mohammad shah Aga khan, primarily to help famine affected people in Maharashtra. This palace, which is spread across an area of 1756 sq. meters, took 5 years for its completion.
Aga Khan Palace, Pune is known for its memorials of Kasturba Gandhi, who was the wife of Mahatma Gandhi and Mahadev Desai, a close associate of Mahatma Gandhi. Apparently both of them had breathed their last in the premises of this palace. In the honour of them, their memorials have been built inside the palace ground. The world famous architect Charles Correa had designed the memorials.
Aga Khan Palace also mesmerizes its visitors with beautiful spacious lawns. Comprising of five halls, its Italian arches leave you awestruck. It has two floors, first floor is about 1080 sq. meters while the second floor is of 445 sq. meters. The corridor of 2.5 meters is spread around the entire building.
This palace along with the museums and memorials are under the care of the Gandhi Memorial Society. Since 1980, the society has been effectively marinating the entire complex as well as organizing various exhibitions at the palace. These exhibitions on the various aspects of Mahatma Gandhi's life offer visitors a deeper insight into the life of our father of the nation.
Image Gallery of Aga Khan Palace Pune
Inside the Aga Khan Palace complex, you will find a shop from where you can buy pure Khadi and cotton garments and handmade textiles. Trainings are also given here at the complex. There is also provision of free trainings for those with weaker financial background.
It is open for visitors throughout the week, except on national holidays. You can visit the palace from 9 in morning to around 5:30 in evening.
Location Map for Aga Khan Palace Pune