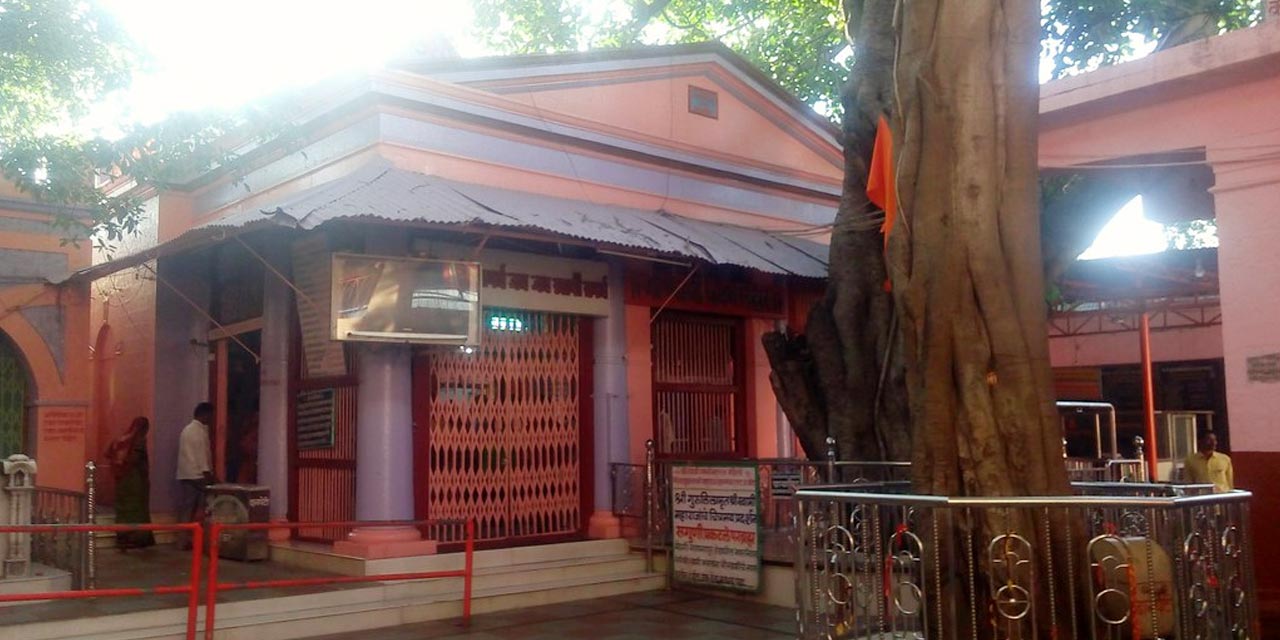 Shri Swami Samarth Temple Pune Entry Fee
Shri Swami Samarth Temple Pune Phone
N/A
---
Rating:

| 3/5 stars
Based on total 52 reviews
Shri Swami Samarth Temple Pune Address: 109, Ashok Chowk, New Nana Peth, Ganesh Peth, Pune, Maharashtra, 411002, India
Pune Tour Packages
Shri Swami Samarth Temple Pune Timings
| Day | Timing |
| --- | --- |
| Monday | 8:00 am – 7:00 pm |
| Tuesday | 8:00 am – 7:00 pm |
| Wedesday | 8:00 am – 7:00 pm |
| Thursday | 8:00 am – 7:00 pm |
| Friday | 8:00 am – 7:00 pm |
| Saturday | 8:00 am – 7:00 pm |
| Sunday | 8:00 am – 7:00 pm |
Links:
Website
|
Map
---
Shri Swami Samarth Temple Pune is a temple of Shri Swami Samarth, also known as Swami of Akkalkot. He is a widely known spiritual figure of the Dattatreya tradition. He is said to have lived during the 19th century and travelled across India and the Himalayas.
Swami Samarth resided in Akkalkot town for close to 22 years. And this temple dedicated to him in Pune is open to devotees and tourists throughout the year.
The temple is known for its peaceful atmosphere and energetic and spiritual vibes. It is full of a positive environment.
Where is Swami Samarth Mandir in Pune?
This famous Swami Samarth temple is close to Pune city centre. It's in the Ganesh Peth area.
Things to do at Swami Samarth Temple
Shri Swami Samarth Temple in Pune is dedicated to Swami Samarth, an incarnation of Lord Dattatreya himself. He's a monk and a mystic, believed to be a reincarnation of Narasimha Saraswati too, another spiritual master of the Dattatreya sect.
You can have his darshan in the temple, take part in the rituals, and learn more about his life. You can also take inspiration from his spiritual teachings. Visiting Swami Samarth Temple will take your stress off and show you the beautiful side of life.
Swami Samarth Temple also has a lively garden. Plenty of people come here to spend their evening hours.
Swami Samarth Temple Timings and Entry Fees
Swami Samarth Temple Pune is open daily from 8 AM to 7 PM.
Winter is the best time to visit the temple. It starts around November and remains until mid-February. During these months, you can explore the temple well and spend as much time as you want. Visit it during the evening hours so you can spend time comfortably.
Temple entry is free for everyone.
Image Gallery of Swami Samarth Temple Pune
How to reach Swami Samarth Temple Pune?
Swami Samarth Temple is in the Ganesh Peth area of Pune. It is 3 km away from Pune railway station and 2 km away from Swargate bus stop. From the airport, the temple is 11 km away. And here's how to reach the spot –
By bus – You can take a city bus to Ganesh Peth and visit the temple. There are many bus stops in the area.
By autorickshaws – Autorickshaws are another popular mode of transport to visit Shri Swami Samarth Temple. It's easily accessible from all parts of Pune.
By taxi/cab – Cabs and taxis are the most comfortable way to visit the temple. You can book them for the day and visit Swami Samarth Temple and other tourist places of Pune. For your convenience, we have curated a list of top car rental companies in Pune for you to book a private cab from the given list and enjoy a hassle free commutation.
---
If you are planning a trip to the beautiful city of Pune, then we at Pune Tourism, a division of Holidays DNA, can be of great help to you. We offer all-inclusive Pune tour packages that are designed to suit your budget and holiday requirements. We can also make changes to the itinerary as per your needs. So, what are you waiting for? Contact us now!
Location Map for Shri Swami Samarth Temple Pune