Pune is one of India's most lively and diverse cities, offering tourists a wide range of entertainment options, including several amusement and theme parks. Whether you are looking for thrilling rides or fun family activities, there is something for everyone in Pune.
Some of the most popular amusement and theme parks in Pune include Adlabs Imagica, Krushnai Water Park, Diamond Water Park, and Appu Ghar. Each of these parks offers its own unique features and attractions to keep both adults and children engaged.
To add some fun to your summer holidays, you can pick an amusement park or theme park from the list below and build memories for a lifetime.
1. Imagica Adlabs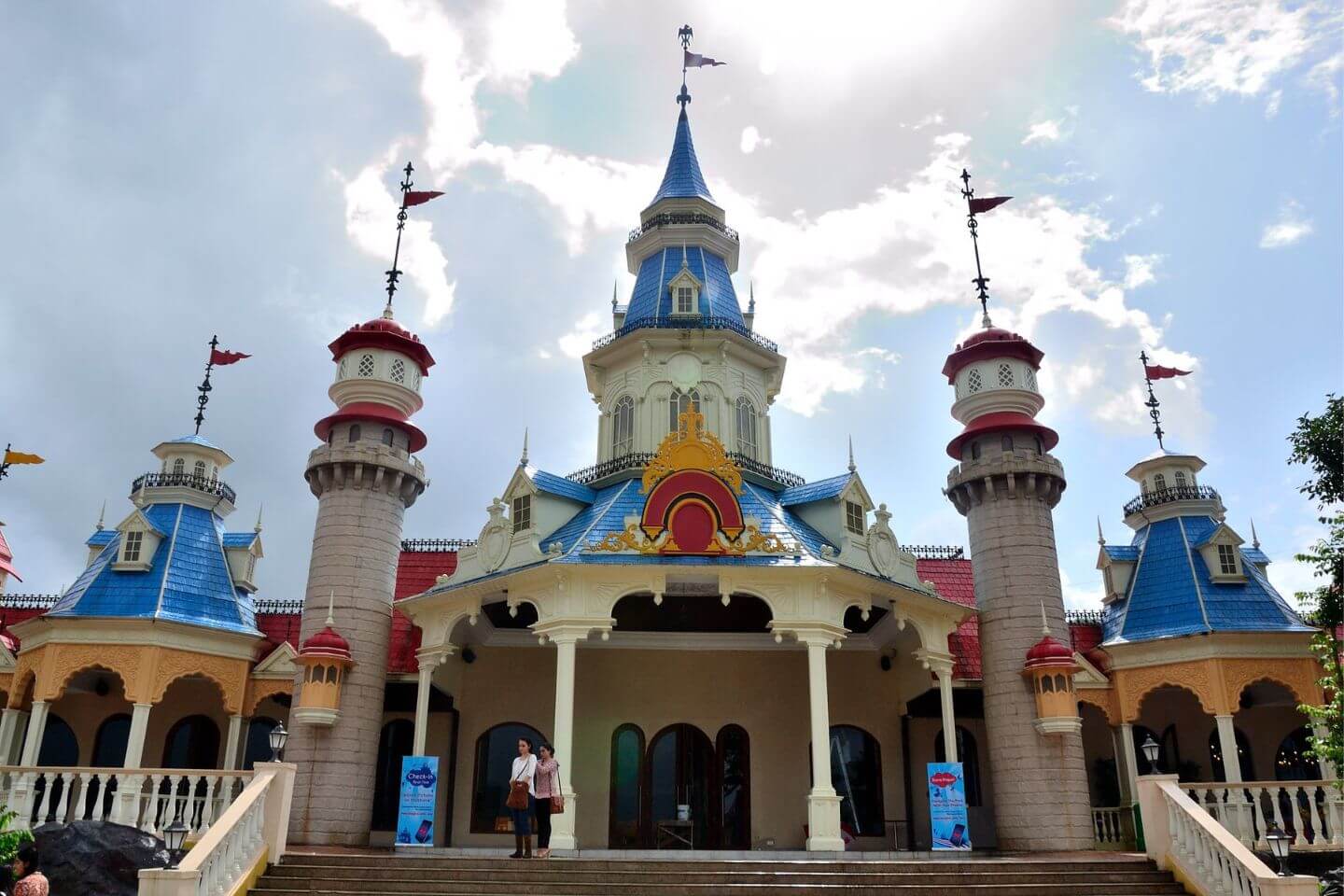 Imagica Adlabs is one of the biggest amusement and theme parks in Pune. It is a place for all seasons, catering to the interests of guests of all ages. It is a perfect weekend getaway for families and kids. It includes an international standard theme park, water park, snow park, and a premium hotel.
Featuring thrilling indoor and outdoor roller coaster rides, thematic shows, and movie screenings, Imagica is one of the best places to visit with family or friends. For those who want more of an adventure, there are roller coasters such as Dare to Drop. Kids can enjoy rides with their favorite cartoons, like Tubby or Humpty Dumpty, while adults can enjoy the thrill of activities such as Deep Space and the enthralling Scream Machine.
The Mykonos-themed water park offers some of the best never-before-seen fulfilling water rides. Ride your way to relax in the Lazy River or simply jump in with your friends and family on the Splash water slide. It also features many activities like hip-hop dancing, magic shows, a wave pool, shopping areas, and restaurants serving delectable meals.
The amusement park also allows you to enjoy snowfall in Pune at the snow park. You can enjoy snow basketball, snow slides, snow hiking, and even dance as it snows. Accompanied by accommodation by Novotel, Adlabs Imagica also hosts weddings, corporate events, birthday parties, and other special occasions.
Location: No. 30/31, Khopoli-Pali Road, Near Lonavala Sangdewadi, Khopoli, Maharashtra - 410203
Entry Fees: Prices Starting From INR 999 per person for Theme Park and INR 699 per person for Water Park, INR 399 per person for Snow Park
Opening Hours: 10:30 AM - 6:30 PM (all days of the week)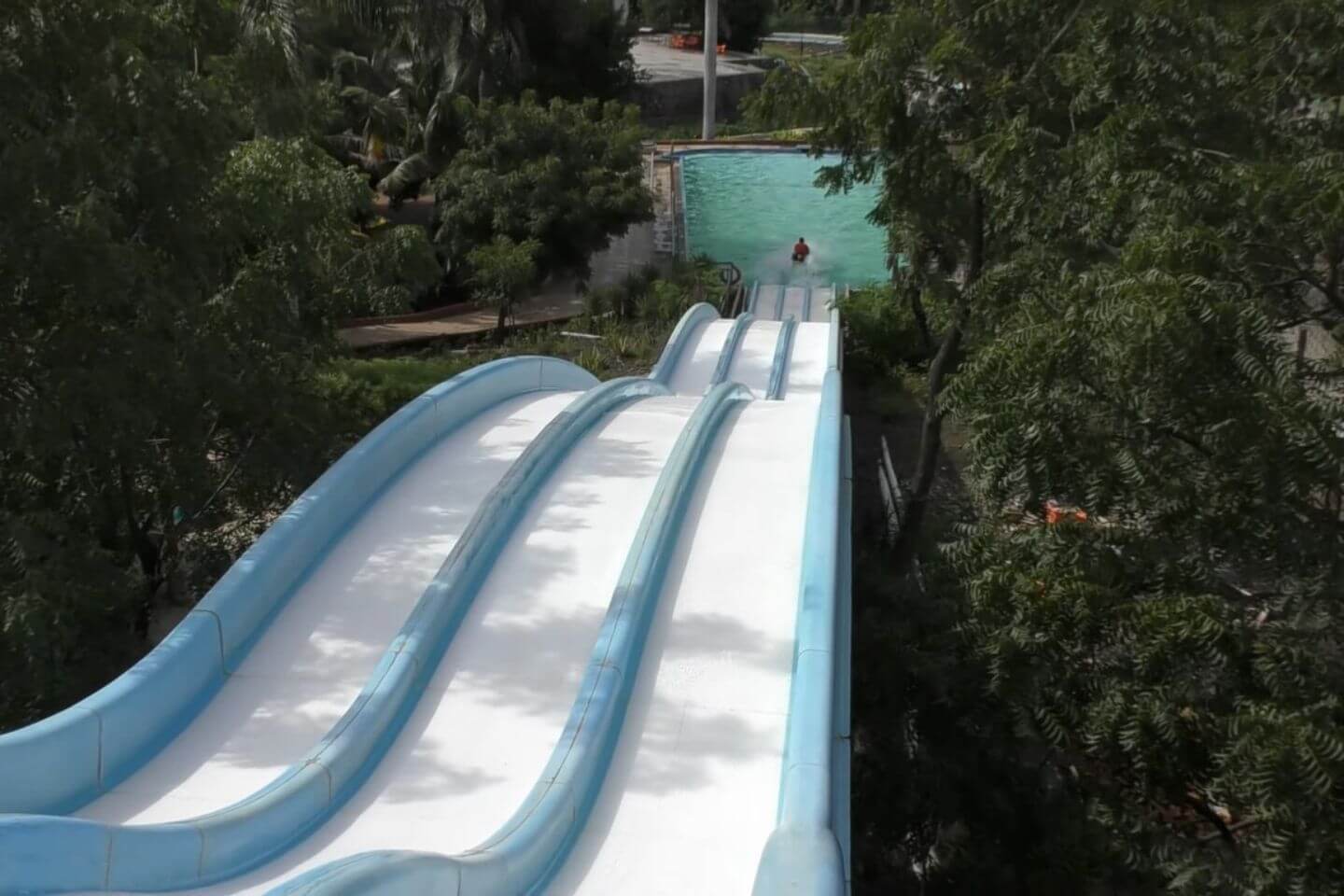 Beat the heat by spending a day in the fun-filled Diamond Water Park located in Pune. It is a perfect place to enjoy your day with family or friends. It has a variety of slides, a wave pool, a kiddies pool, and a family play station as well. Catering to the diverse needs of its visitors, the park offers not only Aqua fun but a complete package of outdoor adventure and exhilarating rides.
You can experience 8 different types of waves at the wave pool and imagine the thrill of diving into an ocean. The Diamond water park Pune has an amazing array of adventure activities as well. You can indulge in activities like rock climbing, rocket, zip-lining, bungee, zorbing, archery, sky, and ground rope courses for an adrenaline-pumping experience. There are many activities specially designed for kids such as Tarzan swing, Pirates bridge, Spider web, and Commando crawl.
A great place from where you would not want to come out, Diamond Water Park is perfect for spending a day with your friends or family. The fun activities offered by them will keep you engaged as you take back home good memories of your trip.
Diamond Park also has arrangements to host corporate events, private parties, functions, school picnics, and college outings. There are provisions for lockers, food, safety, and entertainment too.
Location: Diamond Water Park, water park road, Lohegaon, Pune, Maharashtra - 411047
Entry Fees: Starting from INR 799 per person for adults and INR 699 per person for Children, Adventure starts from INR 499 per person and camping starts from INR 899 per person
Opening Hours: 10:00 AM - 5:30 PM (all days of the week)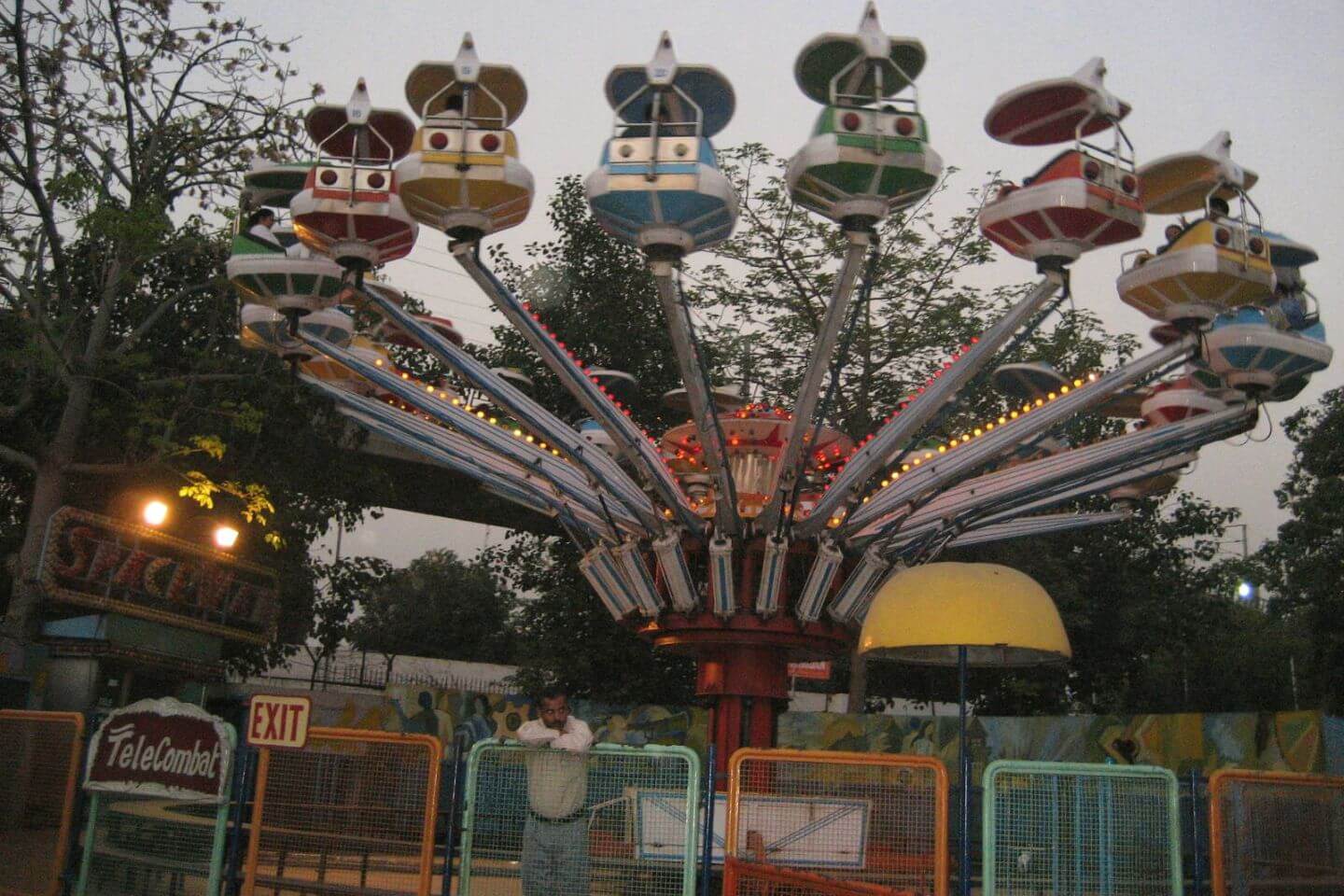 Inaugurated on 19th November 1984, Appu Ghar provides a wonderful eco-friendly environment for all age groups. It is one of the most popular amusement parks in Pune.
Appu Ghar derives its name from the 1982 Asian Games mascot, Appu, the Elephant. It has been operating since then as the perfect recreational spot with outstanding services. Frequently deemed as the 'Mini Disneyland of Pune', it comprises amazing rocky landscapes, placid lakes, and fun rides.
Though small, the park still appeals to international and national tourists traveling to Pune. The park features high-quality rides that meet the industry safety standards. These rides were imported from Italy. There is also a swimming pool where kids and adults can have some fun. Riding the fiber-glass Merry Cups and Appu Columbus, the ship-like swing is a favorite among kids.
Adults can add thrill to their experience by walking through the Bhoot Bangla. It is truly a spine-chilling experience. For some adventure, you can also try finding your way through the Bhool Bhulaiya. Tele Combat cubes that swing up and down at lightning speed are sure to give you an adrenaline rush. You can also sit and relax by the lake as you watch the splendid views of the hills adjacent to the park.
Location: No.23 Pradhikaran Sector Indira Gandhi Udyan Nigdi, Pimpri-Chinchwad, Maharashtra - 411044
Entry Fees: For Adults INR 500, for Children (up to 3.5 feet in height)– INR 450 including entry and all rides (once) if permissible according to age group
Opening Hours: During Weekdays - 12:00 PM - 8:00 PM and During Weekends - 12:00 PM - 9:00 PM
4. Wet N Joy Water Park and Amusement Park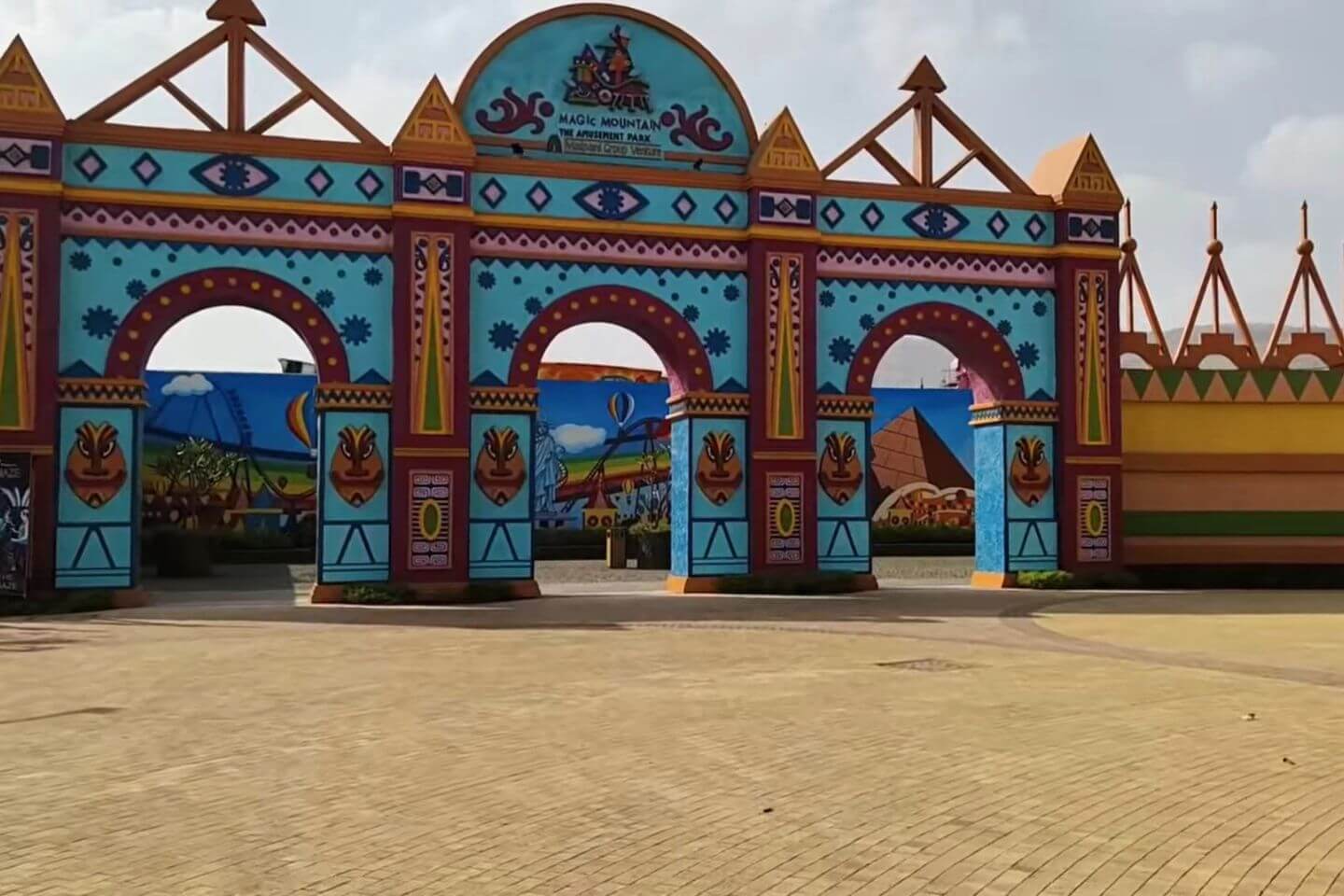 Considered India's biggest water park, Wet 'N Joy Water Park and Amusement Park is a well-maintained amusement park in Pune. It is the ideal place for relaxation, rejuvenation, and, of course, splashing water on each other. There is something for everyone at this water park. You can simply chill by the pool or have an action-packed day trying out the multitude of rides at Wet N Joy Water Park.
The park also houses the country's largest wave pool. You can pick from their 26+ rides of international standards. Besides, there are plenty of slides and swings ideal for families with kids. The park offers a wholesome experience with delicious food and secure kid-friendly zones. It hence forms the perfect weekend getaway to escape the sweltering heat and the hectic schedules.
Tap your feet to grooving music at the Rain Dance Station and indulge in Fungama, Lazy River, Thunder Waves, and other family games. You can also enjoy the devotional Robotics Show. There are plenty of slides and mazes to explore at the Royal Castle, which is reputed as India's biggest aqua station. For an adrenaline rush, you can try the high thrill rides, including Boomerang, Cyclone Nightmare, and Tornado.
Overlooking the spectacular landscapes of the Western Ghats in Lonavala, the park is just a short drive from Pune. It offers breathtaking views of the hills covered in greenery, making Wet N Joy Water Park the ideal destination for a fun-filled day with family and friends.
Location: Old Pune Mumbai Highway, NH-4 Post-Takve, Mundhaware, Maharashtra - 410405
Entry Fees: During weekdays, charges start at INR 1099 per person for adults and INR 899 per head for children. The charges during weekends start at INR 1299 per person for adults and INR 1099 per head for children
Opening Hours: 10:00 AM - 6:30 PM (all days of the week)
5. Sentosa Resort and Water Park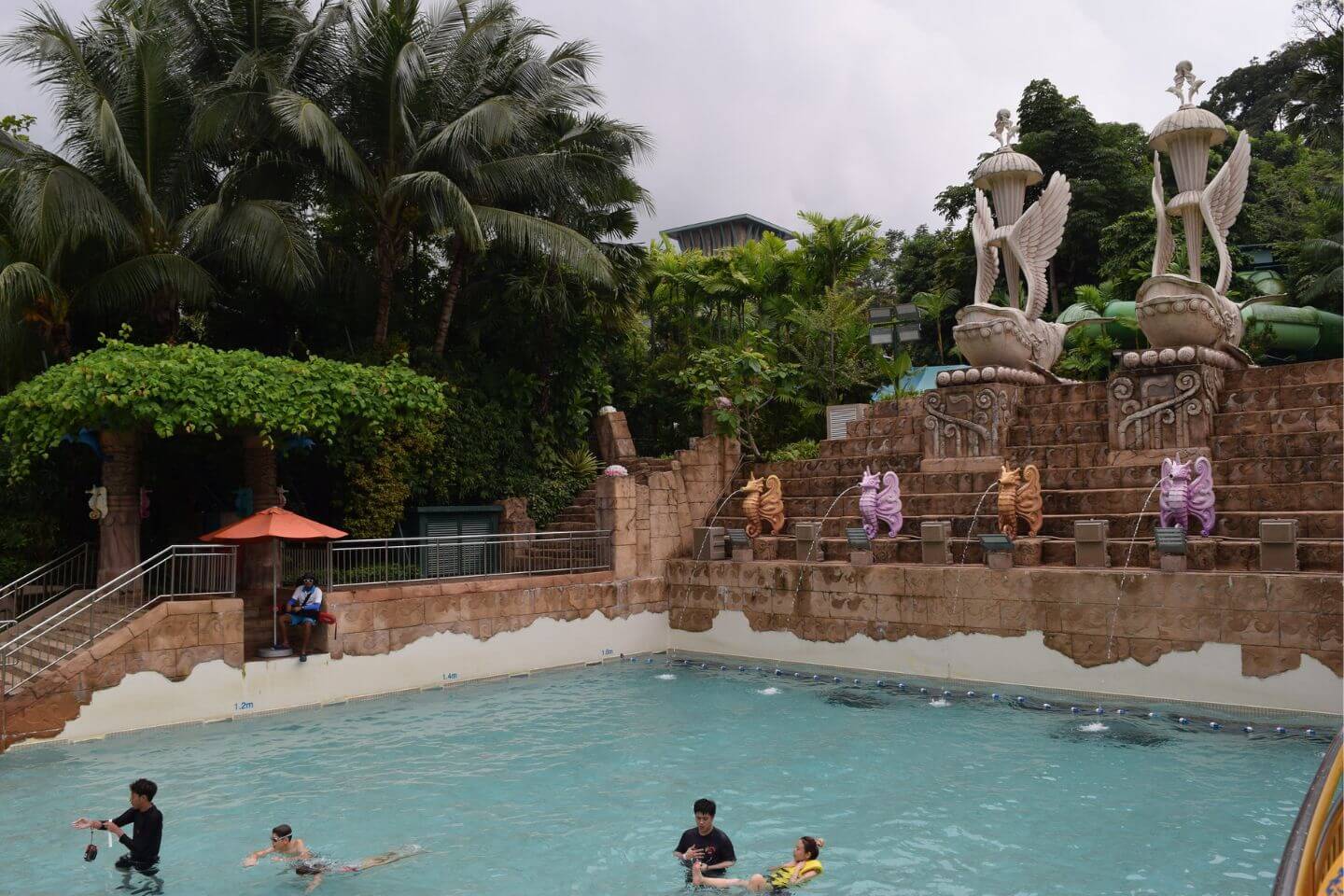 Sentosa Resort and Water Park is the perfect destination for a fun day, away from the monotony of routine life. It is an amazing place spread over 10 acres and covered with fresh greens. You can participate in fun activities and simultaneously find good accommodation, making the spot perfect for a one-day trip or weekend escape.
Sentosa is suitable for all age groups since it ideally blends weekend fun with rejuvenation. You can lodge in regular and executive rooms with private balconies, and bungalow villas offering access to pristine views of the surroundings. Known for its excellent hospitality and aesthetic appeal, Sentosa draws visitors from Pune for a weekend escape or a one-day trip.
Try their Water Play System, Tube Twister Slides, Magical Mat Slides, Leisure Pool, and Waterfall to make the most of your time at Sentosa. You can shake a leg to the live DJ at the Rain Dance Corner. Relish delectable dishes while dining at their multi-cuisine restaurants and enjoy happy hours at the bar.
It is also a well-known place for offsite corporate meets. You can also request wedding and party arrangements. You can choose to book their garden restaurant, wave and dip pool, or the two poolside zones for small gatherings.
Location: Mumbai-Pune Expressway, 1 Km Before Ravet, Ravet, Pune, Maharashtra - 412101
Entry Fees: INR 550 per person (Height 3.11 feet and above), INR 500 per person (Height below 3.11 feet), Senior Citizen INR 450 per person
Opening Hours: 10:00 AM - 6:00 PM (all days of the week)
6. Panshet Water Park
Panshet Water Park is the best place to visit if you have water and fun juxtaposed in your mind. Built by the tourism department near the Panshet Dam, this amusement park has plenty of enthralling options for all age groups.
There are amazing water activities and sports, which are meant for both kids and adults. Even senior citizens can visit the water park to enjoy the soothing ambiance and majestic scenery of the Sahyadri Hills. The natural view is equally irresistible and allows you to unwind in the lap of nature. There is also complete safety and security with the rides and the facilities. You get life jackets for all water sports.
Panshet is the perfect getaway for beating heat and stress with unique and thrilling water rides. You can enjoy fun activities such as kayaking, speed boating, swimming, jet skiing, and windsurfing at the water park. The area is a perfect picnic spot and you can indulge in yummy local dishes to add some flavor to your trip.
Location: Panshet water park, Near Khadakwasla Dam, Pune, Maharashtra – 411024
Entry Fees: During Weekdays INR 250 for Adults, INR 170 for Children; During Weekends INR 300 for Adults and INR 250 for Children
Opening Hours: 10:00 AM - 6:00 PM (all days of the week)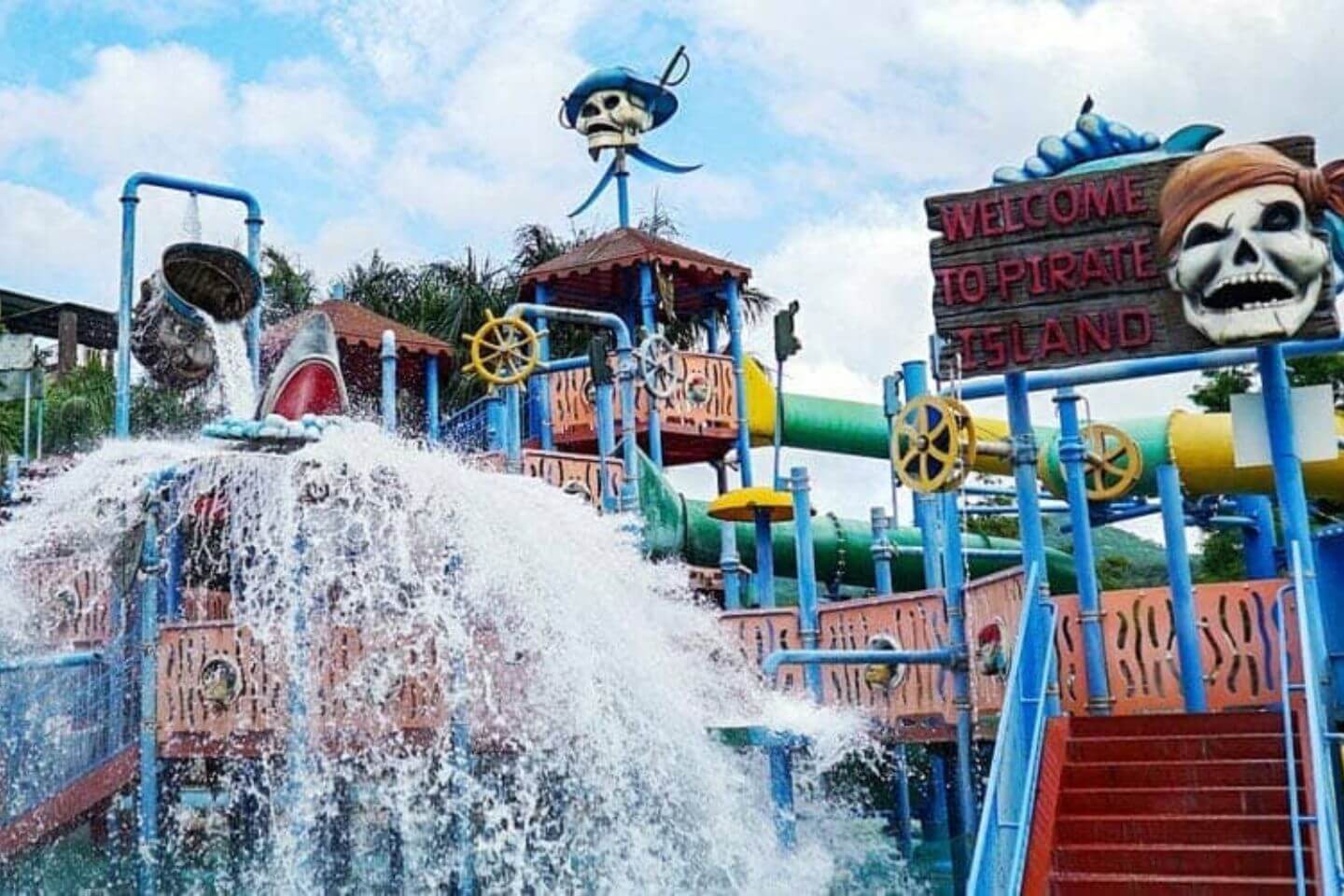 A tiny and eye-pleasing place to unwind and indulge in fun and frolic, Krushnai Water Park is a well-known and much-loved water park in Pune. It is a quaint haven for kids and adults, alike. Krushnai offers a bunch of activities for everyone including spine-chilling twisters, turnpikes, blackholes, aqua trail, pirate island, and wave pools.
You can spend hours at this water park without noticing the time and wanting to go home. High-quality standards are maintained to ensure the safety of visitors. You will also be satisfied with their excellent services of sanitization, social distancing, secure parking, costume changing, storage in lockers, and availability of swimming costumes.
You can have fun at the several rides and gaming zones. Dashing cars, bulls rides, little champs, family slides, crazy cruise, tunnel-funnel, and magic sway are popular fun rides. Add fun to your trip by dancing at the Rain Dance Area and building memories that last forever.
Location: Gat No. 186, Donje Gaon-Sinhagad Road, Sinhagad Base, Donje Gaon, Maharashtra - 411025
Entry Fees: During Weekdays - INR 600 for Adults and INR 500 for Children; During Weekends - INR 700, INR 600 respectively
Opening Hours: 10 am - 6 pm
8. Prathamesh Resort Amusement and Adventure Park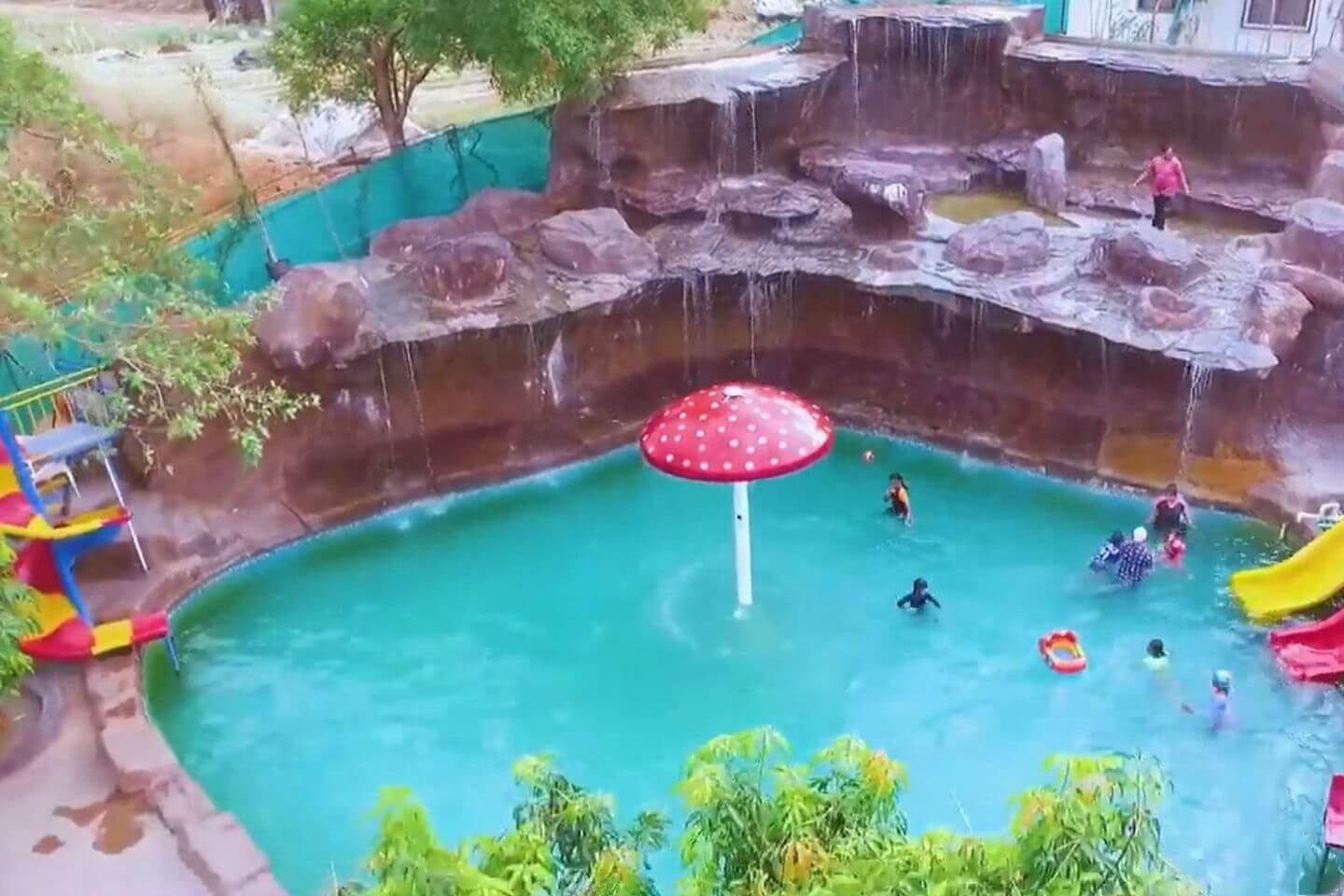 Prathamesh Resort Amusement and Adventure Park is located around 25 kilometers from the city of Pune. Set idyllically in the lap of nature, it is surrounded by the Shivganga River and the Sahyadris Mountains. The resort spreads across 7.5 acres of beautiful green grounds and emphasizes agro-tourism by providing a homely experience away from home in the countryside.
The most popular activities at the resort include zip-lining, rope bridges, rappelling, artificial rock climbing, archery, rural agricultural activities, and a large swimming pool for you to rest and unwind in. There are several possibilities for indoor activities including chess, cards, table tennis, snooker, and carrom. The adventure park provides a peaceful getaway to spend some time with your loved ones, or even just by yourself. Snuggle up to a campfire and stare at the stars as you spend time amidst nature.
You can book your stay at the meticulously kept accommodations of the resort, including individual rooms and dorms, cottages, luxury tents, and bungalows. The natural ambiance offers visitors a sense of being in the countryside. The resort has been created in an old-fashioned manner while being furnished with contemporary amenities.
In addition to the outside garden, the establishment has a kitchen garden where they cultivate fresh fruits and vegetables. They use produce from their own farm to prepare food for guests. You can enjoy meals prepared in their kitchen. The food is totally vegetarian and cooked using organic products. They serve a wide variety of Maharashtrian dishes.
Location: Khed, Shivapur, Bhor Shivaganga Nadikathi, Pune, Maharashtra - 412205
Entry Fees: Prices start at INR 450 per child (3 years to 5 years), INR 800 per child (5 years to 11 years), and INR 1200 per adult (individuals above 11 years)
Opening Hours: 9:00 AM - 6:00 PM
9. Manali Resort cum Water Park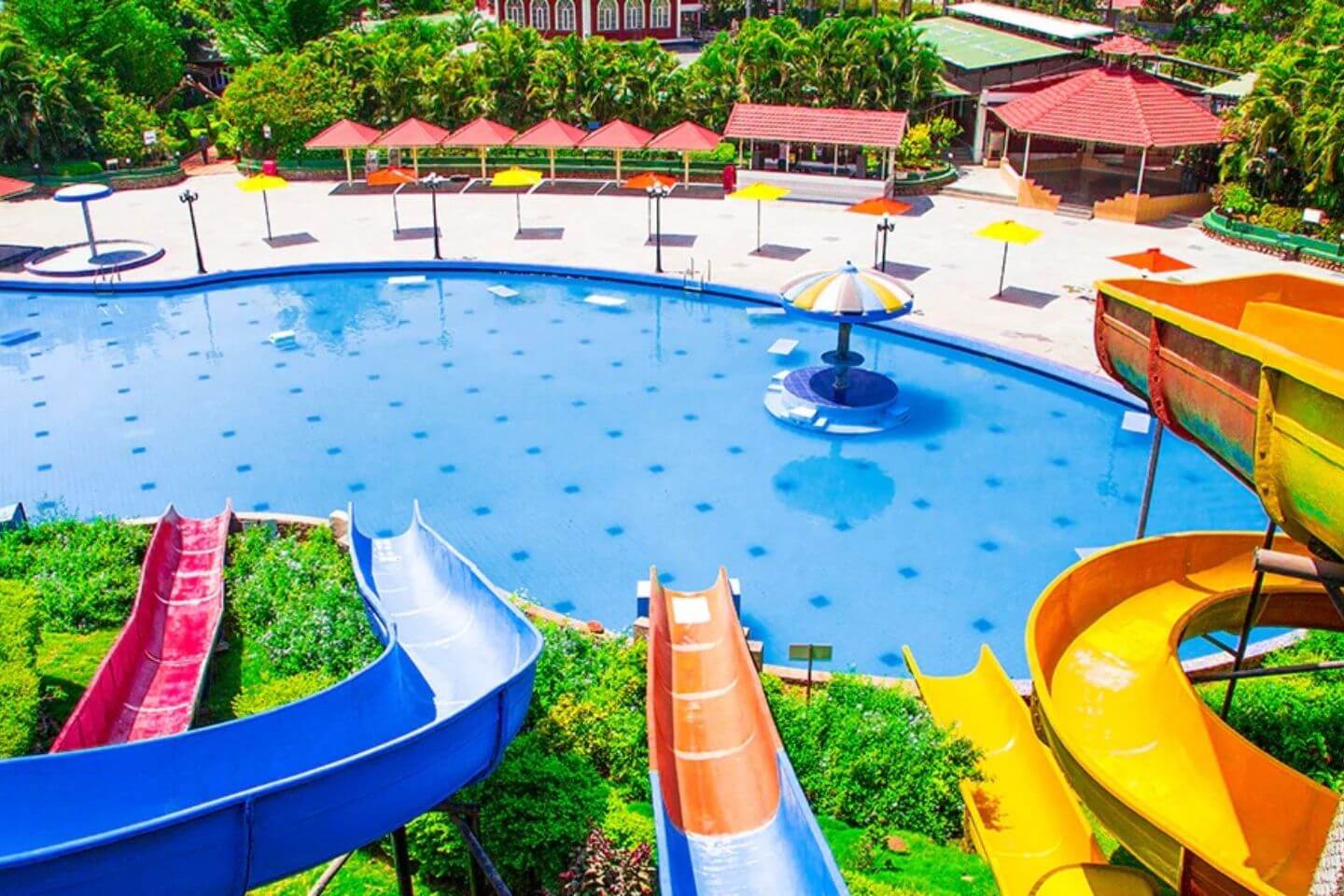 Manali Resort cum water park is among the best amusement and theme parks in Pune for day visitors. It is spread out across a huge lush green area. The resort offers thrilling adventures and is often regarded as the greatest spot to get away from the hustle and bustle of city life.
You can chill at the multiple artificial waterfalls and swimming pools whilst you watch the magnificent flower beds in vibrant lawns embellished with colorful sculptures. The park has an amusement park specifically designed for children. You can enjoy the water slides and rides for a heart-throbbing experience. The spiral slide, S slide, and zigzag slide are prominent attractions of the water park. Splashing into a pool after sliding from a height is sure to get your adrenaline gushing.
Manali Resort is an excellent choice, whether planning a day trip or organizing destination programs like corporate team outings. Beyond the impressive water park, the location also features wedding lawns and a world-class multi-cuisine restaurant. Facilities to organize parties and weddings are also available at one of the resort's gardens or banquet halls.
Apart from the fun activities, it offers luxurious accommodations for groups, though lodging facilities are not available for individuals. The modern amenities and well-furnished accommodations ensure that your stay is pleasant. You can even visit the resort's in-house wellness center and indulge in spa treatments to help you rest and unwind.
Location: Kavadi Pat, Post Manjari Farm, Loni Kalbhor, Pune - Solapur Highway, Pune, Maharashtra - 412307
Entry Fees: Starting INR 250
Opening Hours: 11:00 am to 6:00 pm
10. Dolphin Water Park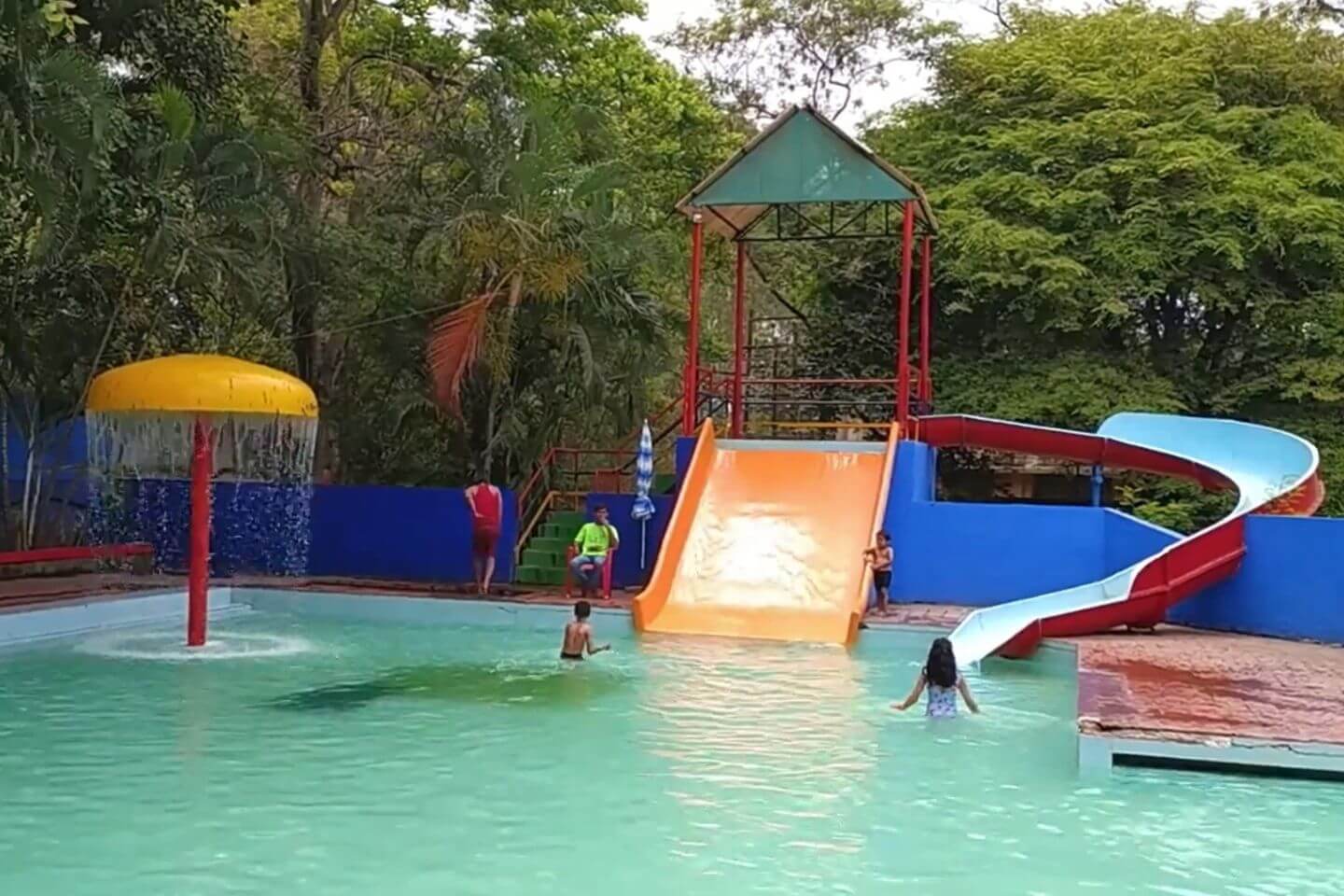 The Dolphin Water Park is one of the top water parks in Pune to visit with your family and friends. Dolphin Water World has been a popular attraction for both residents and tourists in Pune since it first opened its doors. It is mostly visited by individuals looking for some weekend fun. Dolphin Water Park has facilities to meet all your needs, whatever may be your mood.
The 3-acre water park is located in the beautiful valley area of Nigdi. It provides numerous popular water slides for an enthralling experience. For those seeking relaxation, the lazy river is an excellent choice for your day outing. The tranquil environment of the park makes it an excellent location for a picnic. The amusement park has a separate kid's play area where your little ones can safely stay engaged.
The park has a locker room and a variety of other amenities for your convenience. In addition to rides and attractions for both adults and children, the water and theme park offers swimming pools. The varying depth allows all visitors to chill and splash in the pool to beat the heat.
Location: No. 23 Pradhikaran Sector Indira Gandhi Udyan Nigdi, Pimpri- Chinchwad
Entry Fees: Starting INR 250
Opening Hours: 12:00 PM - 8:00 PM
11. Mantra Water Park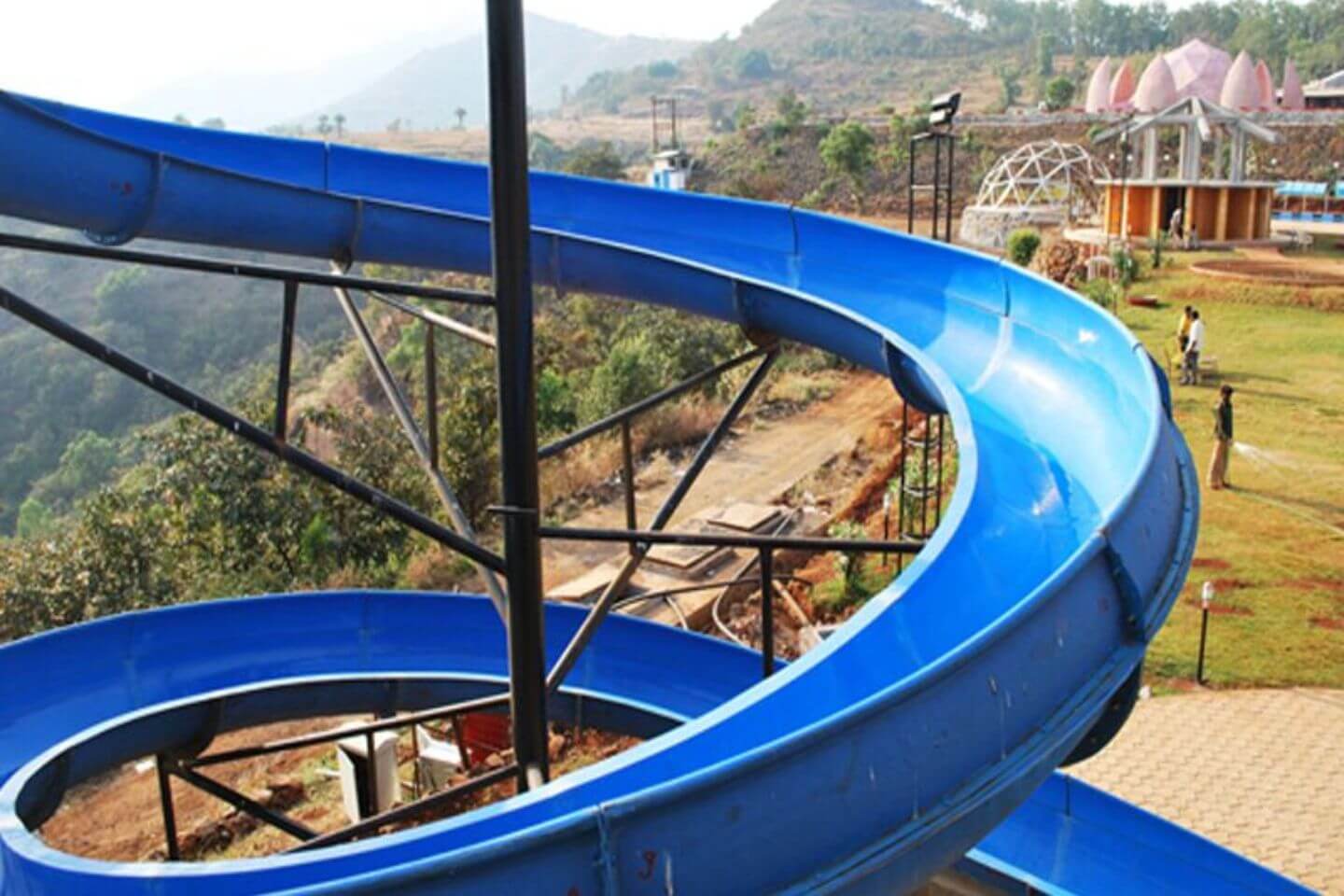 Spread across 74 acres, Mantra Water Park is a perfect site for a weekend trip or a one-day outing. It is among the popular amusement and theme parks in Pune that can accommodate large families or groups of friends.
The water park features a waterpark, a gaming zone, and a disco. With 106 cottages dispersed around the hills, you can choose to stay in the lap of nature. Though stunning, moving within the resort necessitates the use of a vehicle, which is supplied by the management.
The location is ideal for a variety of exciting activities, such as getting drenched at the water park, swimming in the pool, and playing indoor and outdoor games. You may jump into the fun pool at Mantra Resort's water park, which also offers an umbrella shower and promises exciting moments. For thrill-seekers, the park has some of the most exciting water coasters and slides, as well as a variety of other activities.
You can gorge on scrumptious meals at their in-house restaurants. Muralee is a pure vegetarian eatery, while Sanjha Chulha and Sunflower Restaurant are multi-cuisine restaurants. The resort also houses a lounge and bar called 'A Loud' where you can sip on drinks of your choice.
Location: Mantra Resort Village Karandi, Taluka, Bhor, Maharashtra 412213
Entry Fees: INR 599 per person
Opening Hours: 10:00 AM to 5:00 PM
12. Blue Bay Water Sports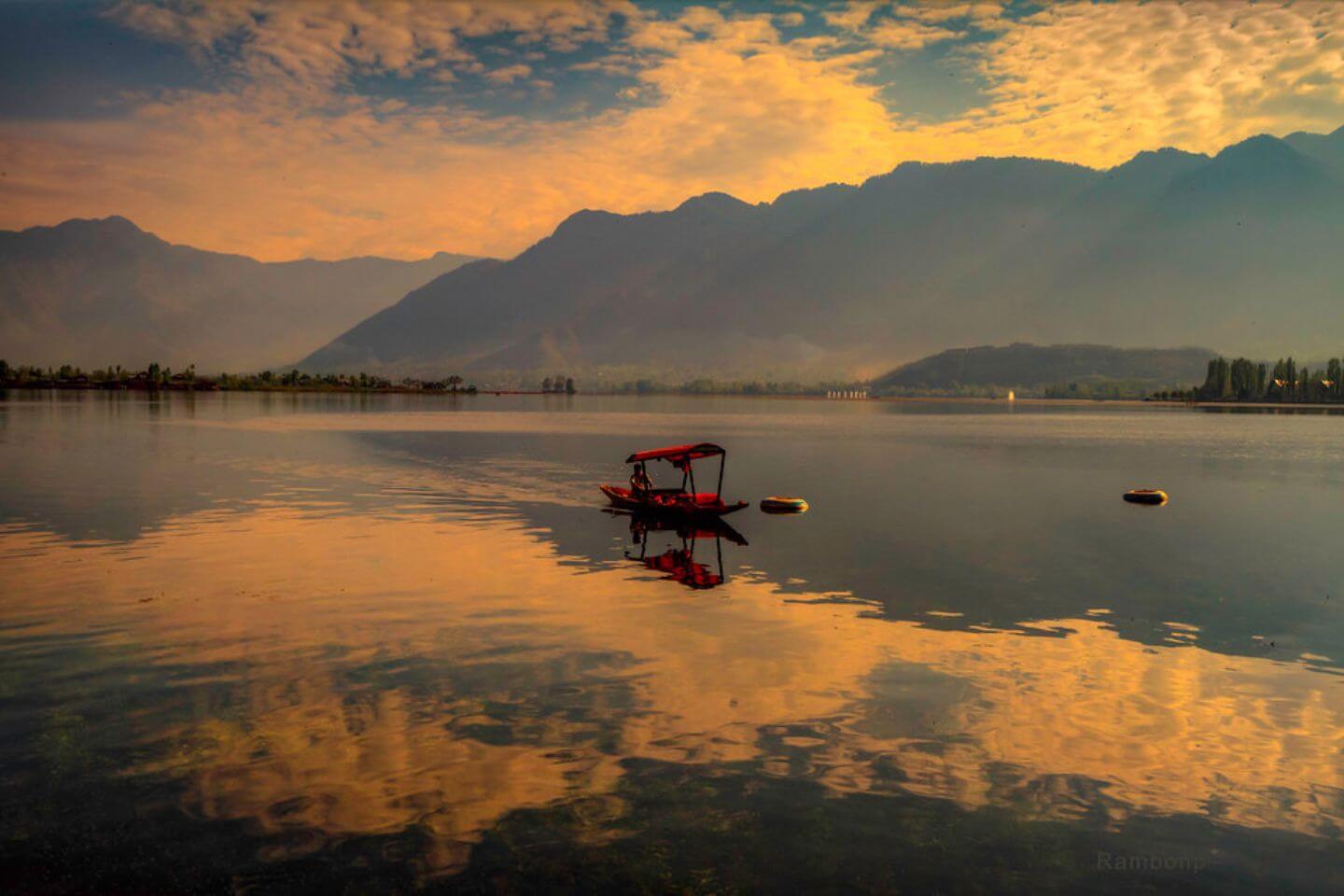 Blue Bay Water Sports is a one-of-its-kind sports and recreation center in Pune. Water sports fans can enjoy action-packed activities at the park alongside those searching for relaxation and leisure. Blue Bay Water Sports provides adventure sports such as kayaking, jet-skiing, paddle boating, and pontoon boating.
Located by Lake Jambhulwadi, a popular destination among water sports enthusiasts, the park also offers astounding views of the serene surroundings. Bordered by beautiful hills blanketed by greenery, the lake amazes your senses with its crystal clear water.
To protect the tourists' safety, the highest safety requirements have been established by importing contemporary machinery and equipment from Canada and Singapore. Having access to quality-verified life jackets ensures your safety, allowing you to enjoy a smooth trip. Certified lifeguards from the National Institute of Water Sports, of the Government of India, have been hired to ensure the complete safety of visitors.
Veg and non-veg food are available at various cafes inside the water park. There is a wide and open dining room where you may share meals and snacks with family and friends. Boat cruises are adventurous and entertaining, adding flavor to the experience. At Blue Bay, an alternative campus for children is in the works.
Location: Pune - Bengaluru Highway, Opposite To Swami Narayan Mandir, Ambegaon BK, Pune, Maharashtra - 411046
Entry Fees: Starting INR 100-500
Opening Hours: 10:00 AM to 1:30 PM and Evening: 3:30 PM to 9:00 PM
13. Rajgad Water Park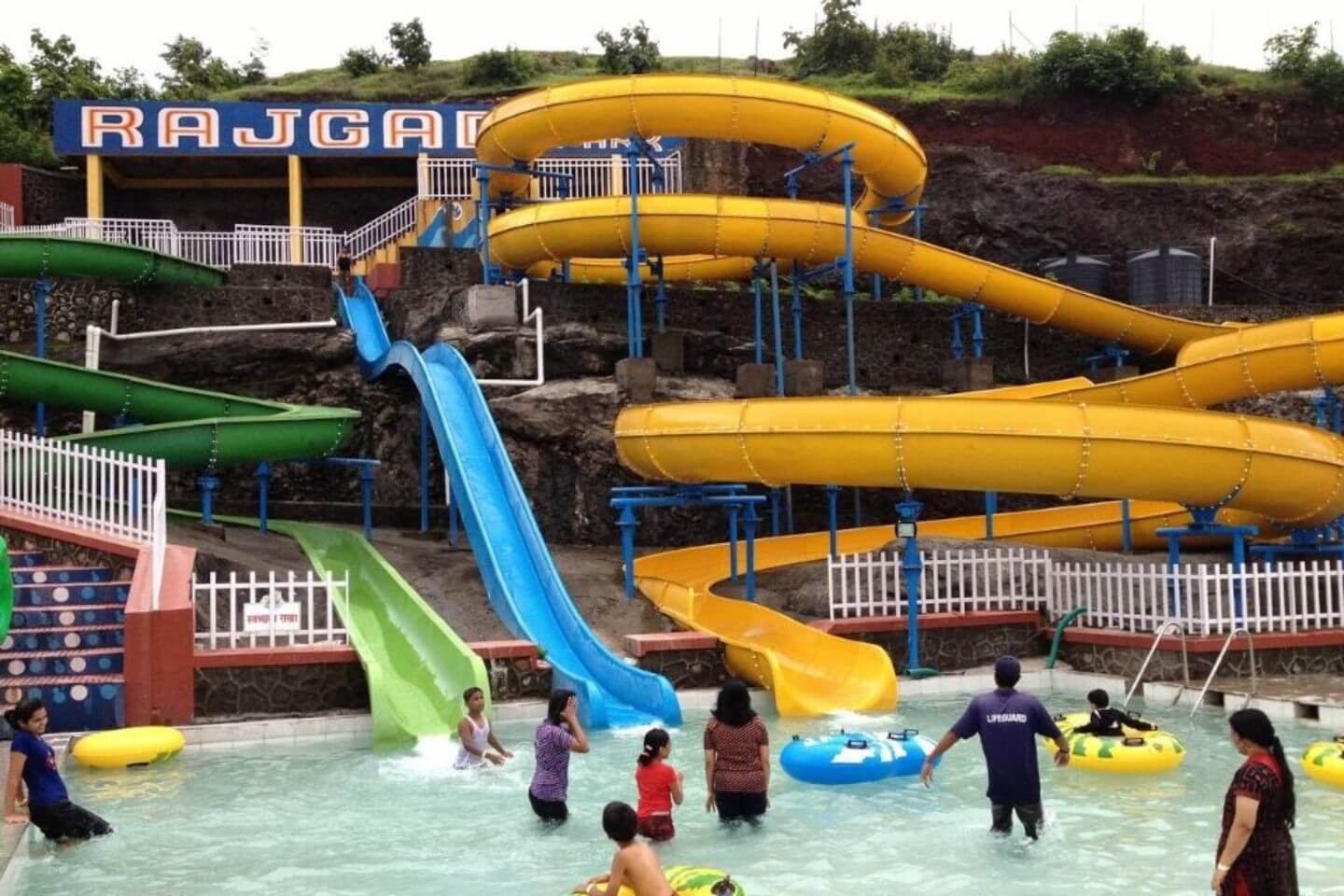 Rajgad Water Park is a beautiful spot for individuals searching for adventure and excitement. From exhilarating water slides and roller coaster rides to lounging by the poolside or plunging into their beautiful swimming pool, the park offers a horde of activities for everyone, including kids and adults.
Rajgad Water Park has swimming pools and water rides ideal for people of all ages. You can indulge in zip-lining, x-cross, Burma bridge, horizontal log walk, and many more adventure activities. The thrilling rides are sure to give you an adrenaline rush.
Rajgad Water Park offers something for everyone from rides and slides that can be categorized as moderate to crazy. Make a splash in their cool blue wave pool, plunge down the enthralling open body slide, or pump up your spirits on the Crazy Cruise. You will enjoy every second of the adventure and fun at this cool water park in Pune.
They also serve a delightful and mouthwatering selection of traditional vegetarian food. You can try delicacies from Rajasthan, Gujarat, Punjab, and South India. They have various indoor and outdoor games on the site. Rajgad Resort has an excellent set up for parties and gatherings. It is a great place to host birthday parties, school picnics, and business trips.
Location: Pune-Bangalore Highway, Varve Bk, Maharashtra 412205
Entry Fees:

Water park ride charges on weekdays INR 500 per person for adults and INR 400 per person for children (height 3 to 4 feet)
Water park ride charges on weekends INR 550 per person for adults and INR 500 per person for children (height 3 to 4 feet)

Adventure ride charges on weekdays INR 350 per person for adults and INR 300 per person for children (height 3 to 4 feet)
Adventure rise charges on weekends INR 400 per person for adults and INR 350 per person for children (height 3 to 4 feet)

Opening Hours: 10:00 am to 5:00 pm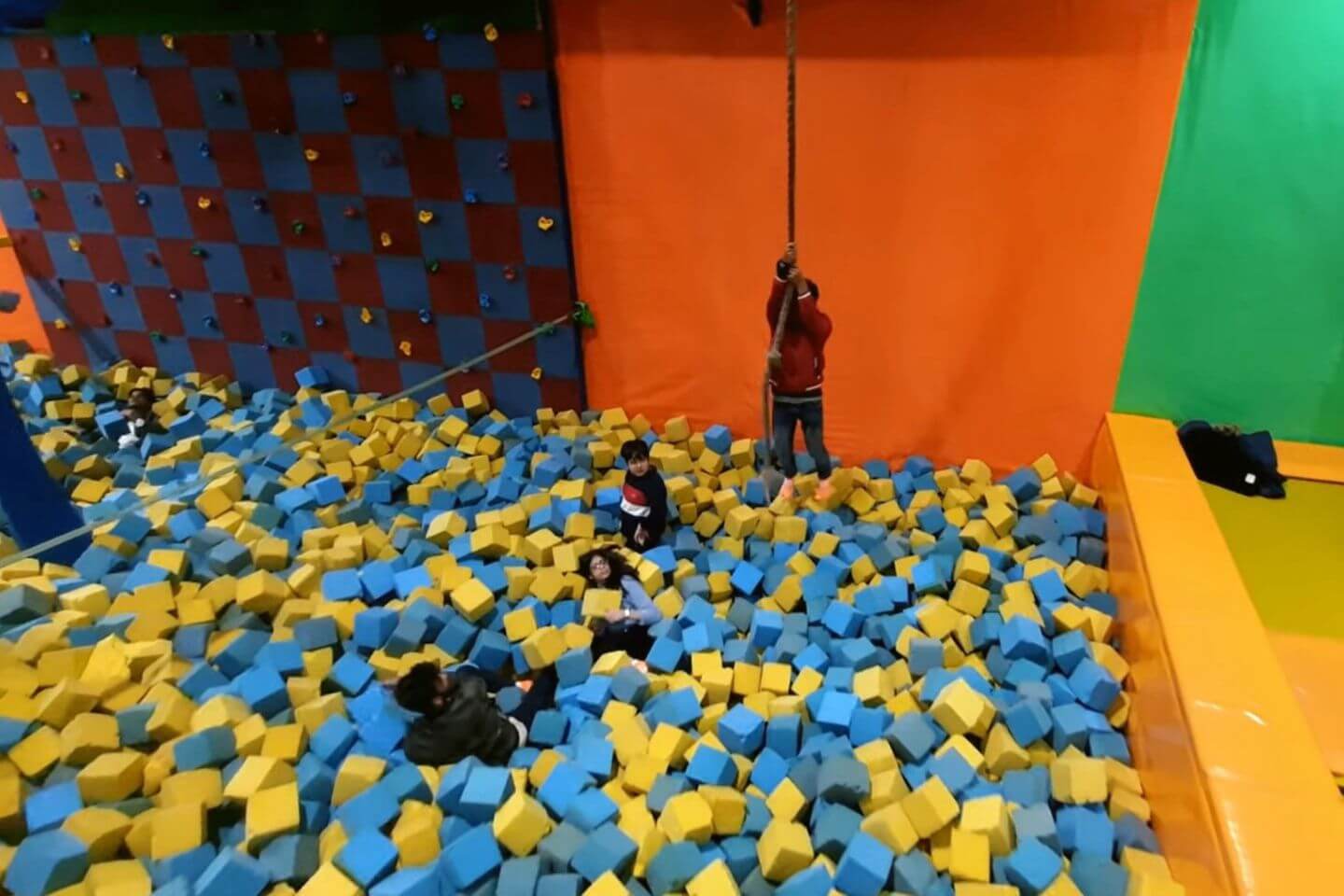 SkyJumper Trampoline Park is a one-stop entertainment destination. It is an indoor amusement park in Pune. There are hundreds of thrilling and fun activities set up across the park to keep you entertained. The park encourages enjoyment as well as sports and fitness. With something to keep everyone engaged, it is an ideal location for a picnic with friends and family.
SkyJumper Trampoline Park is ideal for a brief respite from the monotony of routine life and a fun-filled burst of energy. You can go flying through the air, climb walls, and fall to bounce back with joy. Basketball hoops, wall climbing, foam pits, a leap of faith, and a vertical slide are among the main attractions of SkyJumper Trampoline Park.
To ensure the highest level of safety, the park has a list of dos and don'ts that guests are expected to observe throughout their stay. It ensures you stay safe while enjoying the fun activities at the park.
SkyJumper Trampoline Park also features a restaurant where you may have food and beverages while admiring the colorful premises. The park is also regarded as an ideal location for birthday parties, get-togethers, reunions, and other family gatherings.
Location: Fountain House, Level-02, Creativity Mall, Shastrinagar, Yerawada, Pune, Maharashtra 411006
Entry Fees

Trampoline Park Jumping Starting INR 400 during weekdays and INR 500 during weekends
Laser Tag Gaming Starting INR 500 on weekdays and INR 650 on weekends

Opening Hours: 12:00 pm to 10:00 pm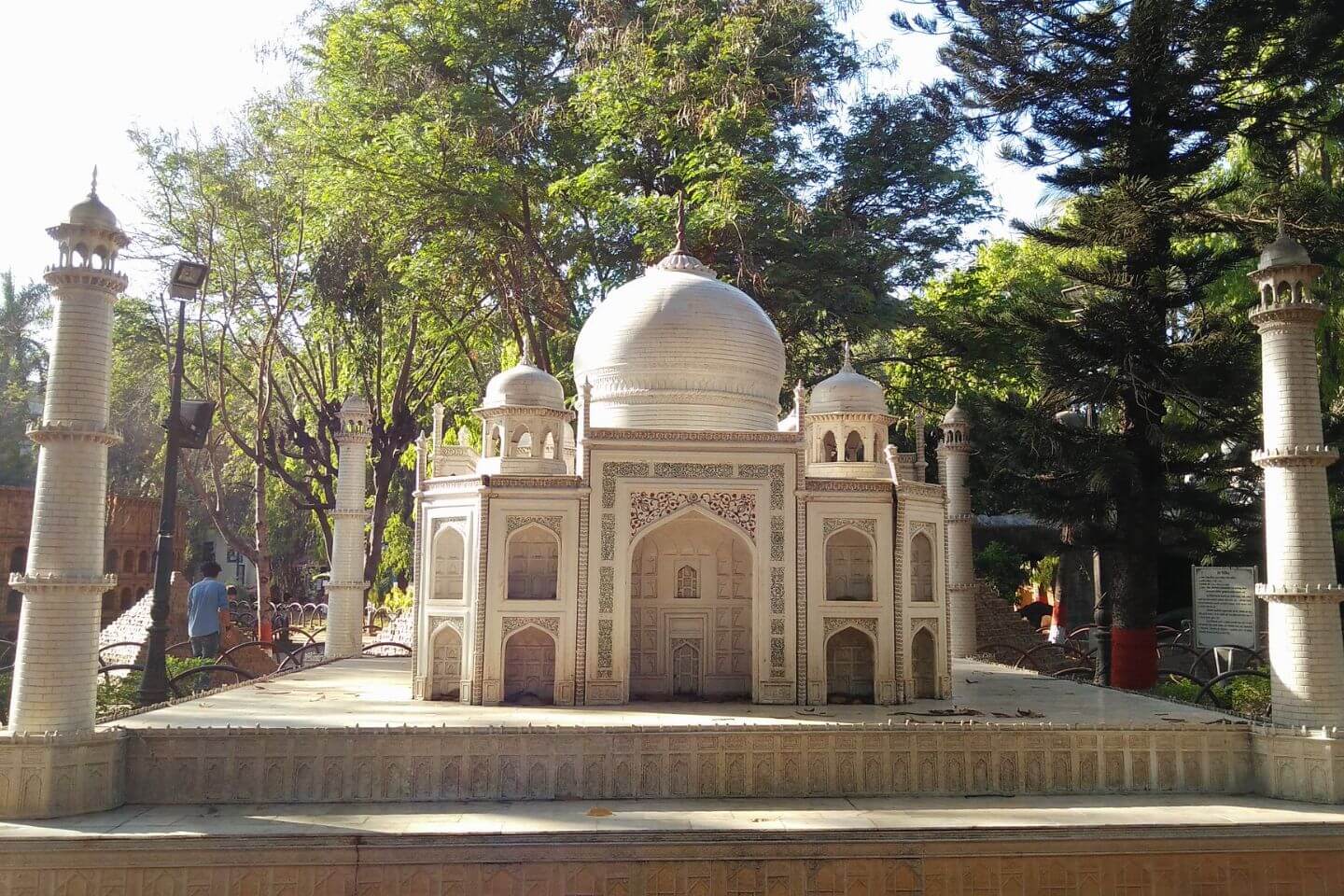 The Late Yashwantrao Chavan Udyan is also known as Seven Wonders Dream Park. It is a small theme park in Pune featuring miniature versions of the world's seven wonders. It is a fun way to experience walking through the world as you tread across the carefully set concrete paths that lead to each of the park's showpieces.
The Seven Wonders at this wonderful park are accurate but scaled-down reproductions of those listed in the World's Seven Wonders list. You can hop from The Taj Mahal to the Colosseum and stop by at the Leaning Tower or head to Stonehenge. Even the Pyramids, the Eiffel Tower, and the Statue of Liberty are all right inside the premises, making it a fun excursion for children. You can read the placard placed in front of each monument to get more information about it.
In addition to experiencing the seven wonders, you may have a picnic with your family while relaxing among the greenery of the landscape. In the garden, children may also enjoy a few rides and swings. There are also cut-outs of several superheroes and popular cartoon characters at this theme park. To add to the fun, you may take photos with Batman, Mowgli, Hanuman, and other characters.
Dream Park of the Seven Wonders Pune also features a 4D Theater. It is named after Dadasaheb Phalke and stages entertaining 10-minute performances every evening. Kids can have an amazing 4D experience while enjoying shows such as Aladdin and the Adventures of Alibaba.
Location: Pratibha Society, Sivadarshan Poorgrasta Vasahat, Parvati Paytha, Pune, Maharashtra - 411009
Entry Fees: Entry Free
Opening Hours: 6:00 am to 10:00 am and 4:00 pm to 8:00 pm
16. Sunny's World Adventure Park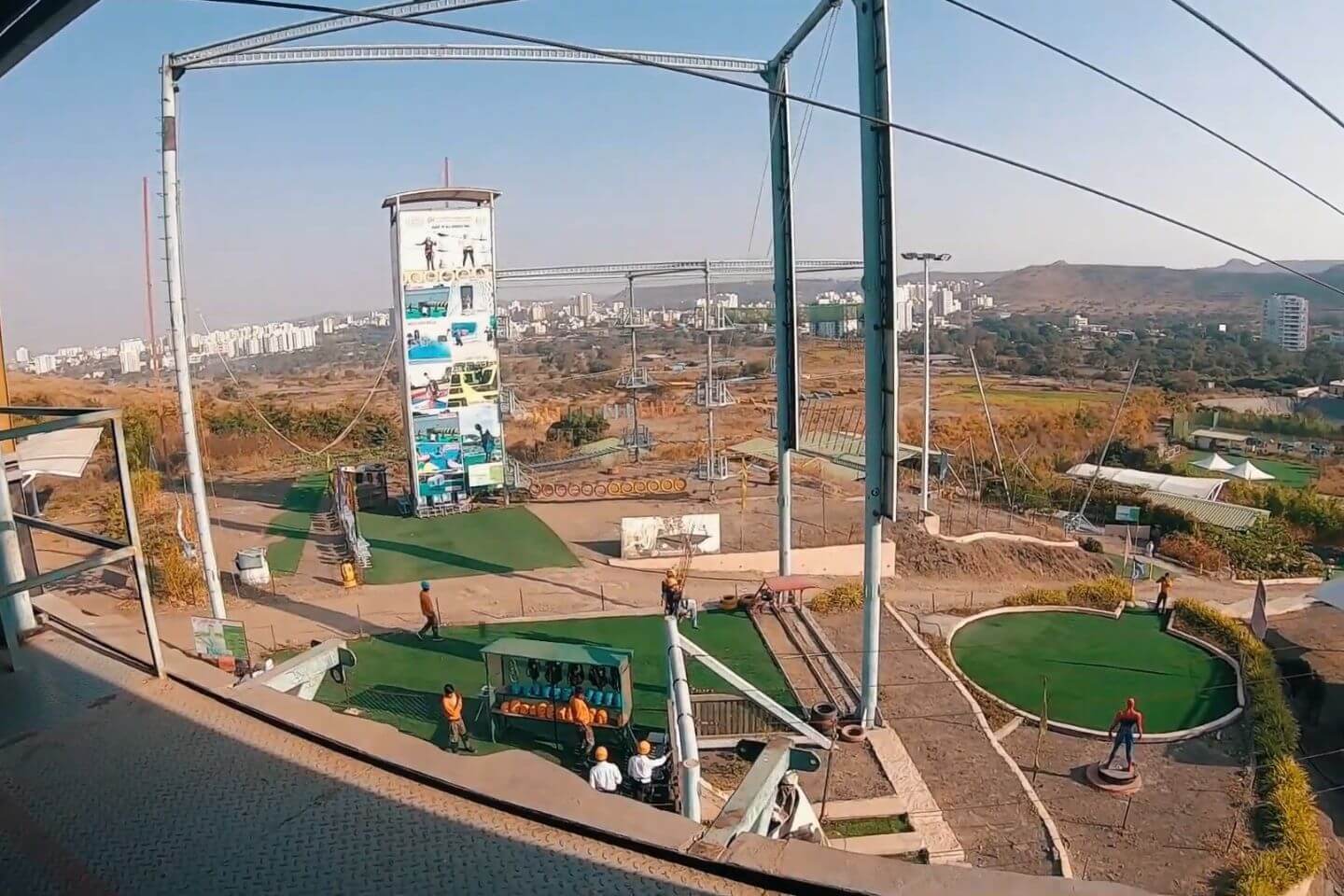 Set in the lap of nature, Sunny's World Adventure Park occupies a vast 100 acres in the heart of Pune and is a world unto itself. It is among India's largest adventure resorts, with each element created to give visitors an adrenaline rush. Set amidst the picturesque Sahyadri mountain ranges, the park is also known as The Tiger Eye Adventure Resort.
Sunny's World Adventure Park is recognized for its enthralling activities and is listed among the best onsite adventure parks in Pune. Featuring two lawns, the park organizes more than 100 fun activities and water sports. Rocket Ejector, Giant Swing, Slingshot, Laser Tag, Zip lining, and ATV Riding are among the numerous fun activities to enjoy at Sunny's World Adventure Park. You can also indulge in outdoor games such as cricket and football or play carrom and chess available at the indoor gaming zone at the resort.
The park also has accommodations including hilltop family tents, all-glass tents with separate wings, and Swiss chalets. Besides being surrounded by a plethora of recreational opportunities, the park offers river and mountain vistas. There is also a multi-cuisine restaurant as well as an elegant function hall available to host events like new year parties and Holi gatherings.
Location: Sr. No. 217, Pashan Sus Road, near Mumbai-Pune Bypass, Highway, Susgaon Pune, Maharashtra - 412115
Entry Fees: Full-day pass with food INR 1,328 per adult and INR 974 per child
Opening Hours: 9:00 am to 7:00 pm