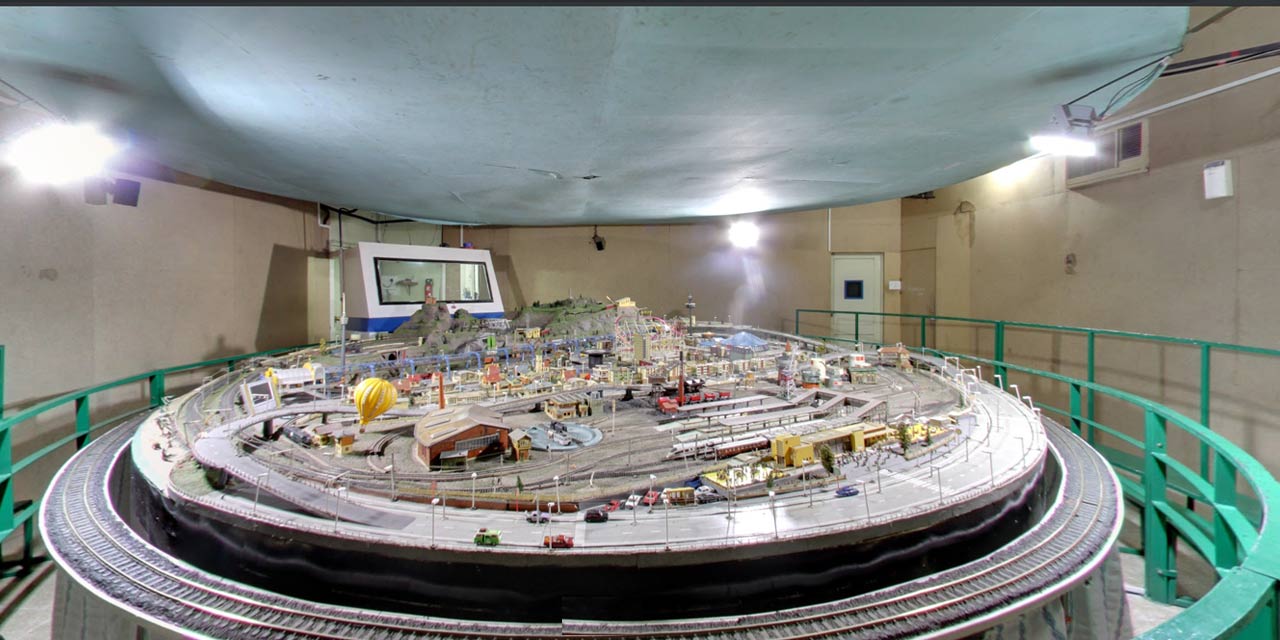 Joshi's Museum of Miniature Railways Pune Entry Fee
Joshi's Museum of Miniature Railways Pune Phone
---
Rating:

| 4/5 stars
Based on total 53 reviews
Joshi's Museum of Miniature Railways Pune Address: 17/1, B/2, Late GA Kulkarni Path, Next to, Kothrud, Pune, Maharashtra, 411038, India
Pune Tour Packages
Joshi's Museum of Miniature Railways Pune Timings
Day
Timing
Monday
9:30 am – 5:00 pm
Tuesday
9:30 am – 5:00 pm
Wedesday
9:30 am – 5:00 pm
Thursday
9:30 am – 1:00 pm
Friday
9:30 am – 5:00 pm
Saturday
9:30 am – 4:00 pm
5:00 pm – 8:00 pm
Sunday
5:00 pm – 8:00 pm
Links:
Website
|
Map
---
If you are ever in Pune, the city of Maharashtra, consider taking your kids to Joshi's Miniature Railway Museum. It is one of the prominent tourist attractions in Pune.
Located in Kothrud, Joshi's Museum promises to show you a world where everything is pocket-sized! The museum houses a small city, rails, a circus, swimming pool, and tiny cars. The miniature trains and engines in the museum closely resemble Indian trains and railways. Along with learning about each type of train and engine, your children can watch them in action throughout the day.
If you want your kids to experience a mechanical marvel and pay tribute to the museum's founder, Joshi's Museum of Miniature Railways is a must-visit!
History of Joshi's Museum of Miniature Railways
It all started when a young boy from Pune found interest in collecting train models. Soon his interest became his obsession, and he invested his entire childhood building miniature models. This young boy was Mr B.S. Joshi, famously known as Bhau Joshi. Bhau, an electrical cum mechanical engineer, was the founder of Joshi's Museum of Miniature Railways.
During Diwali festivals, Punekars have a tradition of building miniature forts or Killas that depict the fortress of King Shivaji Maharaj. It's an integral part of Diwali celebrations for children. In the 80s, when other kids made half-assed attempts to build these Killas, young Bhau Joshi used to build miniature Killas skillfully with lots of movements. For example, he made moving cars and a fire engine that can actually put out a fire. These cars and engines were made of cardboard and controlled by strings. There used to be long queues in Bhau Joshi's neighbourhood to see his model cars and Killas.
In 1959, Mr Joshi went to London for a job, and while working there, his hobby of collecting small train prototypes got a push. In 1980, he started working on a model that could be taken from town to town as a mobile fair. In 1982, the model was first displayed at the Gokhale Hall in Pune. Later, in 1984 and 1986, it was exhibited in Bombay and Dastur High School in Pune. The final layout of the model, which is now on exhibition at the museum, is the result of 40 years of planning, research, and trials.
During the exhibitions, Bhau Joshi realised that manufacturing mobile models needs lots of expenditure and manpower. Also, getting permission for exhibitions at various locations is an extremely hectic process. Thus, he came up with the idea of a permanent exhibition place, which helped him build the Soudamini Instruments.
In 1991, Bhau Joshi started constructing the Museum hall inside the Soudamini Instruments factory. After that, he put more effort into revamping the old layout and built more detailed work. Later on April 1, 1998, the museum was opened to everyone.
Bhau's museum is a collection of models imported from Germany and manufactured by the Soudamini factory. It took him almost 40 years of collection and hardwood to put the museum together. Joshi's Museum of Miniature Railway is currently run by his son, Dr Ravi Joshi.
Image Gallery of Joshi's Museum of Miniature Railways Pune
The architecture of Joshi's Museum of Miniature Railways
The Joshi's Museum of Miniature Railways is located on the first floor of the Soudamini Instruments. The building and stairs leading inside the museum closely resemble the railway platforms in India. Before entering the museum, you'll see a short passage that looks like a train bogie. And the main museum hall is about 26′ x 26′.
Once you enter the museum hall, you'll get awestruck by a large moving table with a miniature city on it. Everything in that miniature city can be run by computer or manually. The city has 6 platforms with a fully functional station yard, 3 main lines, cranes, an announcement system, good loading facilities, hump shunting, etc. There are also 65 signals, 10 types of trains, 26 points, fences, and flyovers. All these miniature layouts are completely handmade using chemical etching techniques.
Inside the city model, you can also witness a ghat section for steam trains, a pedestrian bridge connecting three platforms, moving cars, a highway, and a miniature swimming pool with small people swimming. From trees, grass, and benches to street lights, roads, and restaurants, everything you see in a real city can be witnessed in Joshi's Miniature Museum. There's also a model of a moving coffee house which goes up and down on a tower. And you can see a fire engine which can actually put out a fire.
Apart from the railway station and restaurants, Bhau Joshi also created a miniature circus. The ceiling of the circus is moving so you can see what show is going on inside. In front of the circus, you can see tents, gardens, playgrounds, Disneyland, moving vehicles, factories, theatres, residents, lakes, hoardings, ropeways, tunnels, and more! Disneyland has various miniature rides like toy trains, ferry wheels, roller coasters, etc. The entire city has over 2000 small human figures. The best part is that all of the figures are in different poses.
Things to do at Joshi's Museum of Miniature Railways
If you're a history lover and interested to know about the history of the Indian railway, Joshi's Museum of Miniature Railways is the perfect place to be.
The exhibition starts once everyone gathers inside the museum. Each show lasts for at least 25 minutes and goes along with a pre-recorded commentary. During the show, you can experience a miniature marvel that includes moving trains, cars, and people. You can see various models of trains, for example, steam train, TGV train, Diesel Engine, Rope Railway, Wuppertal Hanging railway, Underground Train, and Funicular Railway.
Another show you can enjoy with your kids is the Night Show of Miniature City. In the show, you'll witness a night view of this small city. During the night show, the entire lights in the museum hall are turned off, and only the small city's lights, such as house lamps, street lights, and vehicle lamps, are turned on. You can also see wonderful lightning effects and April Showers at the museum.
You can also plan a school expedition to help students learn about the various applications of mechanical and technical knowledge applications. Also, here kids can learn interesting things about trains and engines and watch them in action.
Entry Fee and Timings of Joshi's Museum of Miniature Railways
Tickets at Joshi's Museum of Miniature Railways proceed at INR 120 for anyone over the age of 3 years. For kids below 3 years, entry is free.
The Joshi's Museum of Miniature Railways is open from 9.00 am to 5.00 pm on Monday to Friday. On Saturday, the place is open from 9.00 am to 4.00 pm and 5.00 pm to 8.00 pm. And on Sunday, the museum is open from 5.00 pm to 8.00 pm.
How to Reach Joshi's Museum of Miniature Railways
Airport- From the Pune-Lohegaon Airport, Josh's Museum is only 14.2 km away. You will get plenty of local taxis, rental cabs, and buses from the airport.
Railway Station- Joshi's Museum of Miniature Railways is just 8km away from the Pune Railway Station. From Shivaji Nagar Railway Station, the museum is around 5.4 km away. You can book a cab from top car rental companies in Pune or hop on a rickshaw to reach the museum.
Roadway- The museum is situated in the heart of the city. So, it is well connected to the roads. You can easily get taxis, buses, and rickshaws to visit the museum.
Interesting Facts about the Joshi's Museum of Miniature Railways
During the night show at the museum, if you look above the hall, you can see a night sky with stars and planets. This night sky resembles the night of April 16, 1853, the day India's first train ran from Mumbai to Thane.
The small houses inside the miniature city are made with kits from German companies like Faller, Pariser, Vollmer, etc.
Joshi's Museum of Miniature Railways holds the Limca Book of World Records for being the one and only miniature city in India, established in 1998.
Things to Keep in Mind While Visiting Joshi's Museum of Miniature Railways
Each show starts when at least 4 tickets are sold.
There are two pre-recorded commentaries available- English and Marathi.
Do not bring food inside the museum.
Book a Pune tour package with us to explore the city in the best possible way. We at Pune Tourism, a division of Holidays DNA, offer various all-inclusive tour packages that cover all the major tourist attractions in Pune. You can also get customization done as per your budget and other requirements. For more information on our holiday packages, please fill the Contact Us form. Our travel experts will get back to you shortly.
Location Map for Joshi's Museum of Miniature Railways Pune