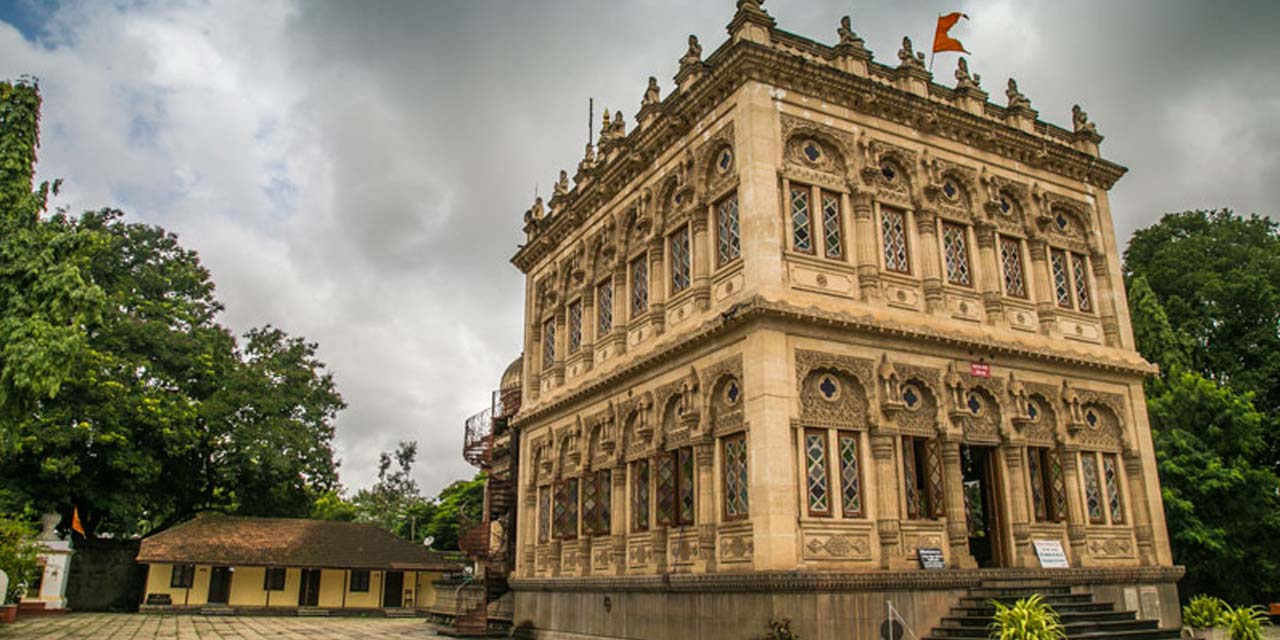 Shinde Chhatri Pune Entry Fee
10 per person for Indians
100 per person for Foreigners
Shinde Chhatri Pune Phone
N/A
---
Rating:

| 4/5 stars
Based on total 53 reviews
Shinde Chhatri Pune Address: Wanawadi Rd, Pune Cantonment, Pune, Maharashtra, 411001, India
Pune Tour Packages
Shinde Chhatri Pune Timings
| Day | Timing |
| --- | --- |
| Monday | 6:00 am – 9:00 pm |
| Tuesday | 6:00 am – 9:00 pm |
| Wedesday | 6:00 am – 9:00 pm |
| Thursday | 6:00 am – 9:00 pm |
| Friday | 6:00 am – 9:00 pm |
| Saturday | 6:00 am – 9:00 pm |
| Sunday | 6:00 am – 9:00 pm |
Links:
Website
|
Map
---
Shinde Chhatri is a memorial dedicated to the Maratha leader Mahadji Shinde. He served as the commander-in-chief of the Maratha army (1760-1780) under the Peshwas.
Mahadji Shinde had a significant role in resurrecting Maratha power in North India, which was lost after the Third Battle of Panipat in 1761. He had many fascinating victories while trying to regain the lost glory of the empire.
Shinde Chhatri, his cremation ground, is among the oldest places of Pune, and it is a part of the city's heritage. This little tourist complex is in Wanwadi area of Pune. And along with the memorial of Mahadji Shinde, you'll find a magnificent Shiva Temple here.
History of Shinde Chhatri Pune
Mahadji Shinde was a part of the powerful Scindia dynasty. And he built the temple of Lord Shiva in the Shinde Chhatri complex. Until 1794, when he died, the place only had that temple. And his last rites were performed beside it.
Later, in 1965, his descendants, Madhavrao Scindia in particular, built the memorial structure. It's near the sanctum of the temple, where Mahadji Shinde was cremated.
The entire Shinde Chhatri Wanwadi complex is now maintained by the Shinde Devasthan Trust (set up by the Scindias) in Gwalior.
Architecture of Shinde Chhatri Pune
Mahadji Shinde Chhatri architecture is in Anglo-Rajasthani style, with elaborate walls and carved ornate pillars. It is made with yellow sandstone. And among the distinctive features are the rock idols on the edge of the roof.
The interior of Shinde Chhatri is covered with beautiful work in orange and green. And the vibrant walls are lit with charming royal chandeliers adorning the ceilings. A spiral staircase and stained-glass windows are also part of the architecture. But the floor is simple, with geometric designs in black and white.
The temple too boasts of an extravagant style of Rajasthani temple architecture. A kalash is on the top of the high temple spire. And many smaller spires, each with a kalash on the top, are built around it.
The idols and carvings are created out of yellow stone and the base of the garbhagriha (sanctum) is constructed in black stone.
Image Gallery of Shinde Chhatri Pune
Things to do at Shinde Chhatri
In Shinde Chhatri, you can explore the memorial building and the temple. The complex, which is accessible through a tall entrance gate, is surrounded by a high, stone wall.
As you enter through the narrow entrance, you see a huge sculpture of Mahadji Shinde, carved out of black stone. The Shiva temple sanctum has idols of different gods carved out of yellow stone. Its walls are painted with stories from Hindu mythologies.
Then, the huge building of Shinde Chhatri also has a picture gallery of Shinde leaders. Here, you'll find portraits of the imminent members of the royal family.
Shinde Chhatri Timings and Entry Fee
Shinde Chhatri Pune is open every day from 6 AM to 9 PM. The complex isn't vast and you can explore it in around an hour one fine evening. Visit it either during the winter months or in the monsoon season when the climate is pleasant for an historical exploration.
The entry fee for Shinde Chhatri is ₹10 for Indians and ₹100 for foreigners.
How to reach Shinde Chhatri in Pune
Shinde Chhatri in Wanwadi, Pune is easily accessible from most parts of the city. From Pune railway station and bus stop, it is 6 km away. And its distance from the airport is about 13 km.
Now, here are the different ways to reach Shinde Chhatri in Pune –
By bus – You can take city buses to Shinde Chhatri. The bus stop is only a few hundred metres away from this historical location.
By taxi/cab – A taxi or a private cab from top car rental companies in Pune is the best way to visit Shinde Chhatri. You will be able to visit it when it's convenient and spend as much time as you want.
---
Visit the historical Shinde Chhatri and other popular tourist attractions of Pune by booking a Pune tour package with us. At Pune Tourism, a division of Holidays DNA we make sure you have a great time during your Pune tour without spending too much money. Please fill the Contact Us form and our representatives will reach you at the earliest.
Location Map for Shinde Chhatri Pune