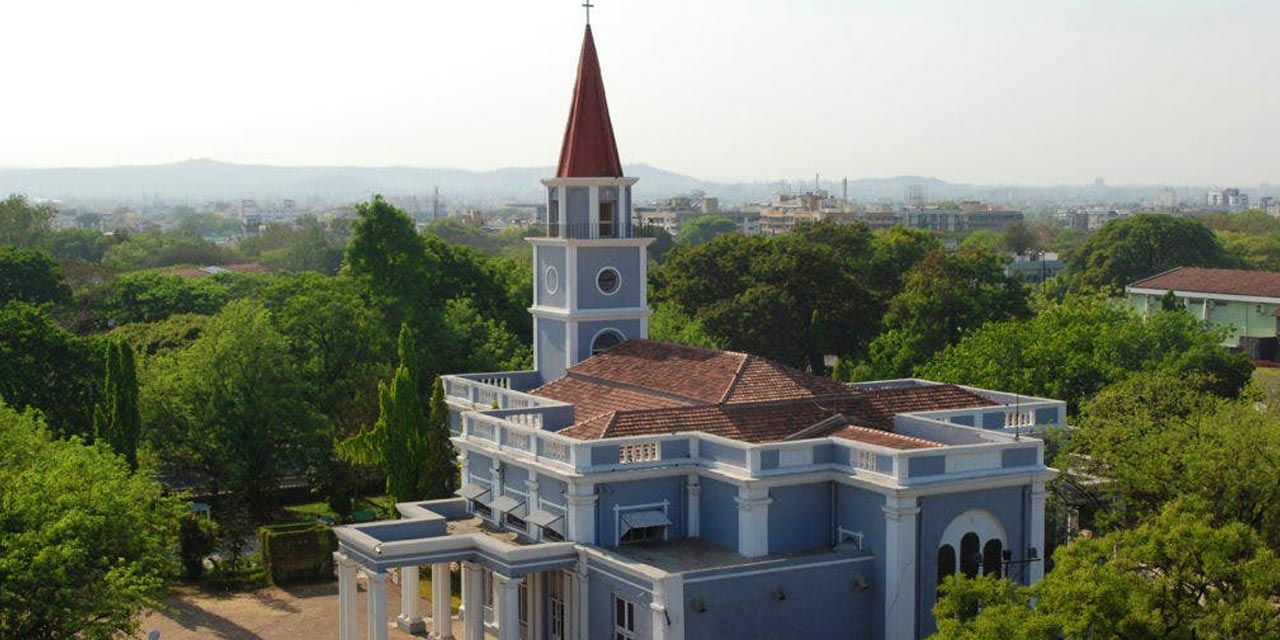 St. Mary's Church Pune Entry Fee
St. Mary's Church Pune Phone
N/A
---
Rating:

| 3/5 stars
Based on total 62 reviews
St. Mary's Church Pune Address: Arohi, Vidya Valley School Rd, Parkhe Vasti, Sus, Pune, Maharashtra, 412115, India
Pune Tour Packages
St. Mary's Church Pune Timings
| Day | Timing |
| --- | --- |
| Monday | 7:00 am – 6:00 pm |
| Tuesday | 7:00 am – 6:00 pm |
| Wedesday | 7:00 am – 6:00 pm |
| Thursday | 7:00 am – 6:00 pm |
| Friday | 7:00 am – 6:00 pm |
| Saturday | 7:00 am – 6:00 pm |
| Sunday | 7:00 am – 6:00 pm |
Links:
Website
|
Map
---
St. Mary's Church Pune is one of the oldest standing churches in the region. So old that it's referred to as the Mother Church of Deccan. It was built in the 1820s for British soldiers.
The church was built by Lieutenant Nash of the East India Company. Bishop Reginald Heber of Calcutta laid the foundation of the building. It has a distinct colonial design, with a Gothic architecture style and a unique blend of colours.
It's a combination of beautiful glass paintings and vibrant colours, making it a must-visit place in Pune. Also, the tall trees and the garden around keep the surroundings green and relaxed.
Things to do at St. Mary's Church
St. Mary's Church Pune is a protestant church built for the spiritual needs of British officers, soldiers, and their families. The design and architecture are among the prime attractions of the church. The rare regimental flags and the church bell also are worth seeing.
The church has memorials of British soldiers who served in various wars and battles. Stones and plaques have been dedicated to many of them. The church also houses the remains of Sir Robert Grant, the Governor of Bombay, and Sir Edward West, the Chief Justice of the Supreme Court at Bombay.
Here, you can take part in everyday prayers and rituals. Morning as well as evening prayers are a delight to attend.
Also, every Sunday, the church members sing carols. 130-year-old pipe organs are still in use in the church.
Image Gallery of St. Mary's Church Pune
St. Mary's Church Pune Timings and Entry Fees
The church is open daily from 7 AM to 6 PM. You can spend around an hour exploring the nooks. You don't need to pay any entry fee here. Visit it during winter, between November and February, when Pune's temperature is the most pleasant.
How to reach St. Mary's Church Pune?
St. Mary's Church is 3 km away from Pune railway station and Swargate bus stop. From the airport, it's about 10 km away. Here are the different ways to visit the church –
By bus – You can take a city bus to the church without any hassle. Mahatma Gandhi Pul Gate bus stop is closest to the temple, only a few hundred metres away.
By autorickshaws – Autorickshaws are also available easily in Pune. You can get them all over the city and visit the church.
By taxi/cab – Cabs and taxis are the best for visiting St. Mary's Church and other tourist places in Pune. With a taxi/cab at your disposal, you can spend time at your leisure and enjoy your visit to the fullest. Hire one from the list of top car rental companies in Pune for a comfortable commutation.
---
There's so much to see and do in Pune, from the iconic Shaniwar Wada to the bustling markets. With our Pune tour packages, you can choose how long you want to stay, what kind of hotels you want to stay in, and which experiences and excursions you want to add on. We'll also recommend the best time of year to visit Pune, based on your travel plans. Whether you're looking for a city break or a longer holiday, Pune Tourism can help you plan an incredible trip. Please fill the Contact Us form to get in touch with us.
Location Map for St. Mary's Church Pune