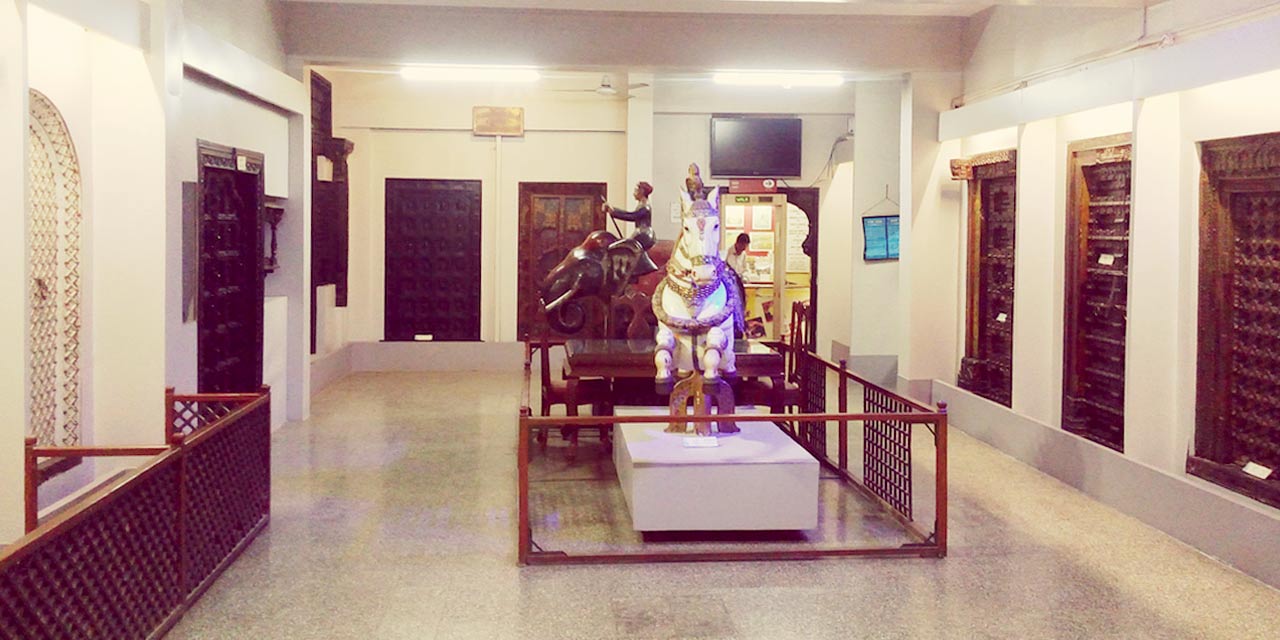 Raja Dinkar Kelkar Museum Pune Entry Fee
30 per person for Children below 12 yrs
100 per person for Adults above 12 yrs
100 per person for Foreigners (Children)
300 per person for Foreigners (Adults)
Museum entry is free for Blind and disabled people
Raja Dinkar Kelkar Museum Pune Phone
---
Rating:

| 4/5 stars
Based on total 53 reviews
Raja Dinkar Kelkar Museum Pune Address: 1377-78, Natu Baug, Off. Bajirao Road, Chavhan Road, Mandai, Shukrawar Peth, Pune, Maharashtra, 411002, India
Pune Tour Packages
Raja Dinkar Kelkar Museum Pune Timings
| Day | Timing |
| --- | --- |
| Monday | 10:00 am – 5:30 pm |
| Tuesday | 10:00 am – 5:30 pm |
| Wedesday | 10:00 am – 5:30 pm |
| Thursday | 10:00 am – 5:30 pm |
| Friday | 10:00 am – 5:30 pm |
| Saturday | 10:00 am – 5:30 pm |
| Sunday | 10:00 am – 5:30 pm |
Links:
Website
|
Map
---
As the name suggests, Kelkar Museum was established by Baba Dinkar Kelkar, in the year of 1962. Located in Shukawar Peth, on the Bajirao Road, Raja Dinkar Kelkar Museum is one of the popular sightseeing places in Pune. Presently, it is under the control of the the Department of Archaeology, Government of Maharashtra.
Raja Dinkar Kelkar Museum has a collection of almost 20,000 articles, belonging to different parts of the world, which were collected by Baba Kelkar. He had built this museum in the remembrance of his son, who died at young age of seven. However, currently only 25,000 of the items are on display for public.
The assimilation of the items displayed took him almost 40 years. He had close to 15,000 artefacts to be displayed in the museum by the year of 1960. However, in 1962, he handed over his assimilation to the Department of Archaeology, which is now displayed in the museum.
An impressive collection of musical instruments, Mughal lamps, paintings and other antiques, paintings on the scenes from mythological epic Ramayana, nutcrackers, Ganpati's guns, carved palace doors, excellent pottery collection, vessels made up of terracotta, copper and brass, etc. are a few of the items which are displayed at Raja Dinkar Kelkar Museum in Pune. There are also statues of Lord Ganesha, Lord Shiva and Goddess Parvati at the museum.
Image Gallery of Raja Dinkar Kelkar Museum Pune
One of the most attractive features of Raja Dinkar Kelkar Museum is the replica of the Mastnai Mahal, originally built in the year of 1734. This room, with its luxurious décor, grand chandeliers artistic paintings presents a setting, similar to that of the palace.
Inside the Raja Dinkar Kelkar Museum premises, you will find Research and Storage facilities. Inside the complex, the Institute of Musicology and Fine Arts is also located. You can visit the museum from 10 am to 5:30 pm, with a charge of minimal fee.
Location Map for Raja Dinkar Kelkar Museum Pune