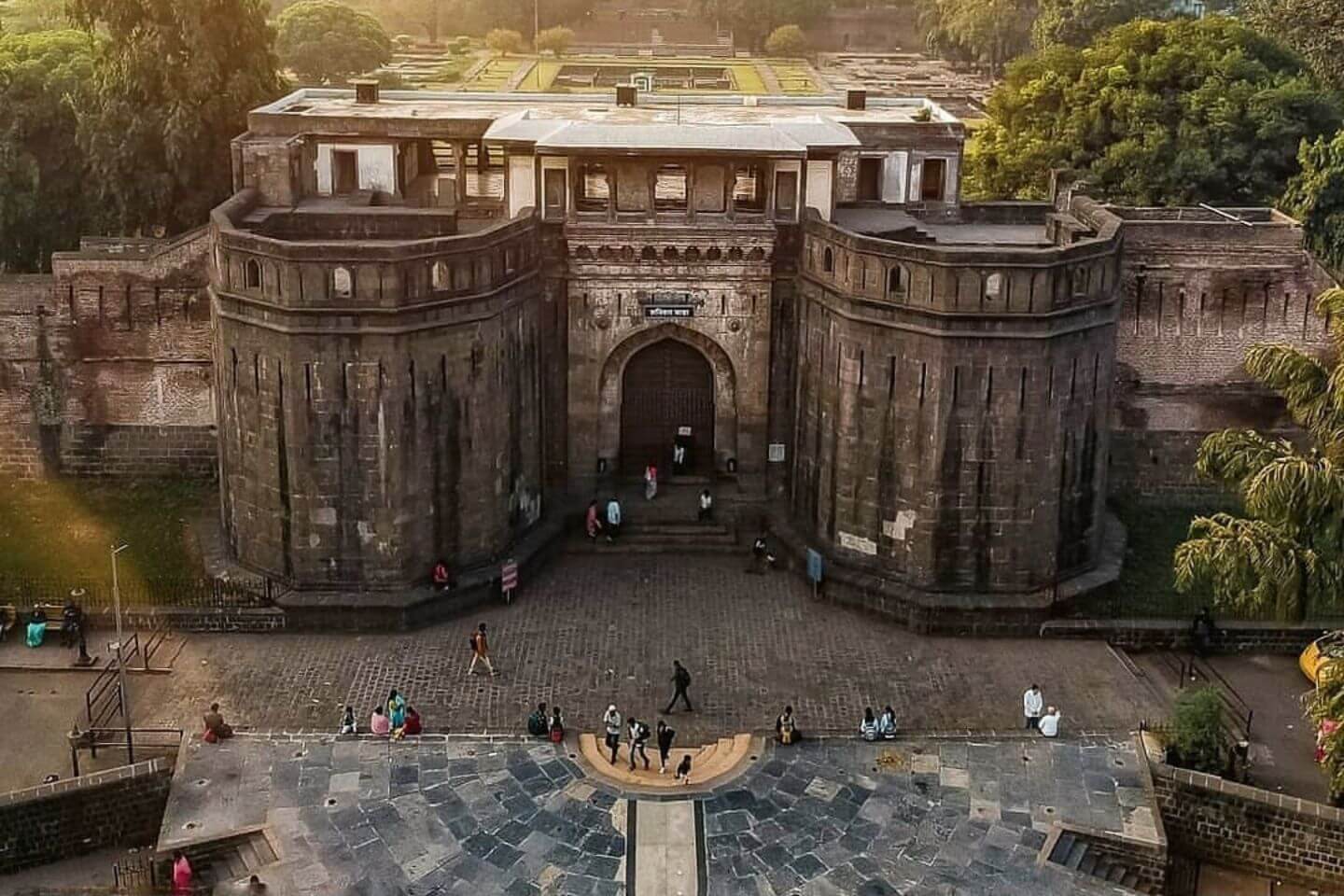 Shaniwar Wada Pune Entry Fee
5 per person for Indians
125 per person for Foreigners
25 per person for Light and Sound show
Shaniwar Wada Pune Phone
---
Rating:

| 4/5 stars
Based on total 52 reviews
Shaniwar Wada Pune Address: Shaniwar Peth, Pune, Maharashtra, 411030, India
Pune Tour Packages
Shaniwar Wada Pune Timings
| Day | Timing |
| --- | --- |
| Monday | 9:30 am – 5:00 pm |
| Tuesday | 9:30 am – 5:00 pm |
| Wedesday | 9:30 am – 5:00 pm |
| Thursday | 9:30 am – 5:00 pm |
| Friday | 9:30 am – 5:00 pm |
| Saturday | 9:30 am – 5:00 pm |
| Sunday | 9:30 am – 5:00 pm |
Ticket booking timings for light and sound show: Everyday 6.30 pm to 8.30 pm
The timings for the Sound and Light Show are:
Marathi - 7:15 pm to 8:10 pm
English - 8:15 pm to 9:10 pm
Links:
Website
|
Map
---
Built in around 1736, by Bajirao Peshwa, Shaniwar Wada is located in the heart of Pune city. Originally constructed as a residence for the Peshwas, it is a stately mansion, depicting influence of Mughal designs in its architecture.
The wada displays architectural excellence. It has intricately carvings and exquisite designs by the Maratha artisans. Shaniwar Wada boasts of a 21 feet tall main door, facing the north side. The famous Dilli Darwaza, also known as Delhi Gate, is one of the gates here. Another prominent gate here is Mastani Darwaza, which is said to be used by the Bajirao's mistress. Both these gates are facing north. Khidki Darwaza faces east while the Ganesh Darwaza faces southeast. Another attractive feature of this wada is the fountain, which is designed in the shape of a lotus flower with sixteen petals.
In 1827, a fire broke out in which the entire palace, except the Mirror hall was caught. The reason of fire is still unknown. As of now, only a few parts of the actual palace can be seen. The remnants at Shaniwar Wada include a fortification walls with five gates, nine bastions, enclosing the entire complex, platforms and foundations. The Nagarkhana, its sturdy wooden pillars and intricate latticework also attract visitors with its unwavering beauty. At the center of the palace, you can get a glimpse into the original structure of the wada before the fire. There are paintings displaying various scenes of Hindu mythological epic Ramayana and Mahabharata.
Image Gallery of Shaniwar Wada Pune
Shaniwar Wada is open on every day of the week, from 9:30 in morning to 5.00 in evening. When you are here, do not miss the sound and light show at the Shaniwar wada. The show is conducted in English and Marathi. The timings are 7:15pm to 8:10pm for the Marathi Show and 8:15pm to 9:10pm for the show in English.
Location Map for Shaniwar Wada Pune