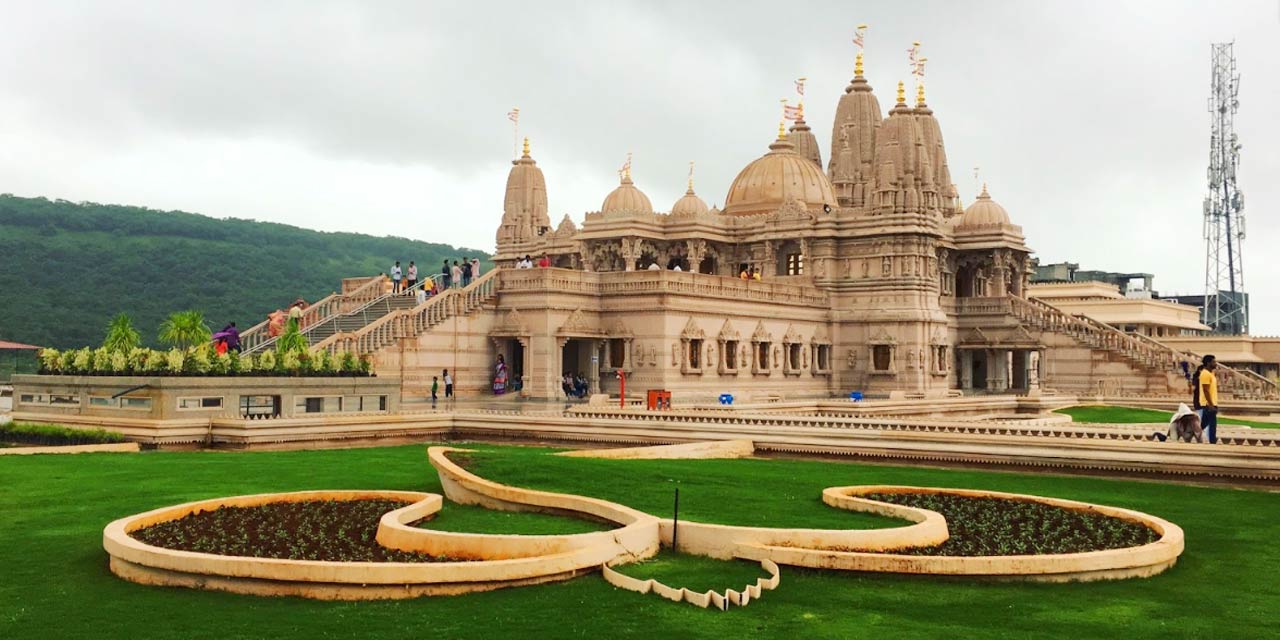 BAPS Shree Swaminarayan Mandir Pune Entry Fee
BAPS Shree Swaminarayan Mandir Pune Phone
---
Rating:

| 4/5 stars
Based on total 54 reviews
BAPS Shree Swaminarayan Mandir Pune Address: 4, National Highway 48, Ambegaon BK, Narhe, Pune, Maharashtra, 411046, India
Pune Tour Packages
BAPS Shree Swaminarayan Mandir Pune Timings
Day
Timing
Monday
7:00 am – 12:00 pm
4:00 pm – 8:30 pm
Tuesday
7:00 am – 12:00 pm
4:00 pm – 8:30 pm
Wedesday
7:00 am – 12:00 pm
4:00 pm – 8:30 pm
Thursday
7:00 am – 12:00 pm
4:00 pm – 8:30 pm
Friday
7:00 am – 12:00 pm
4:00 pm – 8:30 pm
Saturday
7:00 am – 12:00 pm
4:00 pm – 8:30 pm
Sunday
7:00 am – 12:00 pm
4:00 pm – 8:30 pm
Links:
Website
|
Map
BAPS Shree Swaminarayan Mandir Pune Darshan Timings for Visitors
| Darshan | Timings |
| --- | --- |
| Mandir campus | 7:00 am - 12:00 noon & 4:00 pm - 8:30 pm |
| Daily | 7:30 am - 10:15 am | 11:15 am - 12:00 pm | 4:00 pm - 6:15 pm | 7:00 pm - 7:30 pm |8:30 pm - 8:45 pm |
| Mangla Aarti | 6:00 am |
| Shangar Aarti | 7:30 am |
| Rajbho Aarti | 11:15 am |
| Sandhya Aarti | 7:00 pm |
| Shayan Aarti | 8:30 pm |
---
One of the top tourist spots of Maharashtra, Pune, is a city of many wonders where modernization flourishes with tranquillity and calmness. Be it the pubs, temples, or historical structures, Pune is blessed with the best of all worlds.
But what makes the city stand out is the legend and culture left behind by the Peshwas and Marathas. They have gifted this city with some of the best architecture in the form of temples.
The jaw-droppingly beautiful temples of Pune are unmatched. You cannot think of leaving the city without exploring a few.
The newly added attraction to the list of these temples is the BAPS Shri Swaminarayan Mandir. It is a temple built by the BAPS Shree Swaminarayan Sanstha worldwide.
The beautifully designed temple and the surrounding premises are calm and peaceful, with hordes of tourists and devotees coming here to offer their obeisance.
All you need to know about the BAPS Shree Swaminarayan Mandir of Pune
This remarkably beautiful temple dedicated to Shree Swaminarayan was completed in February 2017; it has been open to all. The lush green area surrounding the temple invokes peace of mind by praying to the almighty.
The temple, since its inauguration, has always witnessed crowds of devotees. Its clean ambiance and speckless sandstone premises attract admirers. The evenings here are even more beautiful. The glorious temple looks like a beautiful palace decorated with lights in the form of diyas.
Architecture of Shree Swaminarayan Mandir in Pune
The construction of the Shree Swaminarayan Mandir was completed within 24 months. It covers an area of about 33,000 sq. ft. with an altitude of about 74 ft. The upper view of the temple looks like a 3-D puzzle.
The construction is such that the entire temple is carved with stones, and no steel is used in the making. You can see that the temple has pink sandstone and red stone used all over.
It has 23 Samrans, including 7 giant ones, which are a treat to the eye. There are 109 torans to beautify the Mandir, and 140 carved pillars form the base of the Shree Swaminarayan temple.
There are more than 10000 carvings on the temple's walls and pillars, signifying the Indian and Maharashtrian culture at its best.
Image Gallery of BAPS Shree Swaminarayan Mandir Pune
Things to do at Shree Swaminarayan Mandir
Other than visiting the temple, you can do several other things while at the temple. These are:
1. Snack shop: Explore the snack shop near the temple that serves some of the best vegetarian Jain food. You can get those amazing delicacies at a very affordable rate. They are perfectly clean and hygienic, and you can opt to sit there and enjoy the meal of your choice.
2. Gift shop: A small but lovely gift shop is within the temple premise. They sell books, CDs, and DVDs of bhajan and kirtans. To add to the collection, they even have books on Jain and Hindu culture and, most importantly, the temple.
3. Abhishek Mandap: Apart from the four Artis, you have a separate Abhishek Mandap ritual area to offer special prayers. It is believed to fulfill your wishes if done with utter faith and belief.
Location of Shree Swaminarayan Mandir in Pune
Shree Swaminarayan Mandir is situated on the Narhe Ambegaon road. You can go towards the bypass that leads to Bengaluru. Enjoy the beauty of the expressway via Katraj and breeze through the traffic without a hassle.
Tips for visiting Shree Swaminarayan Mandir in Pune
Wheelchairs are provided on request by the temple authorities.
You are expected to wear decent and non-revealing clothes to respect the temple's culture.
There is a separate sitting place for men and women during the Arti hours.
Don't carry luggage within the temple, though small bags are allowed.
No outside food or alcohol, or tobacco is allowed within the temple premises. You are even required to throw chewing gum before entering the temple premises.
Entry fee and timings of Shree Swaminarayan Mandir Pune
There is no entry and no camera fee to enter the Shree Swaminarayan Mandir. For Murti darshan, the timings are 7 am to noon and 4 pm to 8.30 pm.
If you are planning to attend the Arti, the timing for the same are-
Shrangar Arti: 7:30 am
Rajbhog Arti: 11:15 am
Sandhya Arti: 7:00 pm
Shayan Arti: 8:30 pm
Best time to visit Shree Swaminarayan Mandir in Pune
The best time to visit Pune is the winter season. The gentle breeze and soothing atmosphere allow you to explore the beautiful tourist spots of Pune and the Shree Swaminarayan Mandir in Pune.
Although there is a fixed time for darshan, set your time so that you get to attend the Sandhya Arti, the gorgeous lighting around the premises is a treat to the eyes and soul.
How to reach Shree Swaminarayan Mandir?
Pune is well-connected with every city in the country via air, rail, and road. While it is approximately 180 kms from Mumbai, it is nearly 1500 kms from Delhi. Pick your preferred mode of travel and get to Pune to enjoy a fabulous time exploring the nooks and crannies of the place.
Once here, you can hire a cab from top car rental companies in Pune to take you around all the hot tourist spots of Pune, including the BAPS Shree Swaminarayan Mandir.
---
Every place has a unique offering and has something beautiful to take away. With the BAPS Shree Swaminarayan temple, you can attain peacefulness and tranquillity. If you plan a trip to Pune, this is one of the most beautiful places you must visit. Explore the architecture, the carvings, and sheer grandeur, unlike any other temple here. Have an enjoyable trip visiting the top tourist spots of the city by booking a Pune Tour package with Pune Tourism, a division of Holidays DNA. To know more about our offerings, please fill the Contact Us form.
Location Map for BAPS Shree Swaminarayan Mandir Pune