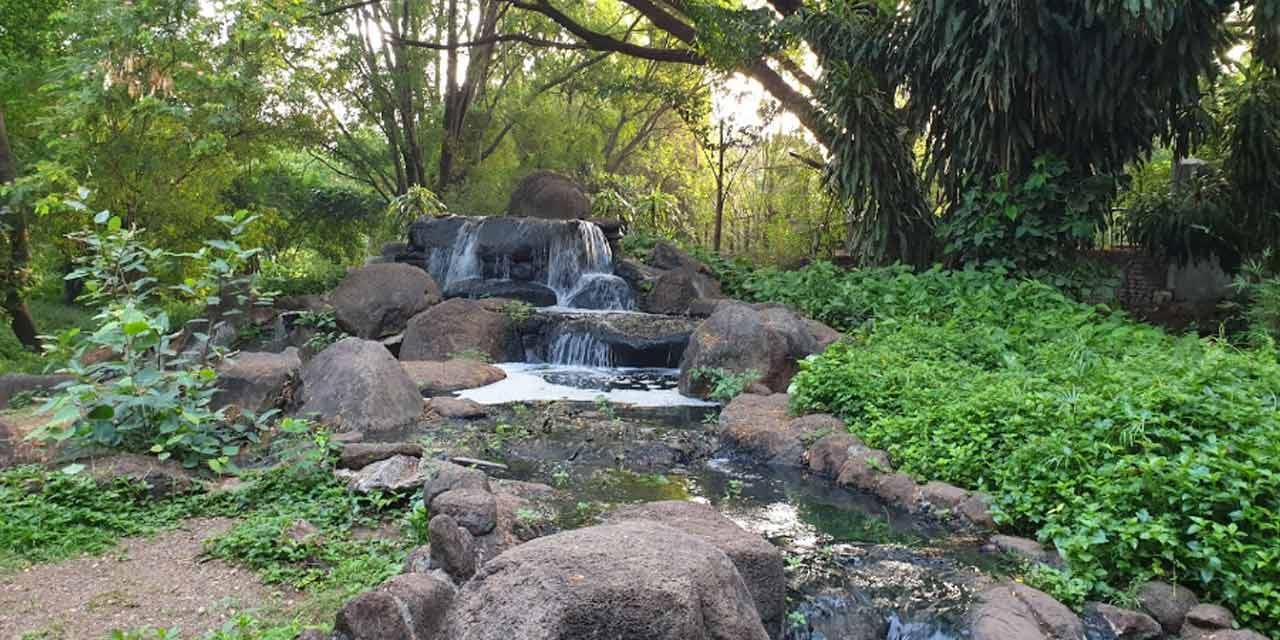 Osho Teerth Park Pune Entry Fee
Osho Teerth Park Pune Phone
---
Rating:

| 4/5 stars
Based on total 54 reviews
Osho Teerth Park Pune Address: D. H. Dhunjibhoy Road, Between Lane Number 2 and 3, Koregaon Park Road, Pune, Maharashtra, 411001, India
Pune Tour Packages
Osho Teerth Park Pune Timings
Day
Timing
Monday
6:00 am – 9:00 am
3:00 pm – 6:00 pm
Tuesday
6:00 am – 9:00 am
3:00 pm – 6:00 pm
Wedesday
6:00 am – 9:00 am
3:00 pm – 6:00 pm
Thursday
6:00 am – 9:00 am
3:00 pm – 6:00 pm
Friday
6:00 am – 9:00 am
3:00 pm – 6:00 pm
Saturday
6:00 am – 9:00 am
3:00 pm – 6:00 pm
Sunday
6:00 am – 9:00 am
3:00 pm – 6:00 pm
Links:
Website
|
Map
---
Pune is the cultural capital of Maharashtra, with a deep-rooted history that dates back several centuries. It is one of the best places to stay and enjoy the pleasant weather, tempting nightlife, well-known organizations, and immensely beautiful monuments that attract hordes of visitors to Pune.
Amid these beautiful structures, historical monuments, and fabulous cafes, lies a quaint open space in Koregaon Park in Pune- Osho Teerth Ashram. From a small creek to the small Japanese bridges and gorgeous green escapades, Osho Teerth Park is yet another popular tourist spot in Pune.
It witnesses a heavy footfall of local students, residents, and many international tourists staying at the Ashram, visiting this park throughout the day.
#Trivia: This beautifully built Osho Teerth Park is also known as the Nulla Park or the Osho Garden.
About the Osho Teerth Park in Pune
The Osho Teerth Park of Pune is spread over 12 acres behind the Osho ashram. The Osho Ashram foundation takes care of the park. It is a one-of-kind Japanese Zen garden with a unique layout, cosily tucked in the quiet bylanes of Koregaon Park.
You can see some beautifully manicured marble slabs placed beneath the huge trees to meditate in the fresh air. These handpicked trees were specially brought from Vadodara, Bangalore, and Kolkata. Several cute Buddha statues are practising meditation at several places to boost you.
The park is divided into two parts, and each has an endearing charm. It is one of the most attractive tourist spots in Pune.
The history behind the Osho Teerth Park in Pune
The Osho Teerth Park of Pune was initially a barren land with a filthy water body. In 1989, the Osho Ashram took over the place and called the Japanese environment forum, Shunyo Foundation, to convert it into the park it is today. The entire place was specially designed by their landscape artist- Nihar.
He raised the barricades to keep the cattle off the field and placed iron grills to catch any garbage thrown near the water body. Nihar used natural methods to keep the pollutants away from the water body by planting hyacinth plants and putting in fishes like 'Gambusia' and 'Silver crap' to eat the mosquitoes.
Furthermore, about 50,000 truckloads of soil were dumped to make hill like designs and level the land in the park. He placed huge rocks cut to give the desired shape and size.
Pune's climate added to the vegetation, and this barren land turned out to be a beautiful park for providing a rejuvenating experience to its visitors.
Image Gallery of Osho Teerth Park Pune
Location of the Osho Teerth Park
The Osho Teerth Park is located near lane number 1 in Koregaon Park, close to the famous German Bakery and the Osho Ashram.
It is a well-known tourist spot in Pune and popular among the locals.
Entry fee and timings of Osho Teerth Park
There is no fee to enter Osho Teerth Park. It opens at 6 AM, closes at 9 AM, reopens at 3 PM, and closes by 6 PM.
How to reach Osho Teerth Park?
Pune city is well connected to all the major cities of India. Whether it is rail, air, or road, you can easily reach Pune all year round.
The Osho Teerth Park is located 7 km away from Pune airport and 3 km from Pune railway station. You can hire an auto or a cab from top car rental companies in Pune to reach the park easily.
Best time to visit the Osho Teerth Park
July to March is the best time to visit Pune. Soothing winters coupled with the freshness all around make your visit worthwhile.
While June to September experience moderate to heavy rainfall, you can still enjoy the verdant greenery and beautiful weather Pune offers. Osho Teerth Park comes alive post-monsoon with the rain-kissed leaves and fragrant flowers breathing in the fresh air you can not experience any other time.
---
We all look forward to enjoying a peaceful time with our near and dear ones while on holiday. The Osho Teerth Park offers you respite from the bustle of the city because of its tranquil setting. Take a stroll with your partner or relax under the shade of a tree; there is more than one reason to visit the Osho Teerth Park in Pune.
Get ready to enjoy the most popular tourist spot of Pune right away with Pune Tourism, a division of Holidays DNA. Book a Pune Tour package with us to visit Osho Teerth Park and other tourist attractions and have a great time exploring the city. Please fill the Contact Us form to get in touch with us.
Location Map for Osho Teerth Park Pune