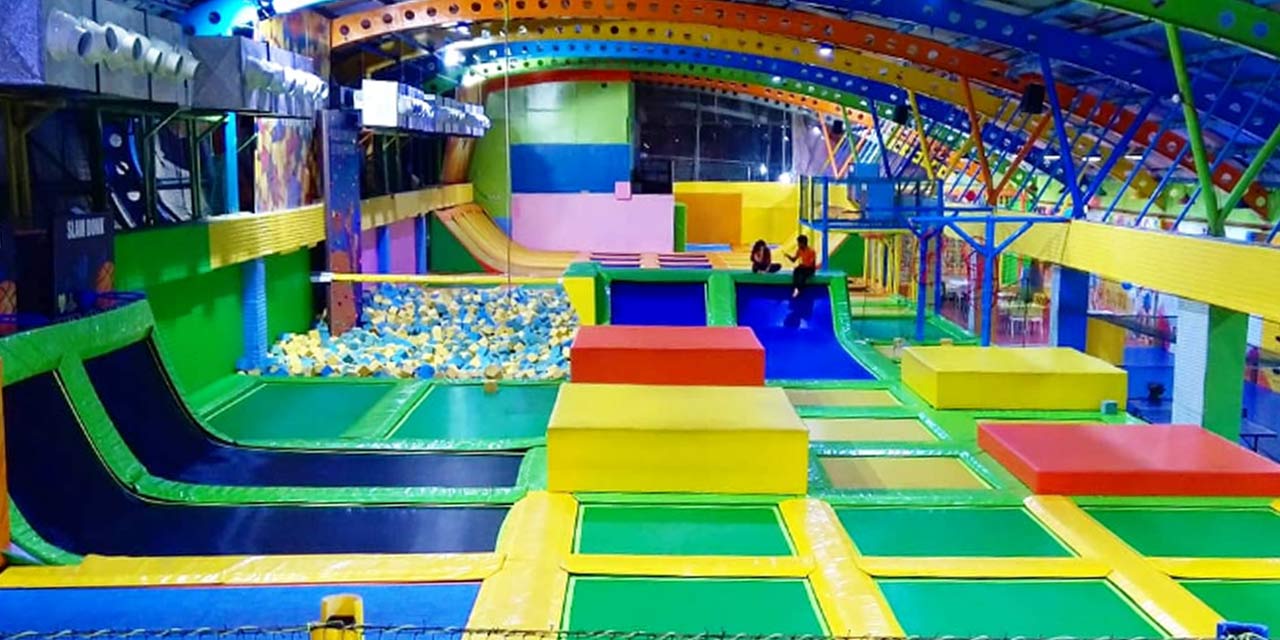 SkyJumper Trampoline Park Pune Entry Fee
400 per person for Normal Days (30 Min)
500 per person for Special Days (30 Min)
600 per person for Normal Days (1 Hour)
700 per person for Special Days (1 Hour)
800 per person for Normal Days (1.5 Hours)
900 per person for Special Days (1.5 Hours)
1000 per person for Normal Days (2 Hours)
1100 per person for Special Days (2 Hours)
1200 per person for Normal Days (2.5 Hours)
1300 per person for Special Days (2.5 Hours)
1400 per person for Normal Days (3 Hours)
1500 per person for Special Days (3 Hours)
2000 per person for Normal Days (Full Day)
2200 per person for Special Days (Full Day)
SkyJumper Trampoline Park Pune Phone
---
Rating:

| 3/5 stars
Based on total 67 reviews
SkyJumper Trampoline Park Pune Address: FOUNTAIN HOUSE, LEVEL-02, CREATICITY MALL, Shastrinagar, Yerawada, Pune, Maharashtra, 411006 , India
Pune Tour Packages
SkyJumper Trampoline Park Pune Timings
| Day | Timing |
| --- | --- |
| Monday | 12:00 pm – 10:00 pm |
| Tuesday | 12:00 pm – 10:00 pm |
| Wedesday | 12:00 pm – 10:00 pm |
| Thursday | 12:00 pm – 10:00 pm |
| Friday | 12:00 pm – 11:00 pm |
| Saturday | 10:30 am – 11:00 pm |
| Sunday | 10:30 am – 10:00 pm |
Links:
Website
|
Map
SkyJumper Trampoline Park Pune Entry Fee
| TYPE (Single Entry) | Normal Days | Special Days |
| --- | --- | --- |
| 30 min | Rs 400/- | Rs 500/- |
| 1 Hour | RS 600/- | Rs 700/- |
| 1.5 Hours | Rs 800/- | Rs 900/- |
| 2 Hours | Rs 1000/- | Rs 1100/- |
| 2.5 Hours | Rs 1200/- | Rs 1300/- |
| 3 Hours | Rs 1400/- | Rs 1500/- |
| Full day | Rs 2000/- | Rs 2200/- |
---
Pune- the Oxford of the East, and the erstwhile seat of Chhatrapati Shivaji Maharaja, is one of Maharashtra's most well-renowned and popular tourist destinations. The quaint hills that still surround the city to the bustle of the nightlife, Pune still maintains an old-world charm while welcoming the changes.
Among several tourist spots of Pune, one destination that has become popular with adults and kids is—the Skyjumper trampoline park in Pune.
Spread over an area of 17000 square feet, it is a place that'll remind you of Alia Bhatt and Varun Dhawan from Badrinath in Dulhania and be a great stressbuster.
#Trivia: You have guides and experts standing all around the vast park to ensure no one gets hurt.
The beautifully designed trampoline park is the first trampoline park in the city. The colourful Skyjumper trampoline park is designed to awaken the inner child in you. The bright hues of yellow, blue, and red liven the place entirely. It is a perfect place for kids and adults alike.
A word of caution: Kids below 3 years are not permitted to visit the place for safety reasons. It is advisable to have kids between 4 to 15 years under adult supervision, while 16 years and above are allowed to enter independently.
There are separate areas for adults and kids to bring their inner superheroes to the forefront and let go of all worries and stress. The colourfully made square and rectangular trampoline blocks are fun to jump around. This fun-filled adventurous amusement park is an all-in-one place with over 100 interconnected trampolines.
Now that's what we call a real fun zone!
Things one can do at the Skyjumper trampoline park in Pune
1. Birthday parties: If you plan to throw a birthday party, what can be more fun than the Trampoline Park! Here at Trampoline Park, the staff takes care of everything from sending invitation videos to thank you gifts; it is ideal for adventure-themed parties. The decoration, food, and activities at the trampoline all are taken care of by the management.
2. School trips: What can be more fun than spending an excellent time with your friends in the most fantastic place in Pune? Jumping, hopping, and having a good laugh, school trips are set to become even more fun.
The Skyjumper trampoline park in Pune can accommodate around 200 students and have several packages designed to cater to the school requirement. Their packages include snacks, activities, an open garden, and more.
3. Corporate events: Think corporate, think Skyjumper trampoline park! A unique place to let yourselves lose after a hectic time at work, you can arrange corporate events at the park without any hassle. Whether a client meetup or an office gathering, it is a different place to enjoy yourself. You can enjoy a fantastic variety of snacks, alcoholic, and non-alcoholic beverages right here.
4. Time to munch: Are you tired of jumping around? Maybe it is time to catch your breath and enjoy some snacks at the food court right away, a small and sufficiently good cafeteria at Skyjumper Trampoline Park in Pune. You can grab your all-time favourite snacks here like Maggie, soft drinks, sandwiches, French fries, etc.
Location of Skyjumper trampoline park in Pune
The Skyjumper trampoline park is located on the second floor of the Creaticity mall. The mall is located at Shastrinagar in the Yerawada district of Pune.
Image Gallery of SkyJumper Trampoline Park Pune
Entry fee and timings of Skyjumper trampoline park
The fees differ for a single entry into the Skyjumper trampoline park in Pune for regular and special days. It is time bound; thus, you must select the time limit you want to spend inside the park.
For weekdays, the fee ranges from ₹400/- for 30 minutes to ₹2000/- for an entire day. Similarly, for special days and weekends, the charges begin from ₹500/- for 30 minutes to ₹2200/- for a full day.
#Trivia: It is recommended to spend at least 2.5 hours in the Skyjumper trampoline park to explore it entirely.
This fun-filled trampoline park is open to its visitors all through the week.
The timings from Monday to Thursday are 12 noon to 10 pm. On Fridays, it is open from 12 noon to 11 pm. On Saturdays, the Skyjumper trampoline park is open from 10.30 am to 11 pm and on Sundays, it is open from 10.30 am to 10 pm.
Best time to visit Skyjumper trampoline park in Pune
Pune is a city you can enjoy visiting all through the year. It has a pleasant climate, except from March to April when the summers are peak. May sees the onset of the Mango showers that are a welcome respite from the heat.
Whether you are visiting the Skyjumper trampoline park or any other tourist attraction of Pune, you can come here any time of the year.
How to reach Skyjumper trampoline park in Pune
The Skyjumper trampoline park in Pune is approximately 10 kms from the main city centre and can be covered within 15 to 20 minutes. Hire a local taxi or book a cab from top car rental companies in Pune, and you are set to reach this adventurous spot.
You can reach Pune from any part of India via rail, road, or air. Being a metro, it has a well-connected network of railway lines and air space.
---
The busy city life leaves us with no time for ourselves. This thoughtful creation lets the child in you come out and lets you jump around like a kid. A must visit place when you are in Pune; this place is open to all age groups.
So, leave the stress of your day to day life aside and gear up to enjoy your time out at the Skyjumper trampoline park in Pune right away! Book a Pune tour package from Pune Tourism, a division of Holidays DNA to spend some memorable moments with your loved ones. We are happy to help you plan your trip to this beautiful city just the way you want. Please fill the Contact Us form to reach us.
Location Map for SkyJumper Trampoline Park Pune