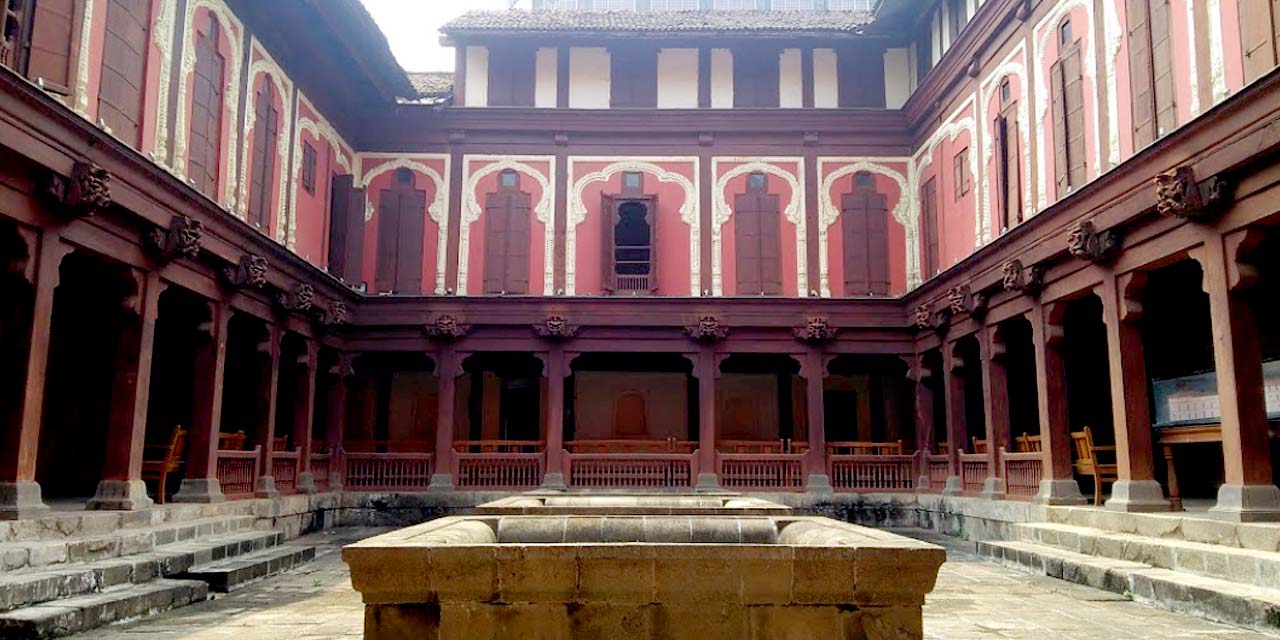 Vishrambaug Wada Pune Entry Fee
Vishrambaug Wada Pune Phone
N/A
---
Rating:

| 3/5 stars
Based on total 52 reviews
Vishrambaug Wada Pune Address: RB Kumthekar Rd, Perugate, Sadashiv Peth, Pune, Maharashtra, 411030, India
Pune Tour Packages
Vishrambaug Wada Pune Timings
| Day | Timing |
| --- | --- |
| Monday | 10:00 am – 5:00 pm |
| Tuesday | 10:00 am – 5:00 pm |
| Wedesday | 10:00 am – 5:00 pm |
| Thursday | 10:00 am – 5:00 pm |
| Friday | 10:00 am – 5:00 pm |
| Saturday | 10:00 am – 5:00 pm |
| Sunday | 10:00 am – 5:00 pm |
Links:
Website
|
Map
---
Built in the year of 1811 by Peshwa Baji Rao the second, Vishrambaug Wada is a three storied Peshwa mansion, which still captivate everyone with its historical richness which it symbolizes now. Situated in Sadashiv Peth, at the intersection of Bajirao Road and Laxmi Road, this wada, although in neglect state, does display an excellence of architecture.
The entrance is also magnificent with its carved pillars which are made up of teak-wood, still standing strong. The Vishrambaug Wada stands majestically amidst the hustle bustle of a busy market. Its cypress-shaped columns, decorated ceilings, stone floor and teak gallery on both the sides of entrance take you to a glorious era of Bajirao. On the first floor of the building, you will find a huge hall, darbar, with intricately carved ceilings, grand chandeliers along with teakwood pillars with exquisite carvings. Its magnificent teak balcony, where visitors are not allowed now, is said to the place from where Bajirao's musicians used to perform.
A part of the wada is open for public visit, with the rest of the part being used as offices. Although just a few parts are seen, this place is worth exploring. It gives you a glimpse into the grandeur of Bajirao era in Maharashtra. The impeccable fineness with which it was constructed is something worth remembering and admiring. After the British take over, and the decline of Peshwa rule, Vishrambaug Wada was used a jail. It was also used to house the Pune Municipal Corporation office, from the year of 1930 to 1958.
Currently, a number of Government offices operate from Vishrambaug Wada. A considerable section of it is also used at the post office. There is also a handicraft shop by SMILE (Savitri Marketing Institution for Ladies Empowerment) inside the Wada complex.
Image Gallery of Vishrambaug Wada Pune
Location Map for Vishrambaug Wada Pune