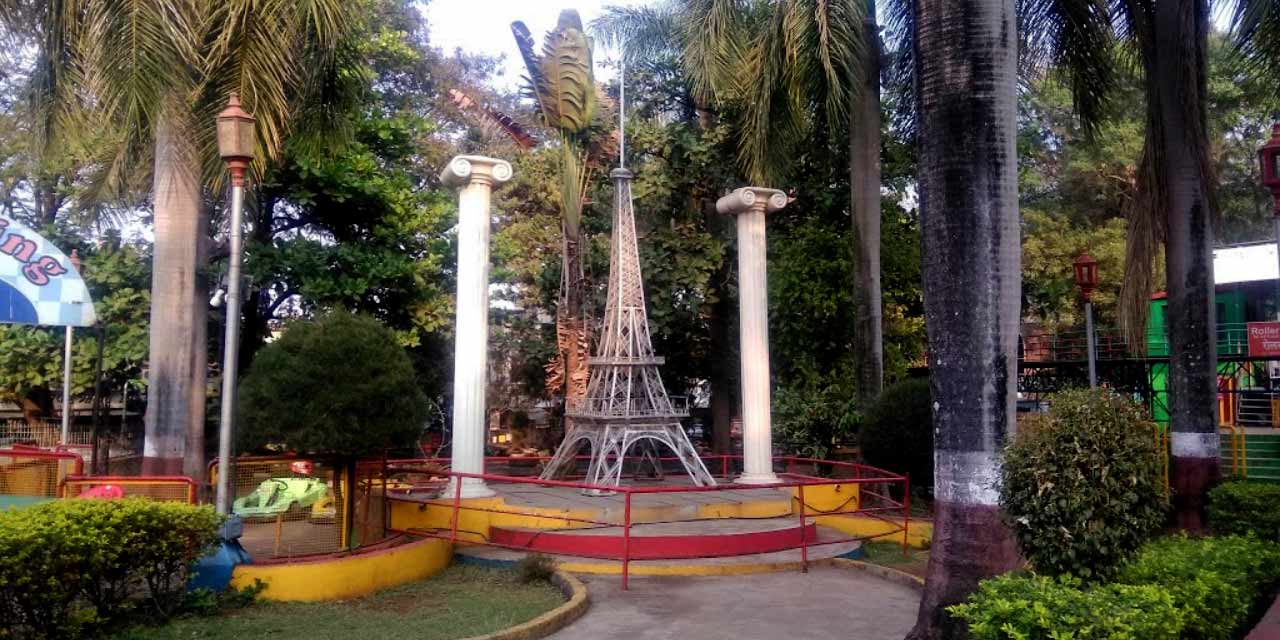 Appu Ghar Pune Entry Fee
30 per person (without Rides)
300 per person for Adults (Entry fee along with all Rides)
250 per person for Children (Entry fee along with all Rides)
Visitors above 3.5 feet height are considered as Adults
Appu Ghar Pune Phone
---
Rating:

| 4/5 stars
Based on total 78 reviews
Appu Ghar Pune Address: No.23 Pradhikaran Sector Indira Gandhi Udyan Nigdi, Pune, Maharashtra, 411044, India
Pune Tour Packages
Appu Ghar Pune Timings
| Day | Timing |
| --- | --- |
| Monday | 12:00 pm – 8:00 pm |
| Tuesday | 12:00 pm – 8:00 pm |
| Wedesday | 12:00 pm – 8:00 pm |
| Thursday | 12:00 pm – 8:00 pm |
| Friday | 12:00 pm – 8:00 pm |
| Saturday | 12:00 pm – 9:30 pm |
| Sunday | 12:00 pm – 9:30 pm |
Links:
Website
|
Map
---
Located in Nidgi, Pune, Appu Ghar boasts of being the very first amusement park in Pune city. It was inaugurated on 19th November of 1984. This amusement park was named after the mascot of Asian Games of 1982, which were held in Delhi. An elephant, named Appu was the mascot of the games.
A theme park, Appu Ghar is situated in Indira Gandhi Udyan, which was earlier, used to be called as Bund Garden. Often referred as a mini Disney land of Pune, this place not just offers innumerable fun rides and but also a serene lake and hilly terrains, waiting to be explored. The vibrant environment of this park, accompanied by a number of fun rides and excellent facilities, make this one of the most popular places in Pune.
There are rides for every person, varying from children rides to thrilling for adults. Some of the thrilling rides, which you can try here at Appu Ghar in Pune, are Appu Columbus, My Fair lady, Roller Coaster, etc. For those, who love adventure and enjoy the adrenalin rush, these rides perfect for them. For children, there are special rides, equally enjoyable and safer. Helicopter, Appu Express, Gammat Girki, Merry Go Round, kiddy boat, Jumping Frog, Mini Octopus, etc. are some of the rides. Not just these, rides such as Merry Cups, Guided car, Striking Car, Bhoot bangala, Bhool Bhullaiyya and Tele Combat gives an opportunity to entire family to enjoy together.
Image Gallery of Appu Ghar Pune
Appu Ghar is open throughout the week. You can visit this amusement park at any time from 12 noon to 8 in evening. A minimal amount of fee is also charged for entering. For the convenience of the visitors, there are various packages also offered, catering to different preferences and interests. There is also ample of parking area at Appu Ghar, for both 2 and 4 wheelers.
Location Map for Appu Ghar Pune